Assembly Elections 2017: Decoding Amit Shah, Prashant Kishor and the art of playing politics
Future political leaders, if they wish to win, need to learn from Amit Shah and Prashant Kishor on how to fashion their personal images as leaders.
Before 2014, whenever RSS chief Mohan Bhagwat and BJP president Amit Shah met, they must have discussed strategic concerns. The Rashtriya Swayamsevak Sangh (RSS), the national party's ideological mentor, was never an expert in electoral strategy. One may wonder as to who had an upper hand in these discussions.
But, whoever prevailed, Modi wasn't merely given a prime ministerial ticket. He was handed over the entire power structure. Shah and team were given the power to distribute tickets as and how they wished and the entire RSS network was deployed for the elections. Since then, Modi and Shah have removed numerous senior leaders and given tickets to individuals regardless of past associations.
If we look at the distribution of tickets for the recently concluded Uttar Pradesh Assembly elections, it is clear that there was no ideology governing the process. It was an entirely improvised approach with the sole purpose of winning. Shah's predictions changed as the election unfolded and he pushed up his earlier estimate of approximately 250 seats to 300 or so around the sixth phase of the elections.
Shah's primary strategy was one of utilising already existing networks of power across Uttar Pradesh. Small groups mainly defined by caste identities, that had been agitating for long, like Apna Dal and Suheldev Bhartiya Samaj Party were co-opted into the electoral process. They were given tickets and a remarkable collaboration was arrived at, where their resentments were deployed for the elections.
In many other instances, the massive migration of candidates and workers from the Bahujan Samaj Party (BSP), Congress and other outfits were deployed for electoral victory: In the Padrau constituency, Swami Prasad Maurya, a Kurmi OBC candidate, won for the BJP, he was previously with the BSP; Dalvir Singh won in the Barauli constituency for the BJP and was earlier with the RLD; Rita Bahuguna Joshi left the Congress and won in Lucknow Cantonment; Brajesh Pathak left the BSP and won in Lucknow Central; Dara Singh Chauhan, another BJP victor, in the Madhuban constituency, was earlier with the BSP; Fateh Bahadur Singh of the NCP won as an ally from Caimpiyarganj.
These, and many other leaders, didn't come alone. They shifted with aides and co-workers. More importantly, not all those who shifted were given tickets. For example, Manju Singh, who held Balia for the BSP from 2007 to 2012, did not receive a ticket. The constituency was won for the BJP by Anand, an RSS worker contesting elections for the first time.
In their collaborations, too, the calculations were clear. The Apna Dal (Sonelal), under Anupriya Patel, won nine seats for the alliance with BJP. The Suheldev Bhartiya Samaj Party won four seats for the alliance. Their leader, Om Prakash Rajbhar, of the OBC Rajbhar community, won at Zahoorabad.
An interesting deviation from this pattern further demonstrates the strategy. Since they were invested in the Rajbhar community, they had to give a ticket to Om Prakash's son, Arvind Rajbhar, in the Bansdih constituency, where otherwise, a BJP leader, Ketakee Singh was expecting the ticket. Singh fought the election independently and came a close second, with the SP candidate Ram Govind Chaudheri winning the seat. Rajbhar Jr was in the third position.
The improvisations do not end here. There are cases like that of Surinder Singh, a locally famous school teacher in the Bairiya constituency, who was given the ticket to fight for the BJP. However, when we look at it closely, it becomes evident that the primary strategic concern was to pick winning candidates from across the political and caste spectrum.
Modi's personal campaigning and the RSS's existing networks have been essential in convincing these disparate and numerous local leaders that they are in good hands. Not only do they get to push their own local agenda, they are thrilled, to varying degrees, in participating in the Modi phenomenon.
His image, carefully constructed over the past decade, as a powerful leader ready to take necessary action especially if it is unpopular, remains a major influence on the electoral process. Given a choice between voting for this charismatic leader deploying local processes on the one hand and a noisy half-hearted coalition on the other, large numbers of voters silently turned to the former.
This isn't the first time it is happening. Samajwadi Party chief Akhilesh Yadav began his personal image work too late and in too haphazard a fashion. BSP's Mayawati did close to nothing to present herself as a credible alternative. And Congress scion Rahul Gandhi did everything he could to damage his prospects.
The mainstream media and academia, mostly confused and often wrong, have, in light of the results, written off strategist Prashant Kishor, due to the failure of the AP-Congress coalition in Uttar Pradesh. One of the architects of Modi's image in 2014, of Lalu and Nitish's coalition and campaign in the Bihar Assembly elections, and the strategist for Amarinder Singh's campaign in Punjab, Kishor had suggested that the Congress and the SP work together, and, according to some reports, that they worked closely with Priyanka Gandhi.
But if we look at Kishor's work a little better, it becomes clear that he understands this process of image building much better than his clients and the media. According to some reports, his initial chief ministerial candidate for UP was Sheila Dikshit (an idea that was shot down) and as the process wore on, his suggestions were not accepted by an ineffective Congress leadership (with some like Raj Babbar, the UP Congress chief, openly disparaging him).
But Kishor understands that to win elections you have to project leaders who can become vehicles for the voters' aspirations, something Modi has done remarkably well. His success in presenting demonetisation as a collective sacrifice in order to punish the rich is a part of his larger strategy of making people feel like a part of the larger processes of the nationhood. The Opposition had no clue what was happening, as Modi transformed people's pain into BJP's electoral victory.
It is inconsequential how big a part Kishor played in Amarinder's victory. It is highly likely that a sizeable percentage of the Akalis in Punjab voted for Amarinder in order to defeat Arvind Kejriwal, whose leadership and methods are perceived as too chaotic. Kishor's Twitter appreciation for the Aam Aadmi Party shows that he acknowledges the party's grassroots initiatives.
They are now possible clients for him. Kishor is one of the few who appreciates the kind of grand tournament the electoral process essentially is, and in all probability, will be back in action soon. Future political leaders, if they wish to win, will have to fashion their images with great care and it won't be surprising if more strategists come up, providing this service.
Modi and Shah's strategies had the following components: They utilised already existing power banks and caste groups and made them a part of the process. This process was energised and cemented by Modi's 'giant' image. Interestingly, in all of this, the overt role of ideology was minimum. As a matter of fact, they won, as has been demonstrated, primarily because they threw ideology away, using nationalism only in vague, antagonistic ways to assert themselves in the arena of rhetoric. It is entirely possible, given these strategies, that the BJP did not require Muslim votes to win this election.
If Modi and Shah are unique, it is in that they have decentralised and brought these democratic and electoral processes to different smaller local groups. The paradox of a strong leader and decentralised electoral strategy is central to the rise of Modi. As he begins to expand in the South, the North East, and courts Dalit voters, it is futile to analyse politics through obsolete academic categories. Instead, the politicians of tomorrow must play this game of local power and global image. It is the world of Shah and Kishor that we are entering, not the dusty, irrelevant abstractions of ideology.
(With inputs from Dharun Kapur)
The authors are researchers at the Centre for Historical Studies, Jawaharlal Nehru University.
India
In the letter, Yadav, a deputy engineer, has claimed that his begging sojourn has been triggered by a flashback of his past life.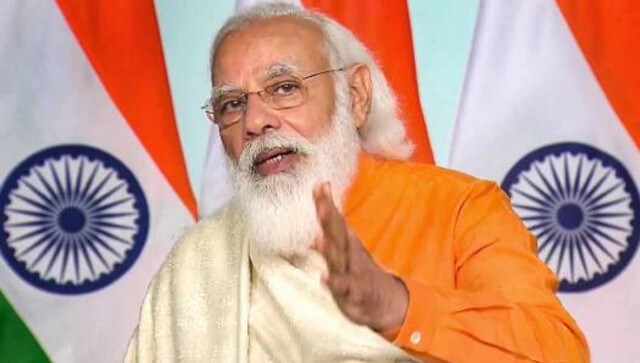 Politics
BJP President JP Nadda extended his congratulations to Modi for completing 20 years in public office, saying that as "a 'Pradhan Sevak', he has made India a global power
India
Prime Minister Narendra Modi will inaugurate Kushinagar international airport tomorrow, and the highlight of the event is the holy Buddha relic being brought from Waskaduwa Sri Subuddhi Rajvihara Temple