Assembly Election Results 2019: When, where and how to watch counting of votes for Maharashtra and Haryana Assemblies; get live updates online at Firstpost; watch it live on TV on CNN-News18
The counting of votes for the Assembly elections in Haryana and Maharashtra held on Monday (21 October) will begin at 8 am and will be announced by 5 pm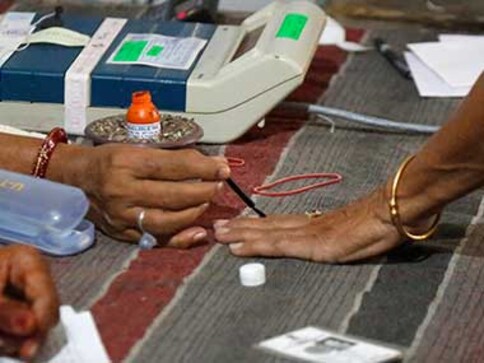 The counting of votes for the Haryana and Maharashtra Assembly elections will begin at 8 am on today in both the states

The results are likely to be announced by 5 pm

Stay tuned for the latest real-time updates on the counting process on Firstpost and CNN-News18
Assembly Election Results 2019: The counting of votes for the Assembly elections in Haryana and Maharashtra held on Monday (21 October) will begin at 8 am today in both the states, Election Commission officials said.
In Haryana, a counting centre has been set up in each of the 90 Assembly constituencies and there is an additional centre in Gurgaon's Badshahpur segment, which had a larger number of polling booths.
"The counting of votes will begin at 8 am,"  PTI reported Haryana's joint chief electoral officer Inder Jeet as saying.
The voter turnout in the state saw a sharp decline from 76.54 in the 2014 Assembly polls to over 68 percent in Monday's polls.
Click here for detailed coverage of Assembly Elections 2019 
In Maharashtra, around 25,000 personnel have been deployed on counting duty, an election official told PTI on Wednesday.
Counting of votes for the 288 Assembly segments in the state will be conducted at 269 locations, the officials said. The polling held on Monday saw a voter turnout of 61.13 percent, a dip from the 63.20 percent recorded in 2014, the official said.
Most exit polls have predicted that the BJP and its allies will return to power in both the states.
The counting of votes for the bypolls for the Satara Lok Sabha seat in Maharashtra and Samastipur Lok Sabha seat in Bihar, and for the bypolls to 51 Assembly seats across 18 states held on Monday will als0 begin at 8 am on Thursday.
When to watch counting of votes on 24 October
The counting of votes for the Assembly seats in both the states as well the bypolls will begin at 8 am on Thursday and the Election Commission is expected to announce the final result by 5 pm in the evening, reported Business Today. The leads predicting which party would win the Assembly elections and the bye-elections will come by the afternoon. The final counting of votes will be concluded by the evening.
Where to watch live counting of votes on 24 October
Voters in both the states will be waiting for the results of the Assembly election. For online updates, readers can follow Firstpost's live blogs, which will be run for each state (Maharashtra and Haryana) with live inputs from a vast network of reporters on the ground in every major constituency.
Firstpost will also provide minute-to-minute updates on the results of the bypolls to 51 Assembly seats and two Lok Sabha constituencies across 18 states. In addition to updates on the counting of votes as it happens, Firstpost will also give information on the candidates in the lead and those lagging.
On TV, viewers can catch the virtual reality coverage of the Assembly elections and bye-elections results on CNN-News18.
With inputs from PTI
India
Yadav posted a photo of her meeting with Mulayam Singh Yadav in Lucknow on social media and wrote that she "took the blessings of my father/Netaji in Lucknow after taking membership of the Bharatiya Janta Party."
India
These defections have made the contest tighter than before, but the BJP might still be able to cross the finishing line in a tightly contested election
Politics
The Samajwadi Party hopes to build a Yadav-Muslim-OBC rainbow coalition, unravelling Yogi Adityanath's 80:20 formula