Assam poll results: BJP reaped rich dividends by stoking fear of 'outsiders'
The most recent legislative assembly victory in Assam, northeast India's biggest and most important state, is a testament to what a campaign based on fear of the outsider can get you.
Shillong: The most recent legislative assembly victory in Assam, northeast India's biggest and most important state, is a testament to what a campaign based on fear of the outsider can get you. This is a tactic that the BJP employs to great effect. It worked wonders in a state where the Congress has been in power for the past three election cycles.
The BJP along with its ally, the Asom Gana Parishad (AGP), the most prominent regional party of the state won on a wave of anti-migrant, anti-Bangladeshi sentiment. The AGP which was born out of student movement politics has a pro-Assamese, anti-outsider ideology. So it was only natural that the BJP's veiled anti-Muslim rhetoric became the perfect vehicle to hitch its aspirations on. And that was what the election was campaigned and won on—anti-Bangladeshi sentiments, which became indistinguishable from anti-Muslim ones. These are campaigns that are the trademark of an RSS-supported, Hindutva-inspired Bharatiya Janata Party.
The BJP is a party that, for better or worse, has become the biggest national party. In a country as big and diverse as this one, an outlook that demonizes Muslims, Christians—and in very veiled policies Scheduled Castes and Tribes—is cause for concern.
The weakness of the Indian National Congress and the perception of ineptitude, especially of Mr Rahul Gandhi, who is seen as an ineffective leader, has allowed the Bharatiya Janata Party to gain footholds in states and regions where they had not done so earlier.
The fear of the Bangladeshi migrant is not a new phenomenon in the northeast of India. In Mizoram, Meghalaya, Tripura, and Assam, states that share very long borders with Bangladesh, many an election campaign have been fought and won on stoking of fear and hatred of a foreign and Muslim population that's bent on destroying and taking over communities. The Bangladeshi migrant is every community's favourite punching bag. Jobs that local populations won't even look at are done by them for wages that are very low. These are wages that business owners get away with because of the status of the employee. While they would have constitutional protection, and protection under the labour laws if they were to working in the organized sector, the overwhelming number of jobs that they are involved in are in the unorganized and unregulated sectors, and labour law protection, if any, is insignificant.
The region with its many tribal communities whose populations range between a few thousand and two million, has always been a hotbed for narrow identity politics, that prey on the fears of people. A fear that their villages and towns, might get overrun by people whose culture and religion, they are told repeatedly by politicians, student leaders, and the media, seeks to destroy theirs.
In the state of Meghalaya, this anti-Bangladeshi theme played out in 2014 in the movement for the demand of the implementation of the Inner Line Permit.
The coalmines and limestone quarries in the state attract migrant labourers who, along with their extended families add to the burgeoning population. Migrants from Bangladesh who work for lower wages fill that space.
The consensus among the indigenous population is that the number of illegal immigrants pouring into the state is unsustainable.
"Ours is a very small state with very limited avenues. There is no truth to the argument that we don't want to do menial labour." Shaphrang Pyrbot, a twenty-one-year-old said. Shaphrang is an avid supporter of the implementation of the ILP and does not understand why other people are against it. "You can't expect us to work for one hundred rupees a day. It's because these people can get away with paying fifty rupees a day to someone from Bangladesh that there is no room to negotiate a more reasonable wage. "
Shaphrang added that he and many of his friends and relatives would happily work the jobs that illegal migrants are taking up, if a system of reasonable and fair wages ware implemented.
"But Khasi boys don't want to do the jobs that Bangladeshis do," explained Bah Jo, a 50-year-old contractor who has been designing and building houses for twenty years. "Currently, I am building three different houses in three different localities of Shillong. I have one hundred and fifty two people who work for me and one hundred and thirty five of them are from Bangladesh.
"That's the travesty of it all," he added "Jobs are available but our boys and girls don't want to do them."
Assam has a considerable Muslim population that is as Assamese, and as Indian, as anyone else. It has had to be defensive about its religion and patriotism, especially in the face of the ugly campaigning in the last election by the BJP.
This kind of rhetoric finds passionate support in many an impressionable individual, whose current situation and future prospects look neither bright nor promising. They are told that the ones responsible for all their problems are foreigners from the neighbouring country, and they lap it up. In this process of scapegoating, responsibility for an adverse situation is passed on to the hapless foreigner.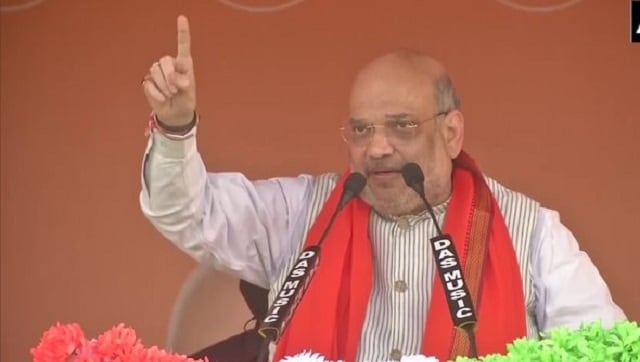 India
The incident on the Assam-Mizoram border came two days after Shah held talks with the chief ministers of eight northeastern states and underscored the need to resolve lingering border disputes
India
The delegation members unanimously decided to support the Assam government in all measures it takes to "protect the border" at any stage of the ongoing dispute in the interest of the people of the state.
India
The board will declare the results of the Science, Commerce, and Vocational streams today