Ashok Gehlot is next Rajasthan CM: How Congress veteran won nod from Rahul Gandhi over young turk Sachin Pilot
Given his rich experience as a two-term chief minister, Gehlot is time-tested and has a strong appeal across political parties in Rajasthan.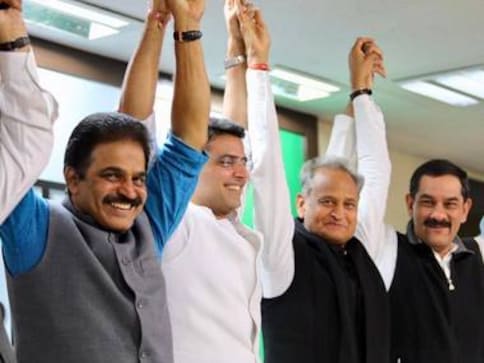 After deliberations spanning three days, the suspense over the name of the new Rajasthan chief minister finally ended. Congress veteran and two-time chief minister Ashok Gehlot will take the reins yet again. In the end, Congress president Rahul Gandhi chose experience over energy. According to KC Venugopal, the Congress observer for Rajasthan, while Gehlot has been appointed as chief minister, Sachin Pilot, who is known to be close to Rahul, will be deputy chief minister. However, the selection of Gehlot, a member of the party's old guard, was not a smooth one. His candidature was strongly contested by Pilot, the young state Congress president credited with the revival of the party after the 2013 drubbing.
In the recently concluded Assembly polls, the Congress trounced the BJP. While it managed 99 seats – one short of the majority mark of 100 in the 199-seat Assembly — the BJP ended up with 73 seats. In the previous election, the Congress was decimated by the BJP, managing only 23 seats. However, the more interesting story in the long-drawn political drama is the tussle between Gehlot and Pilot.
Why Gehlot?
Gehlot, 67, has vast experience in the state, at the Centre and within the organisation at national level, which worked in his favour. A two-term chief minister, he is the national general secretary of All India Congress Committee (AICC). A five-time Lok Sabha member, Gehlot represents Sardarpur constituency in Jodhpur.
Prior to this, he was a minister at the Centre thrice during the tenure of Indira Gandhi, Rajiv Gandhi and PV Narasimha Rao, and also twice served as Pradesh Congress Committee president. Known for his organisational skills, he was Congress in-charge of 2017 Gujarat Assembly election. It is a well-known fact that former prime minister Indira Gandhi was the first to identify his organisational skills: when Gehlot was undertaking social service in the camps of East Bengal refugees in 1971. Gehlot was later appointed first state president of National Student's Union of India.
Given his rich experience as a two-term chief minister, Gehlot is time-tested and has a strong appeal across political parties in Rajasthan. Besides, a large section of voters want to see him as chief minister. Politically-savvy and quiet, Gehlot has been working closely with Rahul for the past year to chalk out strategies for the Congress.
High drama
Just five years ago, in the winter of 2013, the Congress party was routed in Rajasthan by the BJP. The latter got 160 seats, while the incumbent Congress had got 23 in the 199 seat-assembly. Ashok Gehlot was the losing chief minister. This time, the Congress won 99 seats. In the interim, the grand old party did a lot of work to regain lost ground. It elevated Sachin Pilot, who was made Pradesh Congress Committee president in January 2014, and there was no looking back.
Pilot ensured party's comeback within five years through sheer hard work, connected with people by travelling over five lakh kilometers and strengthened the organisation at the grassroots-level. Though branded as a leader of Rahul's 'young brigade,' Pilot displayed maturity in maintaining both urban and rural image: both as a tech-savvy leader engaged in high-level discussions with top leaders, and someone equally comfortable with the masses.
While staking his claim for the post of Rajasthan chief minister, Pilot said he'd been working on the ground to facilitate Congress' comeback since 2014, while Gehlot left to work at the central level.  Unlike Pilot, who was made Rajasthan Congress chief almost five years ago, Rahul appointed Nath — senior party leader and Lok Sabha member from Chhindwara — Madhya Pradesh Congress president only in April, just eight months before the state went to polls.
Former chief minister Shivraj Singh Chouhan used this fact in his campaign to project the battle between himself and Nath as the 'outsider versus insider'. While he portrayed Nath as a para-trooped leader from Delhi, Chouhan called himself 'son of the soil'. Here, the supporters and a large section of voters of Rajasthan may question: If Nath as a PCC chief could be chief minister, then why not Pilot?
Almost three days and rounds of meetings between Congress president and the two contenders failed to resolve the deadlock, in spite of UPA chairperson Sonia Gandhi's intervention on Thursday. Running out of patience, supporters of both contenders took to the streets, raised slogans, blocked roads, and created a ruckus: which unfortunately brought out the rift and infighting within the state Congress. Despite putting up a brave, united front during campaigning, the ugly factional side of the party emerged.
Per media reports, Pilot's supporters warned that if a youth (read Pilot) wasn't made chief minister, a youth (read Rahul) couldn't be prime minister in 2019. It was a tug-of-war between an old war horse and a new generation leader. Rahul emphasised a lot on the power of youth and also said during the plenary session of the Congress that hard work would not go unrewarded.
Why the delay?
The Congress' top leadership might have had its own reasons for a delay. Perhaps they were unable to ignore that Gehlot is a seasoned politician and a two-term chief minister, who played an instrumental role in Gujarat and Karnataka Assembly elections. Maybe Rahul wanted an experienced and mature leader to take the post: as he did in Madhya Pradesh by appointing Kamal Nath instead of Jyotiraditya Scindia.
But Pilot and Scindia are different. Pilot, 41, represents the youth brigade: promising and emerging Congress leaders. A two-term MP, Pilot has served as a minister at the Centre during the UPA regime. He proved his organisational skills and worked hard at the grassroots more than Scindia. He spent more years strengthening the party in Rajasthan than Scindia did in Madhya Pradesh.
Known to be affable and approachable, Pilot's leadership won him a large number of supporters within the party and admirers outside of it.  He was able ko keep his late father and former Congress leader Rajesh Pilot's popularity among masses intact since 2004, when he was first elected as the youngest Lok Sabha MP from Dausa constituency at the age of 27. He undoubtedly helped steer the Congress from the depths of defeat in 2013 to victory in 2018.
As both the contenders were not ready to budge till 3.30 pm today, it made the job tougher for the Congress president. It also shows how Congress Legislative Party meeting in Jaipur was mere optics. Congress top leadership's decision is final. Like Rajasthan and Madhya Pradesh, Chhattisgarh is waiting for high command to turn its attention to the task of selecting its chief minister. This has also proved to be a litmus test for Rahul's crisis management skills, which he successfully resolved.
The decision of the high command is final. We're waiting for it and we're sure justice will be given)," a Rajasthan Congress leader told Firstpost on Thursday evening, speaking on condition of anonymity. As this Firstpost piece posited, the choice between Pilot and Gehlot proved a tightrope walk for the Congress leadership. Gehlot and Pilot were visibly upbeat after the announcement was made and their supporters raised slogans for both outside AICC headquarters in Delhi and PCC office in Jaipur.
After all, the chief minister will have to play a pivotal role in maximising the Congress tally in Rajasthan in 2019 general election and also ensure a second term, defying the normal practice in Rajasthan of having alternate governments.
also read
World
With his shirt covering him from the swarming insects, Fischer, who earlier lost a leg to infection roughly eight years ago, sought to crawl on the ground to escape the attack. But the bees did not let go, stinging the poor man nearly 250 times all over his body
Explainers
A religious procession taken out by a group of Muslims stopped outside the famous Trimbakeshwar temple in Nashik to spread incense in the direction of the deity, as per tradition. However, security guards refused to let them climb the steps. Here's how it snowballed into a controversy
World
The footage, which has been widely shared, captures scenes from the Kensington neighborhood, where individuals are seen in a state of unconsciousness due to drug use