Asaduddin Owaisi calls Mohan Bhagwat's remarks on Hindutva attempt to win some 'respectability'
Asaduddin Owaisi said the statements of RSS chief Mohan Bhagwat that 'Hindutva' was an inclusive concept were just an attempt to win some 'respectability.'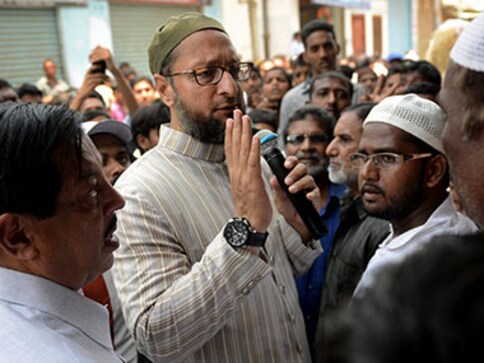 Hyderabad: Hyderabad MP and AIMIM chief Asaduddin Owaisi on Wednesday said the statements of Rashtriya Swayamsevak Sangh chief Mohan Bhagwat that 'Hindutva' was an inclusive concept were just an attempt to win some "respectability."
There is a huge difference between Hinduism and "Hindutva", Asaduddin claimed, alleging "Hindutva" was "exclusive and not inclusive."
Reacting to Bhagwat's comment saying "Hindu Rashtra doesn't mean there's no place for Muslims, Hindutva is Indianess and inclusiveness," the AIMIM chief said, "I challenge Mohan Bhagwat to reject what (MS) Golwalkar has written in his book Bunch of Thoughts and to reject (VD) Savarkar's theory of Hindutva," Owaisi said.
Bhagwat, on the second day of the "Bhavishya Ka Bharat-an RSS Perspective" event at the Vigyan Bhavan in New Delhi, had said "Hindutva" was an inclusive concept and did not exclude Muslims. He also maintained that his organisation embraced the Constitution, and respected the "socialist, secular" parts of its Preamble.
"This is 'tarika' (way) to win respectability. Hindutva (concept) came from Savarkar...You reject what Savarkar and Golwalkar wrote...Will you reject?" Owaisi asked.
World
Crown Prince Sheikh Meshal al-Ahmad al-Sabah, who has taken over most of the ruling emir's duties, moved last year to end feuding by naming Sheikh Ahmad as premier, dissolving parliament and calling early polls
World
Much of the anger on the street is targeted towards President Macky Sall, whose failure to rule out running for a third term in office has incensed many
World
Police fired tear gas and used water cannons to disperse Khan's supporters, who reportedly hurled stones at policemen, resulting in injuries. In the video message, Khan urged his supporters to come out for real freedom as police arrived to arrest him.