As Uttar Pradesh government completes one year, BSP, Congress question Yogi Adityanath regime's priorities
The Yogi Adityanath government came under fire not just from political rivals like BSP and Congress but also ally SBSP, which claimed building temples would not solve people's problems, as it celebrated its first year in office in Uttar Pradesh
Lucknow: The Yogi Adityanath government on Monday came under fire not just from political rivals like BSP and Congress but also ally SBSP, which claimed building temples would not solve people's problems, as it celebrated its first year in office in Uttar Pradesh.
A star-studded event was held in Lucknow with chief minister Adityanath launching a portal to fight corruption and even announcing a massive four lakh appointments to various jobs in as many as 64 departments of the state.
"Through this portal, any officials involved in corruption or who is encouraging it at any level, will not be spared. Effective action will be taken if any video or other evidence is uploaded on the portal. This will deliver a lethal blow against the corrupt elements," Adityanath claimed.
The state government will come up with four lakh jobs in 64 departments ranging from police constables and sub-inspectors to block development officers and lekhpals (revenue officials), he said at the event where Governor Ram Naik and a galaxy of political big-wigs including Deputy Chief Ministers Keshav Prasad Maurya, Dinesh Sharma and UP BJP chief Mahendra Nath Pandey were present.
"Today I can say that UP, where there was no law and order and anarchy prevailed, is now witnessing a change," Adityanath asserted adding that earlier politics of casteism, divisive forces and dynastic politics ruled the roost.
However, sulking ally Suheldev Bharatiya Samaj Party (SBSP) put cold water on the mood. already dampened by BJP's recent shock losses in Gorakhpur and Phulpur bypolls, by skipping the event.
SBSP chief Om Prakash Rajbhar, a cabinet minister in the Adityanath government, virtually targeted the ruling dispensation questioning the rationale behind the lavish celebrations.
"We have made this government and it is our duty to repeatedly point out shortcomings. Holding celebrations is not going to serve the purpose. Building temples in Mathura and Kashi will not give education to the poor, or toilets and pension to them," a visibly angry Rajbhar told reporters in Lucknow.
He also warned the BJP that his party's four MLAs may not vote for the saffron party candidates in the upcoming Rajya Sabha polls in case the senior ally did not shed its "big brother attitude".
"If (BJP chief) Amit Shah does not talk to us, our four MLAs will boycott the Rajya Sabha elections (on 23 March)," Rajbhar asserted.
Refusing to take part in the celebrations on completion of one year in office, Rajbhar said, "Let them celebrate...I will not go to attend it till the questions of ration cards, housing, education, medicine and others are not redressed," he said.
Stressing that the BJP was ignoring smaller allies, Rajbhar said, "We kept begging for seats in the local body elections and had to go it alone at the last moment. We were not taken into confidence in the (Lok Sabha) bye-elections. At no place in Purvanchal where senior BJP leaders went, they took the name of SBSP or used our flag."
The SBSP has considerable presence in pockets of Purvanchal in eastern Uttar Pradesh.
"They fielded Anil Agarwal. We are alliance partners but they did not tell us or sought our votes for him. I kept saying let us talk but to no avail. Can an elder brother humiliate the younger one like this," he asked.
BJP has fielded nine candidates for the Rajya Sabha elections and Agarwal is one of them, though the party is sure of victory in only eight seats.
To a question, Rajbhar said he had not talked to either the SP or the BSP.
A senior minister in the Adityanath government Suresh Khanna, who met the sulking minister, however, played down the complaints. "We are members of the government and discuss issues and keep meeting regularly and this meeting is nothing new," Khanna stressed.
Meanwhile, the Congress alleged that the government was misusing people's money on holding the grand celebrations.
In a statement, UP Congress chief Raj Babbar said a cabinet minister was levelling charges of corruption and there was no clarification from the government. He said the BJP was rejected by the people in the recent Lok Sabha bye-elections and yet was celebrating the completion of one year in office.
BSP chief Mayawati advised the Uttar Pradesh government to introspect on its failures instead of celebrating.
Taking a jibe at Adityanath, the BSP chief said working wholeheartedly for the welfare of 22 crore poor and backward people of the state was the real "puja" and "raj dharma" which his government has failed to do.
"Because of these reasons, the people of the state are expressing their anger against the BJP again and again. There is the possibility of the BJP not performing well in the coming Lok Sabha polls," Mayawati said.
To a question about an ally venting ire against the BJP government, she said MLAs and ministers of the BJP will also open their mouth "as there is a difference between what they say and do".
Explainers
Rahul Gandhi has joined a small 'infamous' club of politicians who have been disqualified as MPs or MLAs after being convicted in a crime. Here's a look at the other prominent names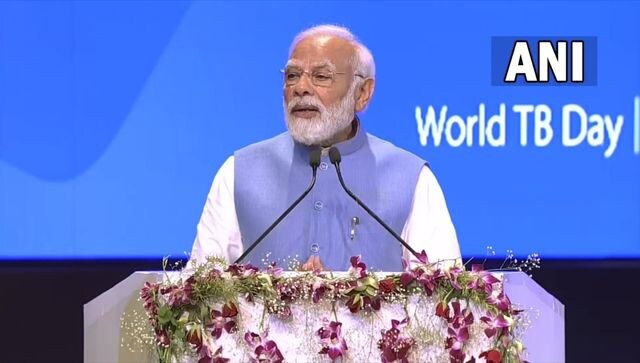 World
2030 is the global target to eradicate TB but India is now working on the target of ending TB by the year 2025: PM Narendra Modi at the 'One World TB Summit' in Varanasi, Uttar Pradesh.
India
Rampur, located 320 km north of the Uttar Pradesh capital, was once known for its several small-scale units that made high-quality foldable knives