As Narendra Modi's popularity rises, Opposition hopes may lie with Mamata Banerjee in 2019
Prime Minister Narendra Modi's popularity has reached stratospheric levels, while BJP's juggernaut has screeched to a halt at Mamata Banerjee's doorstep
Prime Minister Narendra Modi's popularity has reached stratospheric levels while BJP's juggernaut has screeched to a halt at Mamata Banerjee's doorstep.
A nationwide political survey and civic body elections in some West Bengal districts have thrown up these two key takeaways. The survey actually corroborates the results of the polls which were conducted on Sunday, projecting Mamata as the most popular chief minister in India pushing Bihar's Nitish Kumar down to the second spot.
Allowing for the fact that surveys — no matter how meticulous or exhaustive they are — have a wide margin of error in India and local civic body polls cannot be taken as the most accurate political indicator, these exercises do point towards a broad trend. And the trend indicates Modi is not only breaking his own records, he is rewriting all electoral norms by growing more popular three years into his tenure as prime minister than in August 2014 when he was freshly sworn in.
The India Today-Karvi Insights Mood of the Nation (MOTN) opinion poll suggests that Modi has bypassed the TINA (there is no alternative) factor and become TIMO (there is Modi only), leaving even Indira Gandhi behind in his wake.
Former prime minister Gandhi, who still retains wide appeal, was ahead of Modi by 12 percentage points in August 2014, but now lags Modi by 16 percentage points, says the survey that had a sample size of 12,178 respondents (68 percent rural and 32 percent urban) spread across 97 parliamentary and 194 Assembly constituencies in 19 states.
These findings are consistent with indicators from other opinion polls. A survey by Washington-based PEW Research Center suggested in September 2016 that 81 percent Indians hold a favourable view of Modi. An ABP News and Lokniti-CSDS poll published in May 2017 also threw up similar results, indicating that seven in every 10 Indians are satisfied with the prime minister.
These reflect a fascinating concept in Indian politics. As many of these surveys indicate, voters admit that demonetisation has completely disrupted their lives and made them go through untold hardships, yet they steadfastly back the larger motive behind the move and believe that 'notebandi' has curbed black money and smoked out the cheats — even if these beliefs are not backed by data.
The Opposition had calculated that the deep economic disruption caused by moves such as demonetisation and Goods and Services Tax (GST) would harm Modi, and ran extensive campaigns centred around it. They seem to have overlooked the political appeal of these moves, especially 'notebandi', which played out as a morality play in public opinion. In the ensuing paradox, as the voters suffered, they became more and more convinced of Modi's intention to 'cleanse the system'. The resultant political capital boosted Modi's stature, took him out of the reach of his rivals and seems to have insured him from failures. That is why despite modest economic matrices, lack of private investment and a near-total collapse of the job market, Modi remains widely popular and is perceived as a ballsy leader.
Economist Ruchir Sharma calls this the curious separation of politics and economy in India where chief ministers could be voted out despite delivering high growth. In his piece for Times of India, he writes, "When Modi came to power over three years ago, expectations were high that he would have a dramatic effect on the country's economic prospects. Yet, for all his power, Modi is having much less impact on the economy than either his detractors or supporters imagine. Just as surprising, this disconnect is hardly hurting him politically. He remains very popular with the masses, who increasingly favour a strong, nationalist leader."
The survey findings would be unpleasant reading for the Congress. Rahul Gandhi is still Modi's closest competitor but the gap between them is vast and widening. Only 21 percent feel that he would make a good prime minister, down seven percentage points from last January. A whopping 43 percent felt that someone from outside the Gandhi family should revive Congress, which is projected to win not more than 47 seats if the General Elections to Lok Sabha were to be held now. The India Today survey projected 349 seats for NDA, matching Amit Shah's ambitious target. The BJP president reportedly conducted a three-hour session on Thursday where he briefed the party's top leaders and Union ministers on the roadmap to achieve the 350-seat objective in 2019.
Interestingly, Modi's toughest rival seems to be Mamata, whom the survey found to be the most efficient chief minister in India followed by Kumar and Yogi Adityanath. Add the fact that the ruling Trinamool Congress swept Sunday's West Bengal civic body elections winning seven out of seven municipalities and bagging 140 of the 148 wards in play, and the battle lines for the 2019 General Election to Lok Sabha become visible.
Shah, according to DNA, evaluated BJP's performance and voter perception in West Bengal, Kerala, Karnataka and Odisha and also laid out a plan to tackle anti-incumbency in Chhattisgarh, Madhya Pradesh and Gujarat.
If BJP's performance in West Bengal civic polls is any indication, Shah will have to draw up his power point presentations anew. Even though BJP has emerged as the chief Opposition party to TMC, they were a distant second. Settling for six wards among the 148, hardly calls for any celebration but such is the state of Opposition politics in Bengal that even this hopeless performance drew lusty celebrations from the state BJP rank and file, who 'boasted' about their 'achievement' of 'emerging' as TMC's biggest rival.
Mamata was dismissive in victory. And she has every reason to be. Not only did TMC demolish the rivals, it also increased its vote share, indicating that BJP's modest gains came from an erosion of CPM and Congress vote bank both of whom, despite an unofficial understanding, failed to corner a single ward. Even as the anti-TMC vote meanders to BJP's corner, the percentage is not big enough to even remotely challenge the TMC juggernaut. The saffron unit is largely restricted to north Bengal, from where it won five out of its six wards.
As already mentioned, the CPM and Congress have been wiped out. The Opposition has claimed that votes were not free and fair but this won't cut much ice. The fact is that Mamata is the tallest leader in West Bengal right now and her appeal cuts across religious and social lines. Interestingly, even the urban Bengali bhadralok class — staunchly Leftist in disposition — has gotten over its snootiness about Mamata and is firmly in her corner, perhaps driven by the image of BJP as a 'polarising other'.
Mamata's success lies in the fact that she has inherited the traits of Leftist politics from Left Front minus its dogmatic underpinnings. Unlike the CPM, she is not hemmed in a by a central command that lives in 21st century and still talks about 'dialectical materialism', and has the nimble-footedness to quickly adapt to situations when challenges present themselves.
TMC's civic poll sweep is an affirmation of the truth that Mamata is right now the smartest politician in Opposition ranks and any future mahagathbandhan must be centred around her. But whether that will be enough to unseat BJP and Modi on the national stage is a moot question.
Sports
East Bengal's ongoing problems with their investors has put the team's participation in this year's Indian Super League in doubt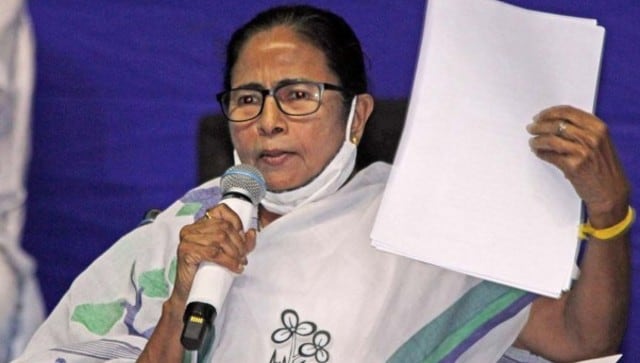 Politics
All this in the backdrop of #AbkiBaarDidiSarkar trending on Twitter, thus further fuelling rumours about a United Front.
India
Senior BJP leader Ravi Shankar Prasad said the allegations made by the Opposition party were bereft of political propriety and a new low in political discourse