Arvind Kejriwal vows to arrest Majithia for alleged drug trade
Delhi Chief Minister Arvind Kejriwal on Friday pledged to arrest Punjab Revenue Minister Bikram Singh Majithia after six months for alleged drug smuggling
Amritsar: Delhi Chief Minister Arvind Kejriwal on Friday pledged to arrest Punjab Revenue Minister Bikram Singh Majithia after six months for alleged drug smuggling.
The Aam Aadmi Party (AAP) leader made the comments before a huge crowd of supporters shortly before a court here granted him and two other party colleagues bail in a defamation case filed by Majithia.
"I am not frightened by the case filled by Majithia. He should keep these papers with him. But if he has courage then he will get me arrested within six months. Otherwise after six months, I will get him arrested," Kejriwal thundered before appearing in the court.
Assembly elections in Punjab are about six months away, and the AAP has emerged as a major factor besides the ruling Akalis-BJP coalition and the Congress.
The Additional Chief Judicial Magistrate had on 18 July issued summons to Kejriwal to appear before it. The AAP leaders had accused Majithia of patronizing the drug trade in Punjab and called him a "drug lord".
Kejriwal and his colleague Sanjay Singh, the co-accused in the defamation case, were present in the packed court room.
As scores of Akali Dal activists came out in support of Majithia, he sought a speedy trial so that the AAP leaders get jailed for defaming him.
Addressing the AAP supporters, Kejriwal said Majithia had flourished his drug trade that had affected most houses in Punjab.
"It's not only me, (Ashish) Khetan or Sanjay Singh, lakhs of people of Punjab have repeatedly said that Majithia is a drug trafficker," he said.
AAP volunteers carried placards denouncing Majithia.
Kejriwal said if the Parkash Singh Badal government could book the Delhi Chief Minister in a defamation case, he could understand how the common man was being harassed in Punjab.
Some 15,000 to 20,000 volunteers of the AAP had gathered near Circuit House in support of Kejriwal. Police stopped them about one kilometre away from the court.
Both Kejriwal and Sanjay Singh furnished bail bonds of Rs 40,000 each. The case will now come up for hearing on October 15, senior lawyer H.S. Phoolka told reporters.
Find latest and upcoming tech gadgets online on Tech2 Gadgets. Get technology news, gadgets reviews & ratings. Popular gadgets including laptop, tablet and mobile specifications, features, prices, comparison.
Sports
Manan Vohra burst onto the IPL scene in style with a Man of the Match performance against Pune Warriors India in IPL 2013. He recalls the special day right from receiving a shock call-up from Darren Lehmann to Gilchrist's inspiring words to hitting a stylish 28-ball 43.
India
SAD, which is a member of the ruling NDA at the Centre, issued the statement amid a widespread criticism by many farmers' organisations of the three farm sector ordinances promulgated by the Centre during the lockdown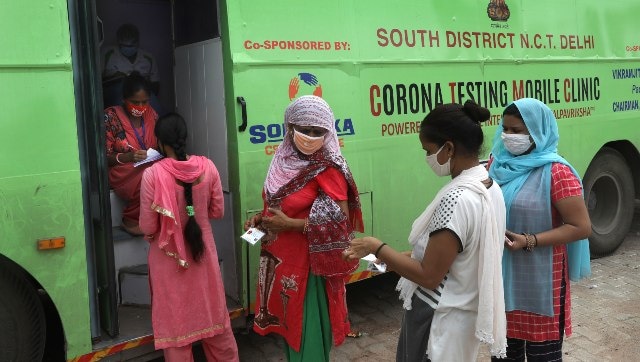 India
So far, a total of 46,74,987 people have recuperated from COVID-19 and the recovery rate stands at 81.55 percent, showed the health ministry's data updated at 8 am.