Arun Jaitley slams Congress, says its manifesto promises are 'constitutionally impossible' and 'financially improbable'
BJP leaders Arun Jaitley, Jitu Vaghani and Bhupendra Yadav released the party manifesto for the Gujarat Assembly Elections in Ahmedabad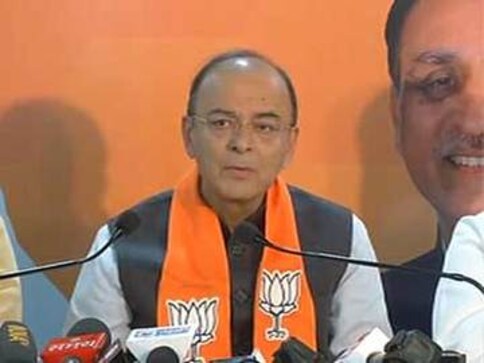 Finance Minister Arun Jaitley, BJP Gujarat president Jitu Vaghani and BJP leader Bhupendra Yadav released the BJP's manifesto for the Gujarat Assembly elections in Ahmedabad on Friday.
The Bharatiya Janata Party, while releasing its sankalp patra (vision document), said that the document will focus on the party's development plank for Gujarat. The party's leaders also slammed the Congress' promises in their manifesto, saying that they were "unrealistic" and it had "no link to governance." Jaitley, at a press conference, said that the grand old party's poll manifesto in Gujarat promising quota for Patidars and farm debt waiver was "constitutionally impossible" and "financially improbable." 
Jaitley also focused on the rate of growth in Gujarat. "Gujarat's Gross State Domestic Product (GSDP) growth is the highest in the country. In the last five years, Gujarat grew at the average rate of 10 percent among large states," Jaitley said at the conference. He also emphasised that Gujarat was the only one among the larger states which had a double-digit average rate of growth in this time period. He argued that even China was not seeing these figures of growth.
Jaitley said that these numbers should give detractors of the Gujarat model something to mull over. "The performance speaks for itself. Those questioning the Gujarat model, the 10 percent growth rate, must understand with seriousness Gujarat's GDP growth. The state under BJP rule has witnessed development in every social and financial sector," Jaitley said. He added that BJP brought about growth in every sector in the western state, be it infrastructure and welfare for the weaker sections of society or education and healthcare facilities.
Jaitley also said that the manifesto released on Friday would not feature images of leaders keeping in mind the Election Commission's code of conduct rules which state that photographs of leaders should not be advertised 48 hours prior to voting. He added that the document along with images will be available on the BJP website on Saturday at 5 pm.
In another attack on the Opposition party, Jaitley asserted that the party should not attempt social polarisation in Gujarat. "Social polarisation in Gujarat will be politics of damage for the state, and if the Congress moves in that path, it will cause harm to the state," Jaitley said at the conference. He also said that a lot of promises Congress made under their manifesto were policies that were already in place at the Central and state levels. He mentioned the Minimum Support Price (MSP) being offered to cotton farmers,  crop insurance, canal network irrigation and other facilities as examples to his case. Jaitley also argued that said that Congress-led states "refused to reduce a single rupee of duty" when crude oil prices fell to Rs 7. He said that Karnataka, Punjab and Himachal Pradesh were examples of this case. This comment comes after Congress promised to slash petrol and diesel prices by Rs 10 a litre and waive off farm debt under their manifesto.
According to India Today, the manifesto carries images of Prime Minister Narendra Modi and BJP president Amit Shah on its cover, along with the party slogan for this election: "Darek Gujarati no ekaj aavaj; hun chu vikaas, hun chu Gujarat (Each Gujarati speaks in a single voice; I am development, I am Gujarat)." 
The first phase of the assembly election will be held in 89 seats of Saurashtra and South Gujarat regions with 977 candidates in the fray. Prominent candidates in the fray include Chief Minister Vijay Rupani, who is contesting from Rajkot (West), and Congress' Shaktisinh Gohil (Mandvi) and Paresh Dhanani (Amreli).
The second phase comprises 93 seats in the north and central Gujarat. The counting of votes will be done on 18 December.
Watch the complete press conference here: 
Click here for detailed coverage of Gujarat Assembly election 2017
With inputs from agencies
India
Congress leader and Rajya Sabha MP Deepinder Singh Hooda said he, along with several other Congress members, had given adjournment notices in both Houses of Parliament in the just-concluded Monsoon session for holding a discussion on the Agnipath scheme but the government did not agree
India
Passengers are stuck at the railway station in Amritsar amid a rail-roko protests by farmers
India
Prime Minister Narendra Modi will chair the seventh governing council meeting of the NITI Aayog, the government's apex policy think tank