Art Attack: Kolkata's artists host beef party on the street to protest rising intolerance
Poets, theatre artists, political leaders took part in the protest programme where speakers railed against recent examples of intolerance and unfair political intrusion into the common man's life
Kolkata: A section of intellectuals and NGOs hit the streets against the rising intolerance in the country, by organising an open beef party here on Friday.
Poets, theatre artists, political leaders took part in the protest programme where speakers railed against recent examples of intolerance and unfair political intrusion into the common man's life - the lynching of a Muslim man in Dadri of Uttar Pradesh over rumours that he had consumed beef, the murder of Kannada rationalist scholar M.M. Kalburgi, and the police "raid" in Delhi's Kerala House.
Organised by the NGO 'Bhasa O Chetana Samiti' (Language and Awareness Forum), the protest saw many of the participants consuming beef while veggie fare was also available.
Carrying placards and banners saying "aap ruche khana" (eat according to your taste), the protestors said the banning beef was an attack on plularism that is the essence of India's existence.
"Our protest is against this conspiracy, said noted lawyer and prominent CPI-M leader Bikash Ranjan Bhattacharya.
Former state minister Abdur Rezzak Mollah said "we have come together against the attempts to disrupt peace."
Angry over the protest, Bharatiya Janata Party state president Rahul Sinha said it was organised to pamper the minorities.
"This beef party has hurt religious sentiments. The CPI-M and the Trinamool have joined hands in their heinous bid to promote politics of minority appeasement," he said.
IANS
Find latest and upcoming tech gadgets online on Tech2 Gadgets. Get technology news, gadgets reviews & ratings. Popular gadgets including laptop, tablet and mobile specifications, features, prices, comparison.
Politics
The two senior BJP leaders will visit the state to take stock of the party organisation ahead of the elections to the 294-member Assembly due in April-May next year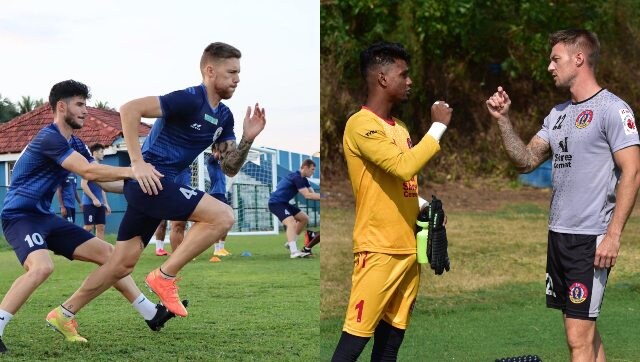 Sports
The Kolkata Derby adds the century-old rivalry to ISL's cabinet, enriching the competition with its history.