Are you listening, netas?: Jat hooligans, not JNU dissenters, are anti-national
The JNU students used words to express their dissent, while the Jat agitators wreaked havoc, causing extensive damage to public property.
By NR Mohanty
What an irony! Take one scenario: A handful of students in a corner of a university raise a few slogans in favour of someone who was not supposed to have indulged in the terrorist act himself, but was proved to be an accomplice of the terrorists. These students are branded as anti-nationals; the police swiftly gets into action, arrests the students and hauls them up on charges of sedition. The home minister of the country roars that the might of the state would come down heavily on all those who wage war against 'Bharat Mata'.
Consider another scenario: thousands of men descend on the streets of Haryana, armed with improvised guns, petrol bombs, swords, sickles, iron rods and sticks. They cause a mayhem for seven days, indulge in wanton destruction of government and private property including thousands of buses, cars, police vehicles. These rogues don't even spare schools, offices, hotels, toll plazas, malls, petrol pumps, and even police stations from being set on fire. They loot hundreds of shops, block roads and highways — NH-1 is blocked at Sonepat, barely 50 km from Delhi, choking the movement of millions.
The airlines make a killing by taking advantage of the desperation of the stranded people — a one-way ticket from Delhi to Chandigarh and vice versa costs Rs 50,000. These hoodlums set several railway stations on fire, uproot railway tracks at several places (Delhi-Ambala railway tracks that connect Delhi with north India were devastated in Panipat district) disrupting the movement of hundreds of thousands of passengers (527 trains were cancelled, 1337 trains were diverted); these rioters blockade and damage the Munak canal that supplies three-fifth of Delhi's water supply, and, in the process, leave common Delhiites parched for days on end.
How does the country's home minister react to this scenario? He maintains enigmatic silence for days, then appeals to the rioters to maintain peace. When the latter do not pay heed to the minister's appeal and get down to devastation with greater ferocity, the minister calls the mob leaders for a discussion, accepts in principle their demand and asks the chief minister of his state (a fellow party member) to give generous compensation to the families of the vandals who had been hurt in police action. The might of the state seemed crashing down before these weapon-wielding mob. The minister who roared like a lion when the JNU students had raised slogans turns into a mouse when he comes face to face with the Jat hooliganism.
What do these two scenarios tell us about the Indian state and the ruling dispensation? That it is a soft state and, at the same time, a weak state; it feels so threatened by a handful of students raising slogans that it decides to nip all dissidence in the bud to 'hold aloft the authority of the state'. But when hundreds of rioters make a mockery of the state power and go round establishing their own authority with impunity, the state appears flailing and concedes to their demand and beseeches them for mercy.
Who are the greater anti-nationals — slogan-shouting JNU students or the violent Jat rioters? The hyper-nationalists argue that the Supreme Court of India had found Afzal Guru guilty and sentenced him to death. So those who talk of 'judicial murder' of Afzal Guru are anti-national and must be dealt with sternly. Even if this argument is accepted, the problem with the state action was that the slogan-shouting students were charged with sedition; the Supreme Court has clearly laid down that the sedition charge would stand only when the accused help 'spark a powderkeg' kind of situation, which clearly did not exist in this situation. So the charge of a few students adding a spark did not arise.
The Supreme Court has also clearly laid down that the sedition charge would stick if any group causes disaffection towards the state other communities by action, not speech, and, more importantly, by resorting to violence to spread such disaffection. JNU students had not indulged in violence. So, they cannot be, by any stretch of logic, be branded seditious.
But Jat rioters clearly fit the bill – the twin description of 'anti-national' and 'seditious'. What were they demanding? That Jats must be included in the Other Backward Classes (OBC) category so that they could avail benefits of caste-based quota in college admissions and state jobs. Right or wrong, the Supreme Court has struck this demand down as unconstitutional. Despite this, if the hundreds of protesters descended on the streets and told the world that they cared two hoots for the Supreme Court order and that the government could ignore their demand at its own peril, they were clearly causing disaffection towards the state.
Their crime got further compounded and became seditious when the protesters took to large-scale violence. Their selective torching of the houses, shops, vehicles belonging to the non-Jats is a clear vindication of causing disaffection towards other communities through violent means.
These Jat rioters were the real anti-national forces; they ought to have been booked under sedition charges. But what was the state doing? Mollycoddling them, giving them compensation for having been hurt during their rampage, assuring them that the legislature would pass another bill in defiance of the earlier Supreme Court verdict that quashed all possibilities of there being any Jat quota.
Clearly, when it was a case of a few unarmed JNU students, the power of '56 inch' state authority got into display and the defence of Bharat Mata became the war cry; but when it came to dealing with thousands of armed insurrectionists, it seems the state authority shrunk to '36 inch'. It became a mute spectator when the Bharat Mata was mercilessly assaulted; it rewarded the assaulters with money and jobs. That is the true colour of a hyper-nationalist state.
Find latest and upcoming tech gadgets online on Tech2 Gadgets. Get technology news, gadgets reviews & ratings. Popular gadgets including laptop, tablet and mobile specifications, features, prices, comparison.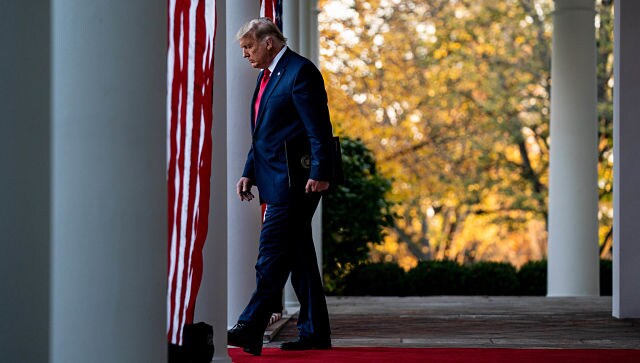 World
Many observers of Trump family history have reflected on the influence of the patriarch, developer Fred Trump, who had his own version of the binary taxonomy of humanity: The strong and the weak
India
For the best part of the century, Kashmir's politics has been shaped by opportunistic compromises, half-measures—and, when these failed, ruthless coercion
World
Given the dynamics at play, India is reduced to a mute spectator as are the other neighbouring countries like Iran, Tajikistan and Uzbekistan who have their own sovereign, sectarian, ethnic and strategic interests at stake, with the evolving narrative