Another jolt to Bihar grand alliance? Nitish Kumar likely to skip Opposition meet on vice presidential candidate
Bihar chief minister Nitish Kumar has worked out the perfect alibi to excuse himself from the meeting on account of JD(U) legislators' meeting that he is scheduled to chair in Patna on Tuesday
Amid speculations that the Bihar Mahagathbandhan is going through a frosty phase, Chief Minister Nitish Kumar has dealt another blow to the Opposition's unity talk by deciding to skip the joint meeting to be held in Delhi.
According to a report in NDTV, Nitish is likely to skip the Opposition parties' meet to pick the vice presidential candidate in the upcoming presidential polls. The meeting, scheduled for Tuesday in New Delhi, will be attended by 17 Opposition parties and will be chaired by Indian National Congress president Sonia Gandhi. The report, however, stated that Nitish is likely to nominate another senior leader, preferably Sharad Yadav, to attend the meet on his behalf.
Nitish has worked out the perfect alibi to excuse himself from the meeting on account of the Janata Dal United (JD(U)) legislators' meeting that he is scheduled to chair in Patna on Tuesday.
Nitish had earlier created flutters by breaking ranks with his allies — Rashtriya Janata Dal (RJD) and Congress — to support National Democratic Alliance presidential pick Ram Nath Kovind. The rumours had rocked the Bihar grand alliance, forcing JD(U) leaders to come out with clarification that Nitish's support to NDA in the presidential polls was a one-off incident and that the grand alliance was rock solid.
Nitish had also defended his stand stating that his support for Kovind was owing to the fact that he was his state's governor, and that he wouldn't stymie his chance of becoming the next president by supporting another candidate. He had also said that the Opposition took too long in choosing a candidate. The Congress, however, is all set to trump BJP this time by announcing its vice presidential nominee before the saffron party to woo Nitish's support.
Meanwhile, Nitish, who is reportedly unwell, had also cancelled all public engagements scheduled for Monday, but political pundits continue to see his moves in a political light. The ties within the Mahagathbandhan are also strained over Friday's CBI raids on Lalu Prasad Yadav's family homes and the subsequent FIR naming him and his family members. The CBI FIR also names Lalu's son Tejashwi Yadav, who is the deputy chief minister of Bihar. The Opposition in Bihar has lapped up the opportunity to demand his resignation.
While Congress and RJD had extended their support to Tejashwi, with Lalu's party announcing that Tejashwi wouldn't resign, Nitish is, however, reportedly upset with Tejashwi's decision to not step down as the deputy chief minister. A source told NDTV that it was the prerogative of the chief minister to remove or keep a minister in the cabinet.
Nitish had returned to Patna on Sunday after spending three days in Rajgir, away from Patna where the political climate had heated up following the CBI raids. However, the Bihar chief minister has so far given no signals to clarify his party's stand on the issue.
Find latest and upcoming tech gadgets online on Tech2 Gadgets. Get technology news, gadgets reviews & ratings. Popular gadgets including laptop, tablet and mobile specifications, features, prices, comparison.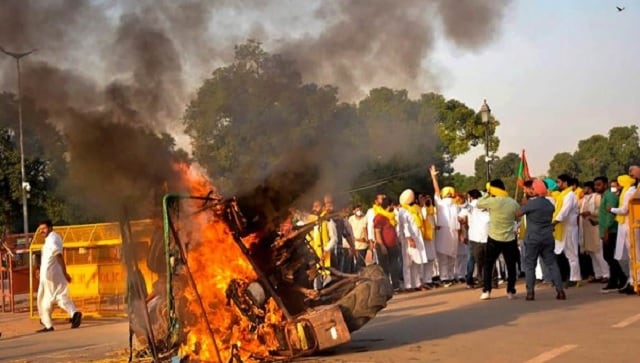 India
Farmers' organisations continued protests even as President Ram Nath Kovind gave assent to all the three contentious farm bills passed by the Parliament on 20 September
Politics
A SAD delegation led by Badal met President Ram Nath Kovind on 21 September and urged him to return them to Parliament for reconsideration
Politics
The term of the 243-member Bihar legislative Assembly comes to an end on 29 November. Of the total strength, 38 seats are reserved for SCs and two for STs