Anna is winning the battle of slogans, hands down
Anna's statements are simple. Simple to understand, absorb and react to. If the Congress has to get into the mindspace of Anna's followers, they will have to do it slogan-for-slogan.
While the Congress' spinmeisters Abhishek Manu Singhvi and Kapil Sibal go into great detail on why, for example, group C and D employees, the CBI and the prime minister are left out of the ambit of the proposed Lokpal Bill, as far as Anna Hazare's supporters are concerned, nothing registers.
If God is in the details, they do not care. They do not understand or want to understand parliamentary procedure, they do not want to understand why passing laws take time, they do not want to hear the government's point of view.
What they do hear and understand are the simple statements, questions and accusations made by Anna Hazare.
• If the prime minister is honest and non-corrupt, why is he opposing the inclusion of his office in the Lokpal?
• Why is the government excluding group C and D employees – do they want to perpetuate corruption?
• The government wants to hide their own wrongdoings; that's why they want to leave the CBI out of the ambit of the Lokpal.
• 'We suspect that Rahul Gandhi is behind the government's going back on it's promises," Hazare said.
• "The government has cheated the citizens."
These are all simple to understand, absorb and react to. All make for great headlines as well, and a grateful media reproduces them and amplifies the messages.
Whatever the Congress' spokespersons spout are complicated statements talking about procedure and legalese – and immediately interpreted and projected by Anna Hazare as a means to avoid tabling a 'strong' Lokpal Bill.
If it's a battle of slogans, Anna is winning it hands down.
This battle will not be won by nullifying Anna Hazare's statements with lectures on how democracy functions – Anna
Hazare's followers don't want that.
There has to be like-for-like sloganeering, slogans that people understand easily.
The problem for the Congress is, they have to be believable as well.
Subscribe to Moneycontrol Pro at ₹499 for the first year. Use code PRO499. Limited period offer. *T&C apply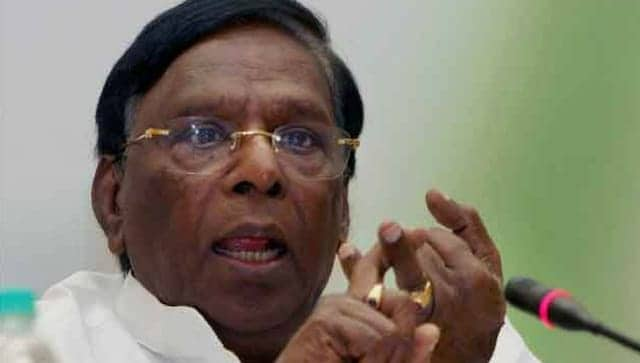 Politics
The collapse of the V Narayanasamy-led government in Puducherry led to a war of words over Rahul Gandhi's leadership of the Congress party and the BJP's 'corrupt politics'
Politics
Joshi, BJP's election in-charge for Kerala, challenged Rahul to clarify his position on the Sabarimala issue, claiming that the Congress' national and state leadership have taken two different stands on the matter
Politics
After concluding his visits to Kerala and Puducherry, Rahul, at a rally in Kanyakumari, said that 'only a person who truly represents the Tamil people can be a chief minister of Tamil Nadu'