Andhra Pradesh special status: Chandrababu Naidu's Delhi trip to garner support, not aggravate Narendra Modi
Close on the heels of TMC chief and the West Bengal chief minister Mamata Banerjee holding hectic parleys with various Opposition parties, now it is the turn of another regional stalwart, TDP supremo and Andhra Pradesh chief Minister N Chandrababu Naidu to reach New Delhi.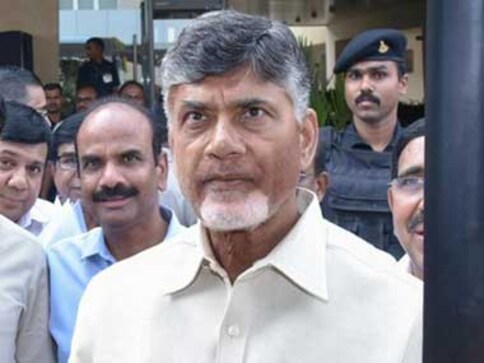 Close on the heels of TMC chief and the West Bengal chief minister Mamata Banerjee holding hectic parleys with various Opposition parties, now it is the turn of another regional stalwart, TDP supremo and Andhra Pradesh chief Minister N Chandrababu Naidu  to reach New Delhi.
Though it is purportedly aimed at taking the Andhra special status battle to national stage, none can deny the fact that Naidu, who was instrumental in the formation of United Front, would be seen as someone galvanising the Opposition forces.
The obvious question doing rounds in the political circles is how is Naidu's initiative different from that of Mamata. Will Naidu supplement Mamata's efforts to unite all anti-BJP forces? Or will he compete for the political space in the national Opposition?
There is a fundamental difference between the approach of Mamata and Naidu, though both would like to fight BJP.
Congress is a friend to Mamata. TMC needs Congress in the battle for West Bengal. In fact, Mamata proposed a tie-up with the Congress in Tripura elections. It did not materialise because of Congress intransigence. However, notwithstanding this experience, Mamata still wants to rope in Congress for her own political ends.
BJP and CPM are her main rivals. With CPM taking a strident position not to ally with Congress, thanks to its ideological divide, TMC finds Congress as its natural ally. TMC is locking horns with BJP and any surge in the saffron party would prove to be lethal for Mamata in the Assembly elections that follow 2019 Lok Sabha elections.
Therefore, more than the national political ambitions, Mamata would not like to lose West Bengal and shall leave no stone unturned to frustrate BJP. Any incremental addition in the form of Congress would prove to be extremely useful for TMC in the electoral arena of West Bengal.
The political picture is quite contrary for Naidu. TDP still believes that Congress, at least in the pre-poll scenario, is a liability rather than an asset. The people of Andhra Pradesh are not yet ready to forgive Congress. TDP sources told Firstpost the survey conducted by the party and the feedback from party grassroots cadre also testified to this antipathy towards Congress in the electorate.
Naidu's political strategy since bifurcation is centred around the narrative that Congress has arbitrarily divided the state. The doomsday fears generated by Naidu's relentless campaign helped him to win in 2014 and TDP hopes to continue its narrative around bifurcation. The only addition to the narrative will be how the other  national party, BJP too ditched the state.
Given this political milieu it is difficult for TDP to deal with Congress, at least at this time.
The TMC chief could meet Congress leaders in her efforts to arrive at broad unity among anti-BJP forces. But, YS Chowdary, former minister and TDP parliamentary party leader told Firstpost Naidu cannot meet Congress and there is no itinerary to this effect when TDP supremo arrives in Delhi.
This takes the shine off Naidu's efforts as not only TMC, but many other parties such as RJD, NCP, DMK, SP, BSP and even the CPM are not averse to joining hands with Congress. Only parties like TRS, which are in direct fight with Congress would like to toe Naidu's line. But, due to home ground problems, Naidu cannot rope in KCR.
Mamata has 34 seats and is expecting an increase with the support of Congress in 2019 whereas Naidu has fewer seats in the truncated Andhra Pradesh. In politics, numbers do matter. Even more than experience and contacts. The decline of the Left's political esteem is a clear indication of this. Senior leaders want Naidu to be wary of these limitations compared to his innings in united Andhra Pradesh.
Besides, any fight with BJP at the national level would be politically useful for Mamata as it is her direct rival in the state. On the contrary, BJP is not a force to reckon with in Andhra Pradesh. Naidu has to fight a much stronger Opposition in the form of YSR Congress. Naidu has many more challenges and therefore cannot afford to divert his attention by shifting his political action to Delhi, that too on election eve. For Mamata, the fight in Delhi is a continuation of fight in Calcutta.
Sources close to Naidu also informed Firstpost the chief minister's advisors cautioned him not to antagonise Modi dispensation too much.
The state needs support from the Centre. Compared to West Bengal, the people in Andhra Pradesh have far higher expectations. Naidu sold a nightmare and titillating dream during his 2014 campaign and continues to do so. Thus, polemics alone will not help him. He needs to perform on the ground as per the expectations of the people.
Naidu won the 2014 mandate with a slender margin of two percent. TDP sources told Firstpost the surveys conducted by the party also revealed not much change in the correlation of political forces. Meanwhile, BJP and Pawan Kalyan moved away from TDP. The outcome in 2019 is therefore unpredictable. Naidu cannot afford to fritter away his energies.
Yet, Naidu needs to go to Delhi for the reasons of perception and political optics. Therefore, the party sources call Naidu's voyage to Delhi as an effort to garner greater national political support for Andhra Pradesh cause rather than anything to do with Third Front or Federal Front. This is essential to bring his anti-Centre crusade to a logical end to derive maximum political and electoral dividend.
The writer is former MLC in Telangana, former editor The Hans India and professor, journalism, Osmania University
also read
Explainers
Sengol will be installed in the new Parliament building by PM Narendra Modi on 28 May. This historic sceptre has become a bone of contention between the ruling BJP and the Opposition party Congress, which are sparring over its use at the time of Independence
Explainers
The inauguration of the new Parliament building has snowballed into a political slugfest between the government and the opposition. But this is now the first row over it. From construction during the COVID-19 pandemic to the national emblem sitting atop, the Sansad has triggered many debates
Explainers
Prime Minister Narendra Modi was on Monday conferred with the highest honours of Papua New Guinea and Fiji. From the United States' Legion of Merit to Russia's Order of St. Andrew, let's take a closer look at the many countries that have bestowed honours on him