The issue of Telangana and YSR Congress president Yeduguri Sandinti Jaganmohan Reddy would loom large in the voter consciousness when Andhra Pradesh goes to polls in 2014, said a survey.
Conducted by the Centre for the Study of Developing Societies (CSDS) for CNN-IBN and The Hindu, the survey reveals that the voting behaviour in Telangana would be largely shaped by the central government's final position on the contentious statehood issue. As many as 88 percent of the respondents from the region said they would take a decision after the Union government clarifies its position. The state goes to assembly polls next year too.
In a sample size of 1,681, only 36 percent favoured a united Andhra Pradesh.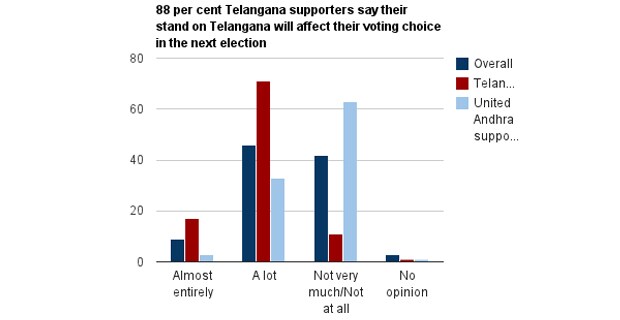 The pitch for a separate state of Telangana has gathered significant momentum between 2009 and 2013. The survey says 61 percent of the respondents want Telangana to be separated from Andhra Pradesh at this point. This figure was 42 percent in 2009. While the pro-Telangana sentiment has been on a high in Telangana region in the last four years, stiff opposition to it is also gaining ground in coastal Andhra regions.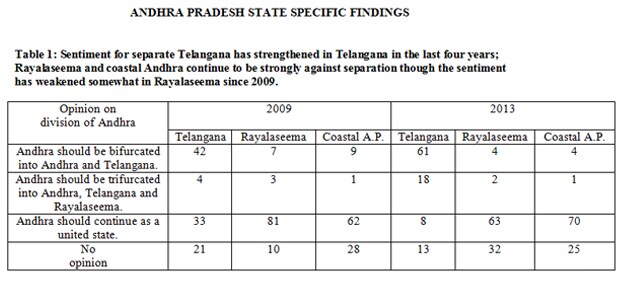 However, it has weakened somewhat in Rayalaseema since 2009. Among the respondents in Rayalaseema in 2009, 81 percent preferred a united Andhra Pradesh. This has, however, come down to 63 percent in 2013. The call for an undivided Andhra Pradesh has grown vociferous in 2013 with 70 percent wanting the state to be geographically as it is at present. Significantly, the percentage of respondents in Telangana preferring an united Andhra Pradesh came down sharply in 2013. In 2009, 33 percent wanted Telangana to remain with Andhra Pradesh, this has come down to a mere 8 percent this year.
The decision paralysis regarding Telangana, in all likelihood, would affect the political standing of the ruling Congress in the state whenever elections take place.
The CSDS survey reveals that Jaganmohan Reddy is the most preferred candidate as the chief minister of the state. Notably enough, people in Telangana wanted Telangana Rashtra Samithi chief K Chandrashekhar Rao to be at the helm of affairs. Among the traditional Congress supporters, 32 percent gave their thumbs up for Reddy while 22 percent in Telangana favoured Rao.
In the comprehensive outlook of the study it was found that 25 percent want Reddy to be the chief minister followed by Telugu Desam Party president N Chandrababu Naidu with 17 percent.
What might worry the Congress is the people's belief regarding Reddy and his alleged involvement in corrupt activities. Forty percent of the traditional Congress supporters felt that Reddy is innocent and is being falsely implicated by his political opponents. In the same category, 27 percent believed that Reddy is corrupt and the Central Bureau of Investigation is right in investigating him. Thirty-three percent did not have any opinion on it.
Updated Date: Jul 23, 2013 20:09 PM