Andhra bypolls: Will jailed Jagan's 'fan' blow away Congress?
Jaganmohan Reddy being in jail may not affect his party's prospects in the by polls to be held in the state tomorrow and could help him sweep them instead.
by TS Sudhir
Jaganmohan Reddy was livid when he was brought to the CBI special court on Monday in a Swaraj Mazda van, usually used for transporting criminals to the court from jail. Borrowing a pen from his lawyer, he wrote a letter (memo of request by the petitioner) complaining about the treatment.
"To carry out political vendetta and to humiliate me, I was deliberately brought in a van used for transporting regular criminals without regard to my status as a special prisoner and disregarding my stature as an MP,'' he wrote.
This was in sharp contrast to the demeanour Jagan has exhibited everytime he has stepped out of Chanchalguda central prison to travel to the CBI office for interrogation. He would smile and greet onlookers with folded hands, a gesture that infuriated Chandrababu Naidu so much that he described it as a "sign of no remorse''.
If the intention was to get under Jagan's skin, the CBI tactic seemed to have worked to an extent. The agency used also another weapon - a plea in court to subject Jagan to narco tests - arguing that he is not cooperating with the CBI, giving evasive and vague replies. The effort was to show that he is a 'dangerous and hardened criminal' who does not break so easily.
As expected, the court extended Jagan's judicial custody till 25 June, making him a non-playing captain of his YSR Congress team on the day voters in Nellore Lok Sabha and 18 assembly seats will deliver their judgement on his political future. His mother and sister have canvassed for the party, asking for judgement in the people's court. If the party does well, Jagan will interpret the incarceration as a Congress gameplan to keep a 'popular' leader in jail.
If YSR Congress performs well, Jagan will need to thank Sharmila and Vijayamma for their cameo.
Let's take Ramachandrapuram in East Godavari district as an example. Till a week ago, supporters of Pilli Subhash Chandra Bose, former minister and YSR Congress candidate from Ramachandrapuram were nervous. Jagan's arrest had not created the kind of sympathy wave they had expected. They knew they needed that to nullify the negative sentiment in the constituency, given the allegations of corruption against Bose and his family members.
The roadshow by Vijayamma and Sharmila changed the dynamics of the contest and now, the same supporters and political analysts in the district are claiming a victory margin of over 8000 votes. The story is pretty much the same in most of the constituencies that vote on Tuesday.
What has changed? Talk to people in the constituencies that are going to elections and none of them claim to be enamoured of the candidates Jagan has fielded. Nor do they think that he is a saint. But the tag of the underdog, sent behind bars, is strangely working for Jagan. They believe the YSR Congress spiel that had he stayed on "like a good boy'' in the Congress, he wouldn't have had CBI slapping cases on him.
At the end of the campaign on Sunday evening, a senior Telugu Desam leader told me that the relentless and rabid anti-Jagan campaign carried out by Eenadu and Andhra Jyoti Telugu newspapers and their respective TV channels have actually harmed the TDP more.
"People now feel the entire system is actually conspiring to finish Jagan politically. A more subtle approach would have worked better,'' he said.
In contrast are the images on Sakshi TV and newspaper, that show huge crowds flocking to hear Sharmila and Vijayamma, as if to convey that the people are with the family. Apart from the goodwill for YSR that still prevails in rural Andhra Pradesh, a common sentiment you hear is "why not give him at least one chance'' and "after all, which politician is not corrupt''.
And harming the Congress cause most is the chief of its state unit. When Botsa Satyanarayana, himself tainted by allegations of being involved in the liquor scam, delivers sermons on honesty among politicians, it cuts no ice with the voter. And the TDP is not seen as offering a new alternative, with Naidu himself struggling to shrug off his farmer-unfriendly image acquired during his years in power.
This is an election that has seen a record amount of unaccounted cash seized - Rs 54 crores. In contrast, Rs. 32 crores was recovered in the 2009 simultaneous Lok Sabha and assembly polls, that too in all the 42 LS and 294 assembly seats. It is an indicator of the desperation exhibited by all the political parties to use money-power to buy votes. The going rate is reportedly Rs 1,000 for a vote. And in tight contests like Payakaraopeta (where the TDP is putting up a stiff fight), Narsapur (where the Congress candidate is strong) and Tirupati (where the YSR Congress candidate Karunakar Reddy has a soiled reputation), the voter is king on the D-day and supply should meet demand.
Intelligence agencies have predicted a sweep for the YSR Congress, with only Parkal in Telangana region going the way of the TRS. The three seats mentioned above could witness a tight finish. Nellore Lok Sabha seat too looks difficult for high-profile Congress candidate T Subbirami Reddy, despite whispers of a match-fixing deal with the TDP. This result in a coastal Andhra seat will be an indicator of things to come in the 2014 Lok Sabha elections and that should worry Sonia Gandhi. Sources say in most constituencies, the Congress and TDP candidates in the last one week have reduced their expenditure and are spending only what is necessary to come second.
The real challenge for the Congress will begin as soon as the voting ends on Tuesday evening. With Jagan behind bars proving to be a bigger political threat, the Congress will have to guard against his ceiling fan (YSR Congress party symbol) blowing away its government in Andhra Pradesh.
Find latest and upcoming tech gadgets online on Tech2 Gadgets. Get technology news, gadgets reviews & ratings. Popular gadgets including laptop, tablet and mobile specifications, features, prices, comparison.
India
The exam will be conducted between 2 and 13 November in 13 districts, including Visakhapatnam, Rajahmundry, Vijayawada, Nellore, Tirupati, Kurnool, and Hyderabad
India
Students with ranks between 20,001 and 50,000 can register for the counselling process on 24 Oct, while 50,001 to 80,000 can pay the fee on 25 Oct, while ranks 80,001 to 1,10,000 can register on 26 Oct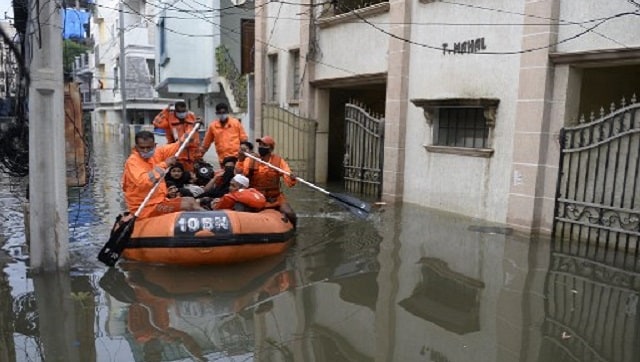 India
A NDRF press release said rescue and evacuation operations continued on Friday in the flood-hit cities of Telangana, Andhra Pradesh, Karnataka, and Maharashtra as many areas are still inundated