An answer to 'thinking class' hubris
What's the message for the civil society? Well, trust the Indian voter, trust the political system.
The results of 2011 assembly elections are a tight slap on the arm chair theorist's condescending impression of the ordinary Indian voter. Underestimated and sniggered at for long for his lack of political intelligence and poor grasp of complex issues, the voter has struck back with a vengeance. The landslide victories of Mamata Banerjee in West Bengal, Jayalalithaa in Tamil Nadu and Tarun Gogoi in Assam, and of Nitish Kumar in Bihar earlier reflect his ability to think, reflect on and respond to situations.
Moreover, the results reflect his faith in democratic institutions and processes. The voters have asserted that within democracy there are solutions to many of its problems and politics brings out the answers to the logjam it creates. The champions of the civil society movement must take note.
"Why don't you contest elections?'' the venerable Anna Hazare was asked in a television interview. He replied he did not have the resources to bribe the voters and offer them booze. Coming from the respected Gandhian, it must have been an innocent assessment of the current situation where money plays a big role in elections. When his middle class supporters make the same point, it assumes a different ring and a hint of arrogance.
No doubt, money, lots of it, changes hands during elections. But that does not explain why governments are thrown out so frequently by the voters across the country, why honest, performing parties are voted back to power. The voting trend over the last decade-and-a-half would make that clear. If ruling parties have been retained in some -- Bihar, Madhya Pradesh, Gujarat and Delhi, for example – it is a stamp of approval for their ability to perform and deliver. Had money been such a decisive factor, governments won't change. Sops like colour TVs and grinders make for shocking headline news, nothing more.
Here's another thinking class grouse. The average Indian voter is uneducated and ill-informed thus, cannot make an intelligent choice. The first questions it raises are which section makes an intelligent choice, and what is intelligent choice anyway? When the educated class votes for a particular party – assuming, wrongly though, that the entire section votes in a unified way – is it always well-informed and never free of personal prejudices?
The hype about the role of education is disproportionate to its actual value to the common man. The farmer queing up to cast his vote in a rural booth has an uncluttered mind. The simple issues before him are whether the government has delivered, communicated with him well and made noticeable changes to his immediate life. He reduces it to a pure black and white scenario before making a decision. Obviously, he does not need to understand the intricacies of an Indo-US civil nuclear deal. He does not require the information that is not connected to his everyday life.
The landslide victories in recent times also debunk another damning allegation against the ordinary voter: he votes along narrow caste and communal lines. The results reflect that voting along parochial, limited consideration has taken a clear back space. We are increasingly hearing less of complicated expressions like social engineering, caste combinations and voting along religious lines. When people vote overwhelmingly for one party or one combine, it is an indication that they have broken free of small considerations.
Traditional entities like caste, community and religion come to occupy the space created by poor governance. People have to rely and identify with them when the government fails to reach them. The group identification is a conscious strategy to gain bargaining strength. The results assert their faith in governments, and yes, the political system and the parties.
"Deliver or perish. You cannot take the voters for granted." That is the warning hanging around incumbent governments. Political parties will need to change their behaviour from now on.
What's the message for the civil society? Well, trust the Indian voter, trust the political system. Drop the idea of wholesale changes and focus on areas that need intervention. Love it or hate it, democracies have to live with political parties. You have honest, intelligent and highly efficient people in all parties. Co-opt them into the process of change to marginalize the bad apples in the system. And, please don't allow middle-class arrogance to creep in.
Subscribe to Moneycontrol Pro at ₹499 for the first year. Use code PRO499. Limited period offer. *T&C apply
Politics
Team Anna is being slandered as 'tyrannical' for advancing participative democracy. But the world is moving towards 'crowdsourced government'. Some inspirational examples...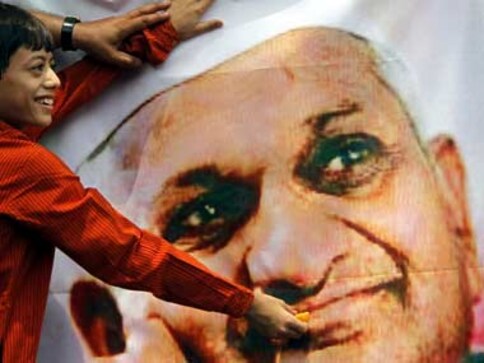 Politics
Every democracy needs unelected experts who will advice and offer options. The unelected advisors acquire legitimacy through a process of public vetting. The National Advisory Council of Sonia Gandhi's is not quite there because it is a hand-picked group with no accountability
Breaking Views
Hazare has never taken his campaign outside the state, except for the Jan Lokpal agitation, which took him to Delhi and other states. And this would be the first attempt at mounting a national campaign without Kejriwal's organisational skills. Will Anna succeed?