Amit Shah replies to Congress' Jama Masjid apology barb, says India knows riot allegations against Modi were rejected by SC
Amit Shah said Congress' Charan Singh Sapra had asked Prime Minister Narendra Modi to visit the Jama Masjid to seek forgiveness for the 2002 Gujarat riots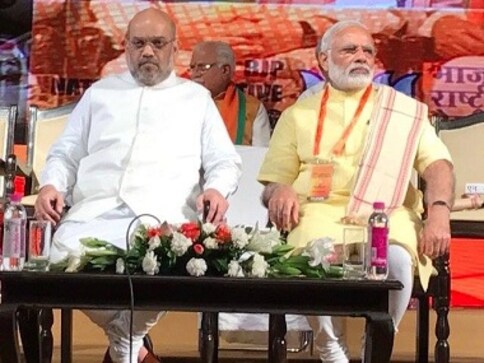 Accusing the Congress of minority appeasement, BJP president Amit Shah said that a spokesperson for the party, Charan Singh Sapra, had asked Prime Minister Narendra Modi to visit the Jama Masjid to seek forgiveness for the 2002 Gujarat riots. He added that the allegations which were made by Congress-backed NGOs were rejected by the Supreme Court.
"The entire country knows that the allegations by Congress-backed NGOs against Modi regarding the 2002 riots were rejected by the Supreme Court. But this Congress leader in 2017, for the sake of vote bank politics, is asking Modi to go to the Jama Masjid to apologise for the 2002 riots," Shah said.
कांग्रेस के एक प्रवक्ता ने कहा है कि पीएम मोदी को 2002 के दंगों के लिए जामा मस्जिद में जाकर माफ़ी मांगनी चाहिए। पूरा देश जानता है कि 2002 के दंगों में कांग्रेस से प्रेरित NGO ने जितने भी फर्जी आरोप लगाये थे, सभी मामलों में मोदी जी पर कोई भी आरोप सिद्ध नहीं हुआ : श्री @AmitShah pic.twitter.com/H8AUYMExsT

— BJP (@BJP4India) December 10, 2017
According to News18, Congress leader Sapra had asked Modi to "apologise in Jama Masjid" like Sonia Gandhi had done in Amritsar's Golden Temple, during a media event.
"Neither my party nor do I support the 1984 (anti-Sikh) riots. Sonia Gandhi visited Golden Temple and apologised in front of the media. Manmohan Singh also apologised in the Parliament. In the last 33 years, the BJP has been adding insult to our injury. Can Modi visit the Jama Masjid and apologise for 1992 riots?" the Congress leader from Punjab had reportedly said.
Shah also said that the party had deployed its leader Salman Nizami to campaign in Gujarat. "Nizami believes in freedom of Kashmir and has made statements that Afzals (2001 Indian Parliament attack convict Afzal Guru) would be born in every home of the state," Shah said.
Shah also said the BJP is fighting the Gujarat polls only on the plank of development.
The first phase of Gujarat Assembly polls, covering 89 seats, was held on Saturday, while the second and final round of voting will take place on 14 December.
With inputs from PTI
Click here for detailed coverage of Gujarat Assembly Election 2017
Politics
Sidhu's elevation as the president of the Punjab Pradesh Congress Committee (PPCC) may position him as a succeesor to Captain
Politics
Rawat also informed Singh that three to four working presidents of the chief minister's choice would also be appointed along with Sidhu, sources said
India
The two-member Appointments Committee of the Cabinet comprises the Prime Minister and the Home Minister