Amit Shah in Gujarat: Rahul Gandhi's talks are just empty words, says BJP chief as he heads for Surat
LIVE NEWS and UPDATES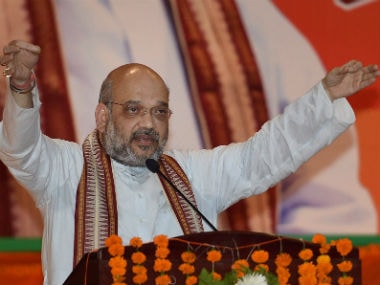 13:26 (IST)

Amit Shah heads to Surat to address his next rally

13:12 (IST)

Narendra Modi working for development of Dalits, Adivasis, OBCs: Amit Shah

"Narendra Modi is working towards the development of Adivasis, Dalits, OBCs. It's his aim to eradicate poverty and suffering in the country. He is going to make sure no Adivasi remains poor. He wants to remove poverty from your lives," said Shah in support of Prime Minister Narendra Modi.

13:10 (IST)

'Rahul Gandhi is all empty talk in Gujarat; only BJP working in Gujarat'

"Rahul Gandhi is just speaking empty words all over Gujarat. But which party is actually doing work? BJP!" said Shah.


Hitting out at Congress vice-president, Shah said, "Rahul Gandhi kept talking about how the Congress is coming to power, Congress is coming to power. But what happened in Uttar Pradesh (civic polls)? Forget Uttar Pradesh, in his (home constituency) Amethi, BJP won the municipal elections"

13:03 (IST)

BJP doing everything to ensure Adivasis' problems end, says Amit Shah

Speaking at the Tapi rally, Shah said, "The BJP assigned funds to set up medical universities and colleges in five lakh Adivasi districts. BJP governemnt is doing everything to ensure that all of Adivasis' problems come to an end."

12:56 (IST)

Nine lakh Adivasi children enrolled for skill development: Amit Shah

Speaking at the rally, Amit Shah claimed that almost nine lakh Adivasi children are enrolled for skill development. He further added that BJP even set up a university so that they could get employment.


"If they want to become a plumber, if they want to become an electrician - we made arrangements for all of this. After this, two lakh Adivasis have gotten employment in different fields," said Amit Shah.

12:48 (IST)

BJP has always taken care of Adivasis, says Amit Shah

Speaking at a rally in Tapi, BJP chief Amit Shah said, "Since BJP came to power, we have ensured that Adivasis are taken care of." In 2004, Narendra Modi set up a Tribal Plan, along with a development programme, to ensure the growth of Adivasis, the BJP chief added.

12:44 (IST)

Amit Shah hits back at Opposition over their criticism over GST

"Three months back, the GDP had come down due to some effects of the GST, and the entire Congress leadership started appearing on TV, shouting that an economic slowdown had descended on the country. Yesterday, a new GDP figure says it is 6.3 and the Congress leaders have fallen silent. The Uttar Pradesh results today have made them even more silent," BJP president Amit Shah said on Friday.

-PTI

12:34 (IST)

In Vijay Rupani's Rajkot, BJP hopes 'Gujarati Asmita' will make voters forget water woes?

All these different constituencies, unable to solve their water woes in 22 years, are expressing their anger against the ruling BJP, and most are expected to take it to the voting booth.

A lot is at stake here. There are thousands of traders, and a substantial Patidar population in Rajkot. It's Chief Minister Vijay Rupani's constituency and he is skating on thin ice. He did a lukewarm roadshow on 2 December, which did not seem like the one by a sitting chief minister. An auto driver said Rupani is highly unimpressive. "Anandiben was better," he said. "Rupani does not inspire us to vote for him. He is Amit Shah's puppet."

12:25 (IST)

How Yogi Adityanth's whirlwind UP civic polls campaign reaps rich dividends for BJP

The BJP has romped home as a convincing winner in the civic elections in Uttar Pradesh, reaffirming the sustained hold of Chief Minister Yogi Adityanath despite there being conflicting signals about his performance. That it has virtually swept the mayoral polls is a tribute to its organisational strength and the commitment of its cadres.

With BJP president Amit Shah adept at polarising voters on religious and caste lines, the dice was loaded in favour of the BJP from the word go. But the lack of serious campaigning by the SP and to a lesser extent the BSP made things worse for them. Mayawati's party did campaign but she herself kept away from campaigning, like Akhilesh.

​BJP's performance in Uttar Pradesh civic polls might tilt the scales in their favour in Gujarat

This (UP civic polls) election was held when campaigning for Gujarat elections has gained pace and as such the overall political atmosphere was surcharged. The outcome of the municipal polls wouldn't tilt the scale in Gujarat but it would certainly become a talking point at election rallies, especially for the winners — in this case, the BJP which will hail their track record of governance, organisational strength and their ever rising appetite to win elections.

Even though there is no direct co-relation between electoral victory or defeat in in one state and its impact on another state, but it depends on how the personalities and parties involved cash it. Results of Maharashtra, Chandigarh, Odisha panchayat polls and such other local body polls held in other states had become big talking point, in the media and in election rallies held by BJP leaders in the run up to the Uttar Pradesh Assembly elections.

11:36 (IST)

Congress aave chhe? More like Congress jae chhe in Gujarat, says Amit Shah

Attacking the Congress' Gujarat agenda, Amit Shah said, "The Congress has been shouting for the last three months that 'Congress aave chhe' (Congress is coming in Gujarat), while today, the people of Uttar Pradesh said 'Congress jae chhe' (Congress is going)," he said.

"The Congress' loss is such that the BJP won all the municipal corporation seats even in (Congress vice president) Rahul baba's (Gandhi's) Amethi constituency," he said, adding, "Whatever has happened in Uttar Pradesh today is nothing compared to what is going to happen in Gujarat on December 18. After the (vote) counting on December 18, the BJP will emerge victorious and form the government with 150 seats."

Shah attacked the Congress over the GDP data, saying that its leaders had fallen silent after the new GDP figures were announced.

11:34 (IST)

UP civic poll results nothing compared to what will happen in Gujarat: Amit Shah

After the BJP's victory in the civic polls in Uttar Pradesh, party chief Amit Shah said UP win was nothing compared to what was going to happen in Gujarat on 18 December, when the state Assembly election results would be declared.

"In the Uttar Pradesh municipal corporation election, the Congress did not win a single seat. On the other hand, the BJP flag has soared higher under the leadership of Prime Minister Narendra Modi and (UP) Chief Minister Yogi Adityanath," he said, while addressing an election rally at Somnath in Gir Somnath district.

The BJP bagged 14 of the 16 mayoral seats in Uttar Pradesh.
A day after addressing four rallies across Surat and Kutch, BJP president Amit Shah will be addressing four more rallies in south Gujarat on Monday.
Shah will begin the day by addressing a rally at Vyara in Tapi district at around 11.30 am. His next stop will be Bardoli in Surat, where is expected to speak at 1.30 pm. Shah's third rally will be at Maroli in Jalalpur in Navsari at 4 pm. Shah's last rally for the day will be Gandevi in Navsari at 5.30 pm.
भारतीय जनता पार्टी के राष्ट्रीय अध्यक्ष श्री अमित शाह आज गुजरात के व्यारा, बारडोली, मारोली और गांदेवी में जनसभाओं को संबोधित करेंगे। लाइव https://t.co/vpP0MInUi4 और https://t.co/jtwD1z6SKE देखें पर। pic.twitter.com/nzAC421BiH

— BJP (@BJP4India) December 4, 2017
On Sunday, Shah had addressed rallies in Mandvi and Mahuva in Surat district as well as Rapar and Anjar in Kutch district. Speaking at Rapar, Shah attacked the Congress for questioning vikaas in Gujarat and said, "Those questioning us should also answers as to why they did not help in Gujarat's development between 2004 and 2014." Speaking about tribal welfare, Shah said that while Congress alloted "zero budget" for tribal welfare, the BJP has allocated Rs 67,000 crore for them. Tribals form 14 percent of the total population of Gujarat. Addressing a rally in Kutch's Anjar, Shah added that the Gujarat government helped in bringing over six lakh acres of land into cultivation. he said that the Gujarat government has provided electricity to over 1.6 lakh tribal homes. Shah targetted Congress for lacking any kind of agenda for the state, while adding that the Gujarat government has implemented "Skill India" to provide jobs to over nine lakh youth.
कांग्रेस पार्टी के पास कोई एजेंडा नहीं है। कांग्रेस सिर्फ जातिवाद का जहर फैलाने की राजनीति करती है: श्री @AmitShah https://t.co/Wpp9OdRQ8H #Gujarat4Vikas pic.twitter.com/P7qOMMVZmZ — BJP (@BJP4India) December 3, 2017
Find latest and upcoming tech gadgets online on Tech2 Gadgets. Get technology news, gadgets reviews & ratings. Popular gadgets including laptop, tablet and mobile specifications, features, prices, comparison.
Updated Date: Dec 04, 2017 13:43:22 IST
Tags :
#Gujarat Assembly Election 2017 Narendra Modi#Gujarat Assembly Election 2017 Patels Dalits And Adivasis
,
Amit Shah
,
BJP
,
Congress
,
Gujarat Assembly Election 2017
,
Gujarat Assembly Election 2017 Live Blog
,
Gujarat Assembly Election 2017 Narendra Modi
,
Kutch
,
Live Blog
,
Live Updates
,
Narendra Modi
,
Navsari
,
NewsTracker
,
Surat
,
Tapi