Amit Shah eyes 22 seats from West Bengal in 2019, but BJP must consider TMC threat, seek realistic target
Given that the party had won just two seats in the 2014 Lok Sabha elections and two in the 2016 Legislative Assembly elections, this target hardly appears to be a serious point of departure.
Bharatiya Janata Party (BJP) president Amit Shah was in West Bengal for a two-day visit — on Thursday and Friday — during which he delivered the Bankim Chandra Chattopadhyay Memorial Lecture organised by the Syama Prasad Mookerjee Research Foundation. Apart from that engagement, it's unclear what this visit was intended to achieve.
Shah's visit, it appears, is an early foray to set the stage for the 2019 Lok Sabha election campaign. But from the statements issued by various party leaders, it does not appear that political realities are the framework for whatever in camera discussions are being held between Shah and state functionaries.
Even before Shah fetched up in Kolkata, some reports suggested that the party's national president had set the BJP's West Bengal unit a non-negotiable target of winning 22 out of 42 seats next year. Given that the party had won just two seats in the 2014 Lok Sabha elections and two in the 2016 Legislative Assembly elections, this target hardly appears to be a serious point of departure.
If Shah has set the bar high, the leadership in Bengal is exuding even greater optimism. One report says that state leaders believe 26 seats can be won. It would be interesting to see how that could happen. One leader has been quoted as saying that nine seats can be corralled in north Bengal, while districts like Bankura and Purulia will yield more seats.
It isn't clear what 'districts like Bankura and Purulia' means, but assuming it means districts or constituencies with a sizeable proportion of tribal people, the numbers just don't add up to 26, or even 22.
The plain fact is that of the two constituencies the BJP bagged in 2014, Darjeeling has already gone out of its hands. It was a gift from Bimal Gurung, then the undisputed head of the Gorkha Jana Mukti Morcha (GJMM). Now Gurung is out and the new GJMM leadership has made its peace with Chief Minister Mamata Banerjee and her party and government, so the BJP would be well advised not to hold its breath in the hills.
Union minister of state Babul Supriyo won his seat from Burdwan's Asansol region. In the recently concluded panchayat elections, the ruling party hammered the BJP in that area. It would be a stretch to describe that seat as safe for Supriyo -- at present, all indications are that he will lose.
The only areas where the BJP performed creditably in the panchayat elections — which despite everything is a reliable barometer for next year's election results — were those with a substantial tribal population. In terms of constituencies, these are Alipurduar, Bankura, Jalpaiguri, Jhargram and Purulia. Of these, the BJP didn't set pulses racing in Bankura and Jalpaiguri, which effectively means that the BJP's challenge is confined to three constituencies – Alipurduar, Jhargram and Purulia.
That doesn't mean, however, that these three seats are in the saffron bag as yet. What it does mean is that the maximum the BJP can realistically hope to do is win three Lok Sabha seats from Bengal. Not many will be surprised if that number ends up as a zero.
Corroborative evidence, too, suggests a Trinamool Congress sweep. The Bengal unit of the BJP is drastically short of credible, heavyweight leaders with a broad public connect. And that holds good whether you are talking about the peasantry, the urban poor or the urban middle class. BJP leaders themselves acknowledge that the party is seen as a vehicle for non-Bengalis, which doesn't, however, mean that a majority of the non-Bengalis vote for it.
Then there is an organisational problem at the root of which is a numbers crunch. The BJP just does not have the manpower to penetrate the farthest corners of the state. Shah is reported to have been less than impressed by the claim made by state leaders that committees had been formed for 70 percent of the booths during the panchayat elections. As far as he is concerned it's the outcome that matters, evidently. And the panchayat results were not indicative of the BJP upstaging the Trinamool Congress.
In the absence of what we may call 'deliverables', the BJP is clutching at straws. Thus, Shah's exhortations to the Bengal leadership to get on to all social media platforms. As of now, this aspect of campaigning is practically non-existent, quite apart from the big question over the effectiveness of a campaign based on social media initiatives in rural Bengal.
Shah seems, therefore, to have taken recourse to electoral non sequiturs. Of this order were his comments in Kolkata about Chattopadhyay's 'Vande Mataram'. The BJP president seems to believe that the Congress' decision to designate a truncated version as the national song was a grievous mistake; accepting it in full would have destroyed 'anti-national sentiments' and prevented the partition of India.
That's putting a pretty heavy counter-factual load on a song — any song. And, in the bargain, to expect it to bring in 22 seats seems categorically to belong in the realms of the poetically surreal.
Opinion
Democratise history writing so that different and differing approaches—not just Thaparite dogma—can be posited and understood by everyone
World
Shadow banning refers to the perception — real or imagined — that social media companies are taking stealth actions to limit a post's visibility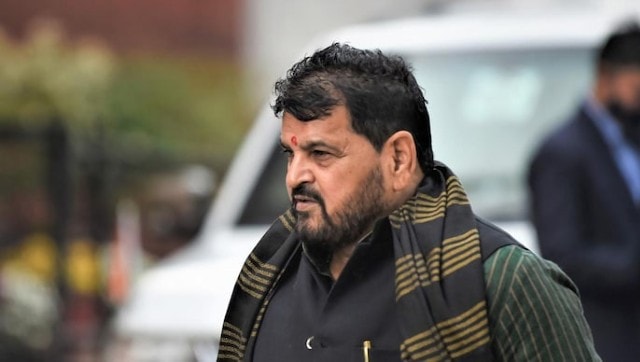 Sports
Talking to reporters, Brij Bhushan Sharan Singh stated that he has been elected president of the WFI and was not heading this federation by "the grace of some person."