Ambedkar Jayanti: Why Rohith Vemula was a truer Ambedkarite than any politician will ever be
Rohith Vemula's writings tells us what it means to truly live Dr BR Ambedkar's final words, 'Educate, Agitate and Organise'.
Come 14 April and the politics of appropriating, or misappropriating, Ambedkar's legacy gathers momentum. As India celebrates the 126th birth anniversary of Dr Bhimrao Ambedkar on 14 April, from Congress to BJP, all political parties will compete to claim the man and his legacy. Then, there are others too, the likes of Ramdas Athawale and Mayawati, who would like to be politically identified as the sole heirs of Ambedkar's legacy as they assume themselves to be championing the cause of Dalits. In fact, this perhaps is one of those stray incidents where the Right, Left and the so-called Centre liberals share common ground in aggrandising their own versions of Ambedkar.
That the man himself was repelled by the idea of political idolatry is quite another thing.
However, in the quest of appointing Ambedkar as a Dalit rights crusader, politicians have only belittled him. He was the one modern Indian leader, who advocated a truly liberal yet pragmatic social setup. But political parties have reduced him to their own versions as would suit to appease their core vote banks. In the process, on each count what Ambedkar propagated has been eroded to suit the political ambitions of our politicians.
Who then, in the age of subjective interpretation of established ideals, comes closest to the truly pragmatic and liberal outlook of the man who drafted the Indian Constitution and envisioned to free the modern India from the shackles of caste system?
Ironically enough, I found the voice of a dead young man, disgruntled and disillusioned by the systematic misappropriation of ideals that were the founding principles of our nation-state, to be a truer echo of Ambedkarite ideals than most of our politicians.
I am talking about Rohith Vemula, the Hyderabad University student, whose harmless yet poignant suicide note created enough ripples which resonates with youth fighting for equality and freedom in campuses, even a year after his death. Do note that in the list of identifiers used to describe Vemula, I consciously omitted his most debated identity of 'the Dalit student.' And it is in this subtle difference that I find Vemula's understanding of Ambedkar more robust than many of our politicians will ever have.
While Ambedkar, who liked to be identified as a political liberal, tirelessly batted for the complete 'annhilation of caste,' Vemula too in his parting letter to the world, lamented the fact that "the value of a man was reduced to his immediate identity and nearest possibility."
"Never was a man treated as a mind. As a glorious thing made up of star dust," said Vemula.
Like Ambedkar, Vemula too intuitively grasped and accepted the realities of castes. And yet he detested the fact that "glorious human beings" are "reduced to their immediate identity."
However, he argues, "not speaking about caste cannot eradicate caste. It just makes discrimination nameless!!! And our activism is not identity politics, it is a struggle for recognition. This activism is against the imposed and destructive identities given to us through your distorted history."
In a compilation of some of his writings online, Caste is Not a Rumour, author Nikhila Henry writes, "His words hold a mirror to the working of caste in modern India. His writing tells us what it means to live Dr BR Ambedkar's final words, 'Educate, Agitate and Organise'."
Vemula, unsurprisingly, drew the ire of Akhil Bharatiya Vidya Parishad and later the varsity administration as many of his views would not go down well with the contemporary pseudo-nationalist narrative. Yet most of his, so called controversial arguments are only a stark reflection of the unclaimed share of Ambedkar's legacy.
For example, Vemula's scathing criticism of beef ban is much in line, and probably inspired from, Ambedkar's erudite article calling out the farce of Brahminical cow worship, Did the Hindus never eat beef?
"…It (beef eating) is a political gesture. Brahmanism, using the tool called Hinduism, has always been oppressive of cultures of Dalits and Minorities in this country. Recent beef ban in Maharashtra is an arrogant attack on the dignity of marginalised sections," reads one of Vemula's Facebook posts dated 13 December 2015 (as excerpted from Caste is not a rumour.)
Ambedkar too denied the argument that cow worship or abstinence from beef eating was inherent in Hinduism. In fact he goes on to argue that beef was an integral part of ceremonial feasts in Aryan culture and there were mentions in ancient literature of Indra eating beef. But this is not a facet of Ambedkar's ideology that politicians racing to claim his legacy will find easy to swallow. A sanitized, pro-Hindu narrative of Ambedkar's views is better suited to their interests.
Vemula was also highly critical of the idea of nationalism and his thoughts on the subject largely explain why he was branded anti-national by an increasingly intolerant society.
"The two '-isms' I find absolutely stupid and highly manipulated: Religion and Nationalism; which are the best proved gateways for violence from ages," another Facebook post from 5 July 2013 reads.
Instead, Vemula's definition of nationalism was: "I feel playing the national anthem before commencement of a Masala flick is more an insult to Indian thought than someone not standing up for the anthem. Patriotism lies not in standing or sitting but in treating other civilians with dignity." – 30 November, 2015 as excerpted from Caste is not a rumour.
And as unbelievable as it may sound, had Ambedkar been around today, he too would have been branded anti-national by the saffron forces. He not only refused to believe that India was a nation, let alone a Hindu nation, he openly said that he would choose the interests of untouchables over the nation, if it ever comes to that
Sample this: "There is no Hindu consciousness of kind. In every Hindu the consciousness that exists is the consciousness of his caste. That is the reason why the Hindus cannot be said to form a society or a nation... How can people divided into several thousands of castes be a nation?"
Ambedkar doesn't mince words when he points out who most often pays the price of this purported nationalism.
"The working class is often asked to sacrifice their all to the so-called cause of nationalism. [But] they have never cared to enquire whether the nationalism for which they are to make their offerings will, when established, give them social and economic equality."
Would today's nationalists, who as of now would be 'honouring' Baba Saheb Ambedkar in one ceremonial photo-op gesture or another, be able to stomach this side of the modern leader?
Also read: Why Dalits of Andhra shut the door on Kanshi Ram and why they won't be swayed now
But Vemula, unlike politicians, didn't pick and choose from Ambedkars ideology to suit vested interests. Here is what he had to say about Ambedkar himself.
"He stood for us. He lived and died for us. Today the nation remembers him and no one remembers the chamchas who stood against him... It is depressing that even on his 124th birth anniversary there is a need to liberate Babasaheb's image from the clutches of Brahmanical forces.
When alive, Ambedkar was questioned, scorned for his stand on MK Gandhi and his "idea of free India". He was portrayed as a "gaddar" [traitor] for his nonsubscription of an ambiguous power transfer in the name of freedom," Henry's book quotes another of Vemula's Facebook posts.
A closer look at Vemula's posts, as recorded in Henry's book, tells us more about his journey from Lal Salaam to Jai Bheem. It was not disillusionment alone that he abandoned Left-wing politics to become an Ambedkarite. The transformation was fuelled by a sincere belief that all established norms of religion and political ideologies that essentially seeks to divide the society, whether on the basis of caste of class, must be rejected.
He said, "Not left, not left liberals and not even left radicals. Only radical Ambedkar can liberate us."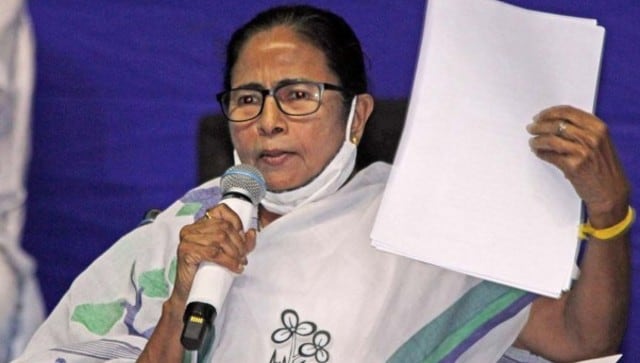 Politics
All this in the backdrop of #AbkiBaarDidiSarkar trending on Twitter, thus further fuelling rumours about a United Front.
India
In the video, the MLA can be seen angrily walking up to the worker and slapping him after the boom barrier fell in front of his car
India
Amnesty International, however, said in a statement that it 'categorically stands' by the findings of the Pegasus Project