The Delhi election results have given the Aam Aadmi Party a landslide win of 67 seats out of a total of 70 seats. The party which won 28 seats in the last election, completely routed the BJP, which was reduced to a mere 3 seats from its previous tally of 31.
AAP's victory is much more impressive if you look at the fact that the party managed to get 54.3 percent of the total vote-share, which is a rare feat indeed for any party in India. In the Lok Sabha elections of 2014, the AAP had got a vote-share of 32.9 percent in Delhi. Even though this was an increase from its vote share of 29 percent in 2013 Assembly elections, the party had failed to win any seat but finished second in every seat.
The Delhi election results have seen new records being set in nearly each constituency. According to the Association of Democratic Reforms, the average vote-share of all the MLAs who won the election was 55 percent and that 55 (79 percent) out of 70 MLAs won with a vote share of 50 percent or more. All of these are AAP MLAs.
We take a look at some interesting statistics regarding the Delhi election:
It wasn't party chief Arvind Kejriwal but MLA Prakash Jarwal won with the highest vote share (71 percent) in the Deoli constituency of Delhi. He is also the youngest candidate from the party at 25-years-old and had left a job at a multi-national firm to join the party.
MLA Kailash Gehlot from Najafgarh, who also belongs to AAP won with the lowest vote share of 35 percent. Gehlot is an advocate and RTI activist. He also had the lowest margin of victory.
Sandeep Kumar from AAP had the highest margin of victory in percentage. He beat BJP councillor Prabhu Dayal and four-time legislator and sitting MLA Jai Kishan of Congress in the election.
AAP's Mahender Yadav had the highest margin of victory in terms of votes from Vikaspuri. Yadav had also won from Vikaspuri in 2013 elections.
Only 0.4 percent of the votes polled were NOTA. Matiala saw the highest number of NOTA votes at 1102.
And finally an infographic showing the Delhi vote share percentage, along with the number of MLAs who won by more than 50% of vote-share.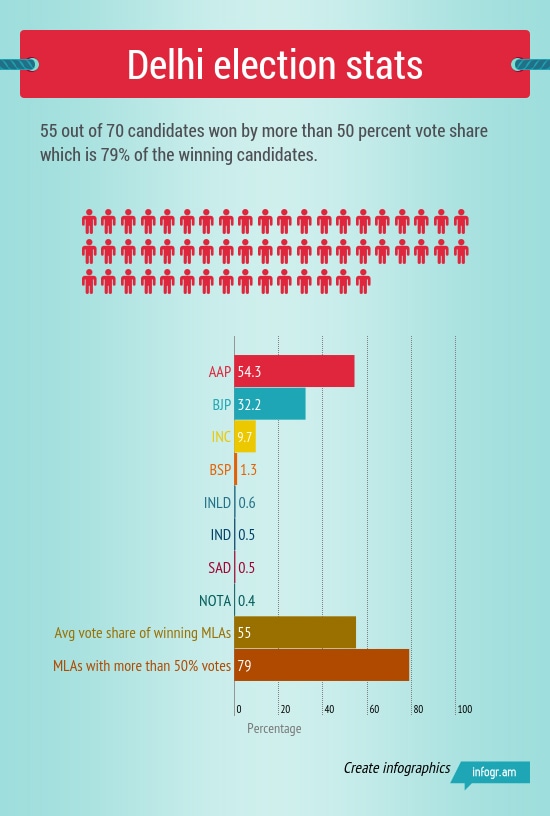 Updated Date: Feb 12, 2015 13:49 PM