Amarinder Singh writes to Rajnath Singh, reiterates demand for making Chandigarh the capital of Punjab
Amarinder Singh on Friday wrote to Union home minister Rajnath Singh reiterating his demand for making Chandigarh the capital of the state.
Chandigarh: Punjab chief minister Amarinder Singh on Friday wrote to Union home minister Rajnath Singh reiterating his demand for making Chandigarh the capital of the state.
The Union Territory of Chandigarh – the joint capital of Haryana and Punjab – remains one of the most contentious and long-standing issues between the two neighbouring states.
In his letter to the home minister, Singh said the pending territorial dispute should be solved by restoring Chandigarh to Punjab, being its legitimate and original capital.
Chandigarh undoubtedly was an integral part of Punjab, the chief minister said, adding that being Punjab's capital, no other state can stake claim over it.
Nevertheless, subsequent to the Punjab Reorganisation Act, 1966, territorial dispute remains unresolved, Singh said as he sought Rajnath Singh's intervention to ensure the "fine balance" of sharing of resources between Haryana and Punjab is not disturbed.
"During this period a fine balance in sharing officers/officials and other resources of Union Territory, Chandigarh between Haryana and Punjab has been achieved with an advantage of hard earned peace in Punjab," Singh said.
"Unfortunately, during the past few years, it has been observed that there is a constant effort to disturb this fine balance... The Ministry of Home Affairs, Government of India, has been inducting more officers of UT cadre and other Union Territories into administration of Chandigarh without realising the implications of such avoidable decisions," he added.
A decision was taken to induct more deputy SPs of UT cadre in Chandigarh whereas such positions are filled by officers from Punjab and Haryana in a pre-determined ratio. These decisions were clearly avoidable as they can cause bigger unrest in the region, he added.
"There has been a reduction in the departments allocated to officers of Punjab and Haryana as also an increase in the number of UT cadre officers in Chandigarh," he said further.
The responsibilities of the officers of Haryana and Punjab should not be curtailed, Singh said, adding that the role of Senior Superintendent of Police (SSP), Chandigarh, as the head of the district police as earlier must be restored.
Recently, the powers of SSP, who is an IPS Officer of Punjab cadre were curtailed, making him SSP (Law and Order).
The chief minister asked the home minister to consider the matter and issue appropriate instructions accordingly.
Find latest and upcoming tech gadgets online on Tech2 Gadgets. Get technology news, gadgets reviews & ratings. Popular gadgets including laptop, tablet and mobile specifications, features, prices, comparison.
India
According to the Punjab Pollution Control Board, the state has recorded 4,585 farm fires this season so far, compared to 1,631 during the corresponding period last year
India
The Defence Minister was speaking at a customary event at headquarters of the Indian Army's 33 Corps in Darjeeling on the occasion of Dussehra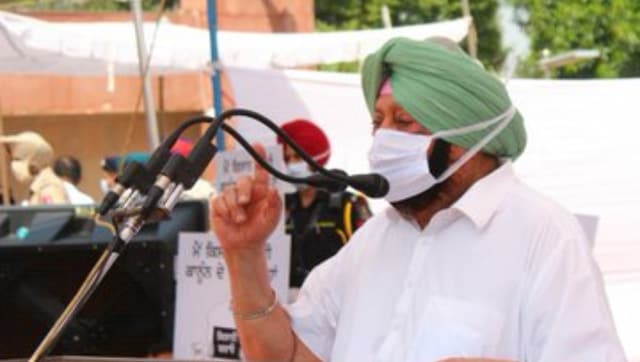 India
Punjab chief minister claimed that the Adityanath govt had delayed action in the Hathras rape case, which is "why Rahul Gandhi had to rush to Hathras, to secure justice for the victim's family"