From AK-49 to AK-67: Here's how Kejriwal and AAP felled the BJP giant
After a historic victory, AAP's Arvind Kejriwal will take oath as chief minister on 14 February, exactly a year after he quit government in 49 days over his inability to pass the party's then No 1 priority the Jan Lokpal Bill.
After a historic victory, AAP's Arvind Kejriwal will take oath as chief minister on 14 February, which will mark a full year since he quit government in 49 days over his inability to pass the party's then No 1 priority: the Jan Lokpal Bill.
While one would have expected the party to focus on the anti-corruption legislation as its top priority this election, the AAP decided to rethink its strategy to take on the BJP who was now the bigger enemy as compared to the Congress in Delhi 2013.
Promising Delhiites a less expensive and safer national capital became the party's most important priority. But five main factors can be attributed to the party's humongous victory of 67 seats, that not a single exit poll got right:
Volunteer-giri
As this article in The Economic Times points out, the party had about 40,000 volunteers on the ground right from door-to-door campaigning to devising a media plan that ensured little negative press. According to the report:
Arvind Kejriwal took full command for Delhi campaign. His first step was to strengthen its organisational structure, and Kejriwal put Ashish Talwar in charge of this initiative. Talwar appointed one volunteer for every polling booth, about 3,500 volunteers for each polling centre. They were reporting to 280 ward in-charges, who were under 14 district in-charges. 
The volunteers further divided their focus on certain sections of society including women, youth and minorities and were also ensured the task of guarding EVM machines after polling ended.
During the last elections, the party roped in about 25,000 volunteers that took up the task of reaching out to voters promising a corruption free government. But this time around, with Delhiites already experiencing an AAP government for 49-odd days, the party decided to remind voters of their experience during that time - that of reduced corruption, working implementation of free water and reduced electricity supply charges, something that connects with people as a basic necessity. And as the increased number of volunteers and the final tally of votes show, it clearly worked.
Volunteers from across the country took sabbaticals to work for their party success with a message that Kejriwal was just a thought. As this Firstpost report by our Delhi bureau chief Akshaya Mishra points out, the leading sentiment among volunteers from everywhere – Kerala, Odisha, Tamil Nadu, Andhra Pradesh, Maharashtra and many other states – is along the same line. "Kejriwal ek aadmi nahin, Kejriwal ek soch hai."
One middle-aged man from Kolkata, who stayed back in the national capital to campaign for the party, said: "I don't know much about these people and whatever I see on television is negative about them, but I am sure they are good people up to something good. You don't get many chances in life to do something for a cause you cherish deep in your heart."
Arvind Kejriwal 2.0
Another factor that immensely contributed to AAP's win was the new version of the AAP leader, which the media has dubbed 'Kejriwal 2.0.'
From being an 'anarchist' holding dharnas to a shoot-and-scoot politican that made allegations but did not pursue them legally, the AAP convener began his campaign by 'seeking forgiveness' from Delhiites. He accepted that resigning in 49 days was a big mistake and ensured them that if voted to power, he will ensure a #5SaalKejriwal.
At every speech this election, as The Indian Express points out, Kejriwal would say, "We made a mistake, didn't commit a crime. Insaan hai, galti ho jaati hai (It's human to make mistakes)."
The fact that his entire campaign was based on the tagline 'paanch saal Kejriwal' is also effectively an admission that he was wrong to quit so fast, and is in it for the long haul this time around, effectively also meant he managed to reclaim the bhagora tag.
Kejriwal's effective use of the media, also underwent a change. While in 2013 he was accused of being a 'media-creation' and riding to victory in the then polls on a media wave, this time around he managed to bypass television cameras and daily press conferences by focusing more on reaching out to voters on a one-on-one basis.
While undoubtedly the media coverage last election did help Kejriwal bolster his image, the AAP's decision this time to approach voters individually and put forth their message of a corruption-free government was what really worked.
As this auto-rickshaw driver speaking to Firstpost earlier points out: "The 49-days (of AAP government) were good for us. The police didn't harass us and we didn't have to pay a hefty sum to brokers for license renewal. We saved around Rs 10,000 by way of what we were paying the cops and at the RTO in that period. That's a big amount for people like us."
Delhi Dialogues
AAP continued its focus on decentralising power and implemented a bottom-top approach. Since early December, Kejriwal and AAP leaders began public meetings across Delhi and also conducted Delhi Dialogues - sessions where they recorded views expressed by citizens and subsequently reflected it on its manifesto.
The party which was earlier accused of not focusing on rural areas, this time around decided to set up teams to engage with villagers on issues such as health, sanitation and education.
"The party set up teams to look at theme-based issues such as education, health and sanitation as well as Delhi's villages," The Indian Express reported.
The AAP also established new alliances with influential power groups across the state. As this article in The Frontline points out, these new manoeuvres by the AAP have also led to many defections and public dissensions, thereby extending its voter base.
"Some of these influential candidates have been involved in various philanthropic and political activities. We have seen to it that our candidates have clean backgrounds. And we can go to the extent of withdrawing our candidates even on the last day of campaigning if we get to know of something wrong," an AAP leader told the magazine.
Social media #WIN
Since early 2014, the only party that was arguably a winner on social media with its debatable social media push was the BJP. But towards the end of 2014, AAP volunteers upped the ante  and ensured its presence was well felt.
Its biggest social media victory even before the elections was when it managed to turn around a negative campaign about Kejriwal - #MufflerMan - that was initiated by BJP supporters. AAP supporters soon converted the hashtag to a superhero one, morphing Kejriwal onto images of Batman and the poster image of the movie Abraham Lincoln: Vampire Hunter. Soon enough, hashtag battles erupted every single day on Twitter with #YoKejriwalSoHonest and #5saalkejriwal trending through the campaign.
Moreover, since December last year AAP volunteers aggressively pushed their party's agenda on social media meeting with positive sentiment almost always trumping any negative ones tr. From highlighting their party's achievements in 49 days compared to a full five year term of the Opposition, to creating videos and memes that went viral, the party's online volunteers managed to get top online discussions across platforms all through the campaign.
Taking on Kiran Bedi
The only major setback the party faced was when the BJP announced Kiran Bedi as its CM candidate. Party leaders admit that they were stumped when Bedi's candidature was announced by the BJP, but they soon managed to work out a strategy to counter the former IPS officer. While Bedi began making personal attacks against Kejriwal, he in turn decided to call her his 'elder sister'.
"Our experience with her told us once she starts speaking, BJP's plans would start unravelling and that's what happened," Ashutosh told ET.
In an intervew to NDTV on Tuesday, Kejriwal refused to attack Bedi. "I will not say anything rude about Kiran Bedi." Since Bedi's candidature was announced Kejriwal maintained that Bedi was a good lady in the wrong party, with the AAP accusing the BJP of using her for their political gains.
While even the Aam Aadmi Party did not expect to win 67 seats with its own internal survey predicting 51 seats, the party, with its 'scary mandate', now has much to do and ensure it does not fail to fulfill the promises made in its manifesto, as this article by Firstpost senior editor G Pramod Kumar points out.
When AAP co-founder Shanti Bhushan praised Bedi saying she would make a good CM candidate, Kejriwal refused to comment on the remark letting the matter rest by itself. Perhaps the only time the AAP took on Bedi was when they stuck posters on auto-rickshaws calling her 'opportunist'.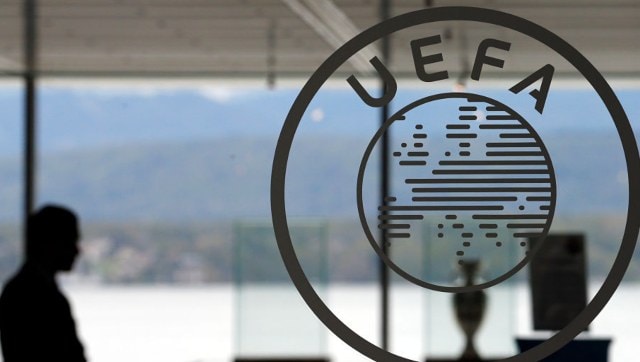 Sports
A number of high-profile footballers have suffered racial abuse in recent months, prompting calls for tougher action from internet giants.
Sports
Sterling suffered the abuse following City's Champions League semi-final second leg victory against Paris St Germain on Tuesday.
Sports
Clubs, players, and governing bodies observed a blackout from 1400 GMT on Friday until 2259 GMT on Monday that was also supported by other sports, businesses, and media outlets.