Ajmal plans foreign trip for victorious AIUDF candidates to keep horse traders at bay
With the Congress and BJP confronting each other with equal might, Ajmal may emerge as a deciding factor in either party forming a government.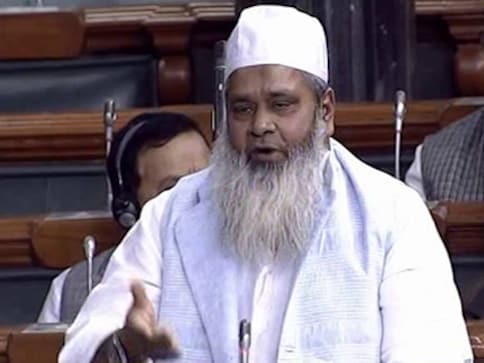 Maulana Badruddin Ajmal, the president of All India United Democratic Front, the main Opposition party in the Assam Legislative Assembly, sees himself as a prospective kingmaker in Assam. The result of the big assembly election that took over the state last month is a coveted opportunity for him.
It was an election in which the two titanic political parties, Indian National Congress and Bharatiya Janata Party, confronted each other with equal might, making the hung assembly a real possibility. In such a situation, Ajmal's  support may emerge as a deciding factor in forming a government. But being a seasoned politician, Ajmal does not forget to be cautious. In an exclusive interview with Firstpost, he spoke about his belief that the Congress and the BJP may indulge in horse trading to form the government. He even revealed what he'll do in order to prevent the parties poaching his candidates once results are declared on 19 May. Edited excerpts:
Do you think that after 19 May, the counting day, you will at last emerge as the kingmaker ?
Certainly. None of the parties, however big it be, can emerge as the single largest party in the assembly. In a situation like that, any party having a good number of winning candidates may want to pull in MLAs of smaller parties like ours — either by legal means or illegal means such as horse trading —to form the government.
So your party might find its integrity at risk?
Anjan Dutta, the president of the Assam Pradesh Congress Committee, has already threatened to destroy my party. It reflects an undemocratic mindset. So you can imagine the risk. Such a risk may emerge out of BJP also.
Have you planned any precautionary measures?
It is my responsibility. Soon after the election result is declared, my party will call a meeting to select a leader of the legislative party and a chief whip. After these formalities are over, we will fly the winning candidates out of India to keep them out of reach of horse traders. Most of the candidates we have fielded this time in election have passports. Those who do not have, they have applied for passports through tatkal service. But remember, need for such a measure will arise only if our party fails to secure more number of seats than what it has at present. We won 18 seats in the assembly election held in 2011. Two of our MLAs have lost party membership for voting for Congress candidate in a Rajya Sabha election. If we secure more than 18 seats, then I think the risk of horse trading will be substantially diminished.
And after that…?
After we have taken all the precautionary measures our party will discuss which party to support.
Are you open to supporting the BJP, especially when the party has already declared you as its prime enemy stating that your politics is based on immigrant Muslims from Bangladesh?
The Congress has left no stone unturned to portray AIUDF as a B-team of BJP. People have already got accustomed to this wrong notion. I do not think that it will look odd even if we support BJP now.
So a Kashmir Model of government, where BJP and PDP have allied to hold reins of power, is possible in Assam also?
I cannot declare it here and now. Our core committee is to decide on it after the result of election is declared.
India
Bommai said that the ultimate truth will always triumph and the attitude of talking without any evidence will not last long
Explainers
Eight out of 11 Congress MLAs of Goa have left and joined BJP. Tune in to know why
Politics
The Congress will be left with mere three MLAs in the 40-member Goa Assembly. The party currently has 11 legislators, while the BJP has 20, one short of the majority