Aiyar's 'neech' remark: By promptly uprooting BJP's 'Mani-plant', Rahul Gandhi may have largely controlled the damage
As deplorable as Mani Shankar Aiyar's invective against Narendra Modi was, there is little chance that the Gujarat Assembly polls will be decided over it.
At the outset, it may seem that Mani Shankar Aiyar's "neech" remark has handed the game, set and Gujarat to BJP. Though stray comments rarely become the difference between winning or losing an election, personal insults that may be construed as an attack on India's delicate caste-based social structure could tip the scale in close contests.
We have seen this happen before in 2007 (not 2014, which was a wave election) when Sonia Gandhi's 'maut ka saudagar' remark against Narendra Modi triggered a backlash against Congress in Gujarat. So, will history repeat itself a decade later?
It is never wise to play the soothsayer on elections but deplorable as Mani's invective was, there is little chance that the Gujarat battle will be decided over it. This is chiefly because of two reasons: one, the law of diminishing returns and two, Congress' nimble-footedness. This isn't to say that the abusive attack on the prime minister by repeat offender Mani — the epitome of elitist arrogance — won't have repercussions. It will.
However, the chain of events that have taken place since Mani threw the insult at Modi indicates that multiple narratives are at work, and it would be too simplistic to draw a straightforward conclusion out of these.
At one level is Congress' insecurity over BJP appropriating its icons such as Babasaheb Ambedkar, which led the irreverent Mani to utter: "Mujhko lagta hai ki ye aadmi bahut neech kisam ka aadmi hai, isme koi sabhyata nahi hai, or aise mauke par is kisam ki gandi rajniti karne ki kya avashyakta hai? (This man is a low-life person, he isn't cultured... at this moment, why does he need to practice such dirty politics?)"
Under pressure from a panicky Rahul Gandhi, the self-confessed "freelance Congressi" later claimed that he is "unaware of the nuances of Hindi" and meant "neech" as "low-life", not of "low-born" but his semantic jugglery, instead of containing the damage, exacerbated it.
Mani's half-apology (which he tendered while abusing and misbehaving with journalists on camera) was more damaging than the original insult because in his efforts at clarification and justification, he reinforced the narrative that Congress is an elitist party that looks at power as an entitlement, takes for granted its feudal right to 'rule over India' and is deeply uncomfortable with the idea of someone who is not of the manor born rising through the ranks to sit on the prime minister's chair.
At the second level is BJP which was looking desperately for a grand narrative to deal effectively with local discontents, malcontents and anti-incumbency impulses. Little wonder that it latched on to Mani's 'gift' and kept hammering, chiselling and polishing at it through different channels till the insult became a potent weapon. It was fascinating to watch the coordinated manner in which BJP, led by its senior leaders, twisted the knife into Congress.
The Congress Party has challenged the weaker and backward sections of India by calling the Prime Minister as 'Neech' . The strength of India's Democracy will be displayed when a person of humble background politically defeats the dynasty and its representatives.

— Arun Jaitley (@arunjaitley) December 7, 2017
As Indian Express notes in a report, in a 50-minute public speech at Surat, Modi mentioned the word "neech" at least 20 times. He mentioned Mani's credentials to show that it came from the highest echelons of the party and interpreted the remark as a classist insult inflicted by the Congress on those who are poor and born of a 'low caste' like him.
"Their senior, learned and highly qualified leader Mani, who also held an important post in the then Dr Manmohan Singh government, said, 'Aa Modi to neech jaati no che, aa Modi to neech che. Mara bhaio, aa apmaan Gujarat nu chhe ke nahi, aa apmaan Bharat ni mahan parampara nu chhe ke nahi? Aa to Mughali mansikta chhe ke unchh ane neech na sanskar samaj ma nakhya chhe (This Modi belongs to a neech (low) caste, this Modi is a neech. My brothers, is this or is this not an insult to Gujarat? Is this not an insult to the great Indian tradition? It is their Mughal mindset that has made them introduce the upper-lower class culture)."
Modi went on to suggest that Gujaratis should reserve their anger till the moment of casting their ballots. It was no doubt a bravura political performance. Cynics may interpret it as rank opportunism, but then politics is about using the opportunities that are available and the prime minister was completely within his rights to push back against such a slur from a repeat offender.
At another level, however, it also revealed BJP's desperation to cash in on an insult as the inflection point of an election, which may indicate that despite all its bravado about 150-plus seats, it remains worried about the eventual outcome. There is nothing wrong with weaponising an opponent's mistake during an electoral battle, but the vehemence points at BJP's inner discomfort. The ferocity of BJP's response also points to a realisation that the "neech" remark might not meet the political ends that the "maut ka saudagar" or "chaiwallah" barbs met.
Throughout the dramatic Thursday, Rahul's reaction should qualify as the most interesting one. This isn't the first time that a Congress leader has hurled an insult at Modi ahead of an election. The alacrity with which the Congress president-in-waiting cracked the whip to first demand an apology from Mani and then eventually suspended him and handed him a show-cause notice (all in a day) points to several conclusions.
The most obvious one is that Rahul was deeply worried about the devastating repercussions of a classist insult against a formidable opponent. The prime minister had shown on several occasions in the past how he can work these insults to his decisive advantage. Therefore, Rahul's actions were driven less by any higher standards of morality (as he claimed) and more by a very utilitarian impulse.
The second conclusion pertains to Mani's status within the Congress party. Analysts point out that Rahul was looking for a way to shelve a well-past-sell-by-date leader who suffers from a chronic foot-in-mouth disease, and he grabbed the opportunity on Thursday to send Mani on 'banaprastha'. This also points to a tension in Congress among the old guard and new, and in some ways, Rahul was laying down a marker.
By suspending and putting Mani on notice, Rahul achieved two objectives. One, he solved the tricky problem of shelving a family loyalist. Two, he controlled the damage inflicted by pious virtue-signalling. Congress got the chance to now claim the high moral ground and blunt BJP's attacks.
There is little doubt that Rahul's decisions were triggered by temporal and not moral motives. Mani's abuse is indicative of a deeper malaise that affects Congress and permeates every level of its power structure. The former Cabinet minister might be the crassest practitioner of the art but Congress leaders starting from its high command have repeatedly sought to deal with the threat posed by Modi through insults.
Arun Jaitley is correct in his assessment that the Mani's suspension is a "strategic" move.
Mani Shankar Aiyer's  'Neech' -attack on Prime Minister- a deliberate casteist statement, a convenient apology, a strategic suspension. People should see through this game

— Arun Jaitley (@arunjaitley) December 7, 2017
In politics, however, what matters is perception, not reality. By virtue of its actions, Congress has been able to control the electoral damage to a large extent. Trust Rahul to deliver mixed messages though. On a day he performed his role admirably as the captain of Congress' ship, the vice-president left a window of opportunity ajar for BJP to further exploit the Mani factor by suggesting, incredibly, that the veteran Congress leader has been colluding with BJP.
This latest charge is incredulous and it effectively hands BJP another stick to beat the Congress with, perhaps even till 2019. It might also potentially undo the prompt work undertaken by Congress leadership but we must wait till 18 December to understand the full impact.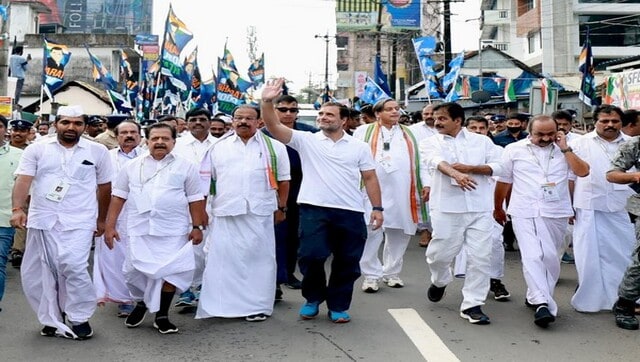 Politics
From Kerala, the yatra will traverse through the state for the next few days and will reach Karnataka on 30 September, and cover a distance of 25 km every day
Explainers
What is in store for the INC in the upcoming party president polls? Tune in to find out
India
The yatra, which entered Kerala on 10 September, will go through the state covering 450 km, touching seven districts in 19 days before entering Karnataka on 1 October