Air India may add 4-5 new European destinations, opt for bigger aircraft
New Delhi: Air India may start flying to four or five new destinations in Europe and is also looking at the possibility of getting six Boeing 787-900 aircraft which are more spacious than the current B 787-800 in its fleet.
It is obvious that Air India is planning significant overseas expansion in the coming months. But is it a wise move? This expansion may come right after the airline has been forced to restructure almost all overseas flights it began with much fanfare in 2013-14. It made some wrong moves like combining two cities in a new country without enough traffic between these cities; launching flights to destinations where there is not enough traffic and being over optimistic with flight frequencies.
A source said today that the idea of clubbing two destinations in a country while launching flights was a bad one and needs to be corrected. Air India launched operations to Sydney and Melbourne in Australia, Rome and Milan in Italy and to Moscow in 2013-14 with disastrous results.
So the Australian operations are being restructured wherein three flights a week would fly to Sydney and four to Melbourne or vice-versa. Similarly, the operations to Italy are being restructured where instead of every flight doing both Rome and Milan, one will be thrice weekly and the other four times a week. The flights to Moscow are already down to two a week till at least July, when Air India feels aircraft loads may rise again, from four a week earlier.
This source said there is now a move to launch four or five new destinations in Europe to expand Air India's international footprint. He said these were discussed by the airline's board of directors and some changes were sought. But no final decision has been taken till now. This development comes even as Air India is mulling whether to take the more spacious Boeing 787-900 aircraft instead of the 787-800 aircraft which are already on order. The B 787-900 aircraft can seat more people and are capable of flying beyond 9 hours. Air India had ordered 27 Dreamliners of which 19 have been delivered, 20th is expected next month. Any changes in aircraft can be made only for the remaining six which will get delivered later.
In reply to a question in Rajya Sabha this week, Minister of State for Civil Aviation Mahesh Sharma said Air India has constituted an inter departmental committee for evaluating this option to exercise the model substitution rights on merit.
"As part of the Model Substitution rights available under the Purchase Agreement for the B787-8 aircraft signed by Air India with Boeing, Air India has the option of substituting the B787-8 aircraft with the B-787-9 aircraft," the minister said. B 787-8 that AI operates have 256 seats in a two class configuration whereas the 787-9 can seat up to 310 passengers. In addition to the higher seating capacity the B787-9 also offers 18.9 tones of cargo capacity compared to 15 tones for the B787-8.
A senior captain with the airline said that there has been some talk of replacing the last batch of six Dreamliners already on order with the 787-900 configuration but again, no final decision has been taken on the matter. He said if the airline does decide to substitute the Dreamliners with more spacious aircraft, it could mean significant fuel savings on ultra long haul routes to the US as the older fuel guzzlers would be replaced.
So why does Air India want to expand international operations, which anyway bleed it dry? It is the longest serving legacy Indian carrier flying to marquee destinations abroad but its domestic operations are earning far better. At least the latest numbers say so. The airline deployed just a fourth of its capacity on domestic routes in 10 months of last fiscal between April and January, but these flights generated 40% of its total revenues. In fact, domestic yields (which means revenue per passenger) were much higher at over Rs 6 when international yields languished at around Rs 3.50.
Instead of mindless overseas expansion, the airline needs to consolidate its grip on the domestic market if it wants to survive the onslaught of competing airlines like IndiGo (already a formidable force on domestic routes), Jet (which is strengthening domestic operations) and new airline Vistara.
The Delhi-Moscow service was not even meeting its variable costs - this means flights on this sector were not meeting even their fuel costs! The Moscow route was opened in July last year, marked resumption of services by AI after 15 years. So the halving of frequencies, from  four flights a week to just two a week, shows poor planning and ground work before launching this flight.
Then, Air India has also withdrawn a flight on the Delhi-Dhaka route because this flight was not meeting even cash costs.
According to the latest data available with us: 3 in 4 flights on the Air India network were destined for foreign shores between April and January last fiscal but they brought in less than two-thirds of the airline's revenues. During the 10 months under review, the airline lost close to Rs 500 crore on the Ahmedabad-Mumbai-Newark connection alone. Another about Rs 200 crore was lost on the Delhi-Sydney-Melbourne flight. The Ahmedabad-Mumbai-London flight, which is obviously flying a busy route, raked in losses of over Rs 250 crore. Another flight to London, the Amritsar-Delhi-London one, made losses of well over Rs 200 crore. In fact, 39 international flights brought in over 70% of the operational loss in 2014-15.
It is interesting to note that the Dholakia Committee, which recommended that flights which are unable to meet their variable costs be either axed or restructured, found that this single step will get Air India maximum annual cost savings of Rs 580 crore each year.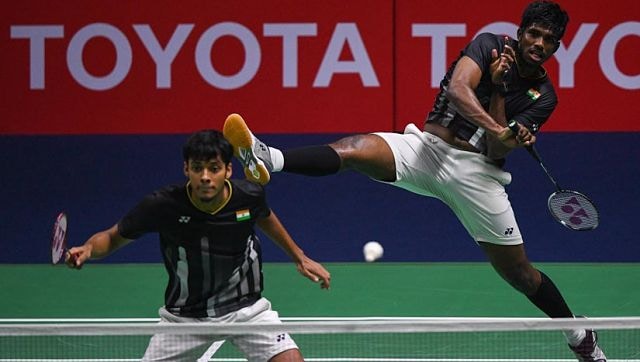 Sports
From Satwik contracting COVID-19 to Chirag Shetty losing his grandfather to the virus, the past year has been a testing time for India's top men's doubles pairing. With a new coach in Mathias Boe guiding them, the pair are looking to make an impact at Tokyo 2020 Olympics
Business
Last month, civil aviation minister Hardeep Singh Puri said there is no choice but to either "privatise or close" the airline which has a debt of 60,074 crore
Politics
The state Assembly and the ruling CPM had challenged the EC's decision to keep in abeyance proceedings for the proposed election to three vacancies from the state in the Rajya Sabha