AIADMK crisis: O Panneerselvam gets extra time to prove majority as Governor Vidyasagar Rao plays it slow
Irrespective of what Governor Vidyasagar Rao may decide, all signs indicate that the political drama in Tamil Nadu between O Panneerselvam and Sasikala is likely to continue for at least a week
Governor Vidyasagar Rao has updated New Delhi on the latest vertical split in Tamil Nadu's ruling AIADMK party after he met both camps on Thursday. The governor is consulting constitutional experts and Team O Panneerselam is hoping that it's a code for pushing the decision beyond the weekend even though it's Sasikala who has the numbers. Panneerselvam has reportedly asked the governor for time to get his act together.
Given that Rao is an out and out BJP man for decades, what the RSS ideologues are saying on the matter is crucial — they don't see any need to hurriedly swear-in Sasikala or even give her a foot in the door via a floor test. Technically, a weekend does not come in the way of a governor's decision in a time of crisis but all indications are that the Tamil Nadu Raj Bhavan will play it slow.
So, how do the numbers stack up in the Panneerselvam vs Sasikala battle, still raging in Tamil Nadu.
Numbers still with Sasikala
Sasikala claims she has the support of 130 sitting MLAs. Although at least one MLA has complained that Sasikala has forced her MLAs into buses and locked them away in a resort 120 kilometres from Chennai. It is Sasikala who has claimed she is ready for a floor test. What Panneerselvam has done is also on predictable lines — raising question marks over the legitimacy of Sasikala's MLAs signatures, saying he wants to withdraw his resignation and train the spotlight on the crisis in Tamil Nadu and Sasikala's rough and ready methods. Panneerselvam is growing in confidence but he still does not have the 89 MLAs (including his own seat) that he absolutely needs from the 135 AIADMK MLAs in the state Assembly to satisfy the rules of the Anti-Defection Law. Right now, OPS' support is still in the single digits among sitting MLAs. Only seven MLAs are with him as of now, Friday afternoon.
In the present Assembly, AIADMK has 135 seats, DMK 89, Congress 8 and IUML 1. If Panneerselvam can get, say, 20 AIADMK MLAs to his side, he can ensure that Sasikala does not win if we limit ourselves to how the AIADMK MLAs will vote.
But what about the 8 Congress MLAs. What if just the right number of them choose to defect?
With reports of MLAs being taken to the Golden Bay Resorts on Sasikala's instructions and reportedly on fast in protest and wanting to join Panneerselvam, the signal to Raj Bhavan is clear. When the governor consults constitutional experts on Friday, this matter is bound to come up as to whether this captivity vitiates the procedure for choice of chief minister.
Why the BJP cares: from the New Delhi point of view
AIADMK has 37 MPs in the Lok Sabha and 13 in the Rajya Sabha, Jayalalithaa was an ally even if she played hardball on the Goods and Services Tax (GST). Prime Minister Narendra Modi rarely goes to meet any chief minister but he made an exception and had lunch with Jayalalithaa at her residence. They spent 30 minutes talking. Did Sasikala figure anywhere at the time? Not at all. "She was in charge of the household staff, as usual," say insiders present at that lunch. The story goes that when Mod was Gujarat chief minister, he had "warned" Jayalalithaa about Sasikala. Coming back to the present, if Sasikala is convicted in the disproportionate assets (DA) case and if this happens after she is sworn in as Tamil Nadu chief minister, the BJP is unlikely to find a friendly partner in her coterie. The Panneerselvam group is more likely to support the BJP in the Rajya Sabha or at least be trouble free.
One should expect this drama to continue for at least a week, no matter what the governor decides. Jayalalithaa's fans shudder at the thought of how they'll deal with four years of a possible Sasikala rule. "We never voted for her. Don't forget the important difference between MGR-Jayalalithaa and Jayalalithaa-Sasikala. MGR introduced Jaya as his political heir, Jaya made it clear that Sasikala is not her political heir. We cannot accept this. We'll take to the streets," they say.
Senior government officials are already bracing for a public uprising. Police presence is being upped on Chennai's hottest protest street — Marina Beach Road.
India
Karan Morwal, son of Murli Morwal - the legislator from Badnagar in Ujjain district - had a reward of Rs 25,000 on his head
India
The company's co-founder Deepinder Goyal took to Twitter saying that "an ignorant mistake" became a national issue, adding that " the level of tolerance and chill in our country needs to be way higher"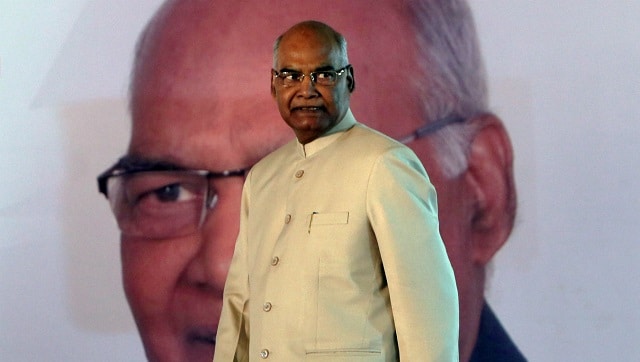 India
The president is also slated to visit Morari Bapu's Ashram and interact with Gujarat High Court judges