Ahead of Lok Sabha elections, experts say Opposition must show unity, develop counter-narrative against NDA
In the little over four years that the NDA has been in power, the Congress party and the Opposition have been charged with lacking a coherent narrative.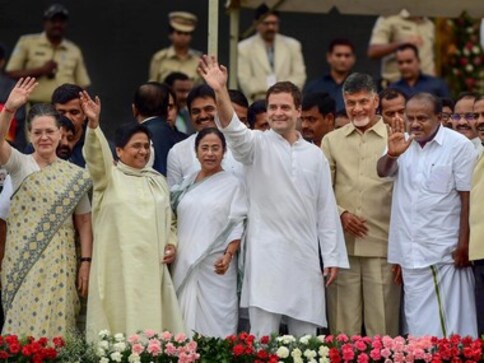 In the little over four years that the NDA has been in power, the Congress party and the Opposition have been charged with lacking a coherent narrative. A clutch of political scientists believe people are still trying to decipher the political agenda of the Opposition, six months before Lok Sabha elections.
"I don't think they can walk very far with 'remove Modi'," says Neera Chandhoke, professor, political science, Delhi University, referring to the perception created by Congress president Rahul Gandhi's attacks on Narendra Modi. "The Opposition needs a sharp, motivated buildup considering how popular the prime minister is."
Many experts note Congress' focus on economic issues—levelling corruption charges against Modi, criticising hastily-implemented GST, farm distress, demonetisation and conflicts in institutions including SC and CBI. But they say it is shying away from addressing social conflicts that have accompanied the rise of BJP.
"They are criticising the government and out of that, issues are arising," says Sudha Pai, retired professor, Center for Political Studies, Jawaharlal Nehru University. "Instead of challenging identity politics, Congress is veering into soft Hindutva," she says. In 2005, Congress expanded the rural food-for-work program MG-NREGA and in 2011, issued a Rs 60,000 crore farm-loan waiver against a backdrop of agrarian distress. Now, it is promising One Rank One Pension to cover excluded ex-servicemen. "They need to offer clearer alternatives to BJP's programmes," Pai says.
Arguably, Indian elections typically invoke "negative" campaigns, like Congress' strong opposition to BJP's India Shining campaign in 2004. That clicked because voters sensed disconnect between claims of the ruling party and their experiences.
"Neither in 2004 nor 2014 were governments replaced because the Opposition offered positive agendas," says Sanjay Kumar, director, Center for the Study of Developing Societies.
In 2014, charges of corruption and price rise uprooted UPA. "The difference in 2014 was the positive attraction of BJP," says Kumar. Anti-government rhetoric matters because they get debated in public—they become narratives. "Narratives can be set by elites or the common man," says AK Verma, who runs an electoral research outfit in Kanpur. "The latter kind matter if people understand a subject like Bofors."
It's very apparent that the Congress is trying to develop a narrative similar to Bofors on the Rafale deal. "But Rafale is extremely complicated. It also goes to Modi's credit that the charge isn't sticking," says Verma. When in the 80's Jan Morcha leader VP Singh challenged Congress over Bofors, he called it "topekhane mein chori"—theft in the armory. The pointed message struck home.
Even BJP allies agree the public expects a counter-narrative, which isn't forthcoming. "Any government would leave promises unfulfilled. The Opposition's task is to build a narrative and take it to an organisational plane," says Pavan K Varma, ex-Rajya Sabha Member of Parliament with Janata Dal (United), a NDA ally.
In the 2015 Bihar Assembly elections, JD(U), Rashtriya Janata Dal and Congress contested the 243-seat Assembly together. "That required vast grassroots mobilisation, coordination, micro-detailing and sacrifices," Varma says. The combination formed the government in 2015, though JD(U) chief Nitish Kumar later switched to NDA. The former allies named all candidates simultaneously. Its leaders presented a united public front. "That's what you call Opposition unity," Varma says. By contrast, the national Opposition appears like a motley group united against one leader. "So voters feel like they have to choose between the known (Modi and his team) and the unknown," Varma says.
To be fair, Madhya Pradesh, Rajasthan, Telangana, Mizoram and Chhattisgarh election results will determine bargaining powers of regional stalwarts vis a vis Congress. "The Opposition has a marginal, slim agenda—to 'save democracy'," says Rooprekha Verma, former vice-chancellor, Lucknow University. "On the other hand, the BJP has a dangerous agenda and they're resolute." Congress isn't offsetting BJP's Ram Temple or reclaiming composite culture against Hindutva because of corruption charges against it, she feels.
This was apparent when the AAP provided Carnatic musician TM Krishna a platform after right-wing activists forced cancellation of his concert. Also, Congress harps on the "idea of India" but that isn't a fixed idea all share. "It has also been damaged. As we saw when Mughalsarai and Allahabad were renamed, there was no public outcry," says Pai.
"People don't seem to be hating BJP's politics," says Kumar of CSDS. And they're unprepared to accept liberal ideas of dangers to democracy while Congress battles perceptions that it "cares more about Muslims."
Grassroots political workers say people repeatedly ask about Opposition alliance plans. Still, the narrative for 2019 will remain mysterious until two months before polls.
India
Rajagopal Reddy had submitted his resignation to the Legislative Assembly Speaker on 8 August who accepted it and notified the vacancy.
Politics
The 53-year-old Bishnoi, who was expelled by the Congress from all party positions for cross-voting in the June Rajya Sabha polls, resigned from the state Assembly on Wednesday
Explainers
Sources have claimed that Radhakrishna Vikhe Patil, Chandrakant Patil, Girish Mahajan, Sudhir Mungantiwar will be inducted from the BJP camp. Meanwhile, from the Shinde camp, Uday Samant, Dada Bhuse, Sandeepan Bhumre, Sanjay Shirsat and Gulabrao Patil will likely join the cabinet