As Election Commission sets the ball rolling in Gujarat, non-bailable warrant against Hardik Patel gives rises to many questions
The war of attrition between the Bharatiya Janata Party and firebrand Patidar leader Hardik Patel got even murkier after footage purportedly showing Hardik entering a hotel room in which Congress vice-president Rahul Gandhi was reportedly staying, leaked.
The war of attrition between the Bharatiya Janata Party and firebrand Patidar leader Hardik Patel got even murkier after footage purportedly showing Hardik entering a hotel room in which Congress vice-president Rahul Gandhi was reportedly staying, leaked.
On Wednesday, a Gujarat court issued a Non-Bailable Warrant against Hardik and Lalji Dal, chief of Sardar Patel Group, a Patidar organisation, in a July 2015 case of vandalising a BJP MLA's office.
The Gujarat government quickly dashed off a press release by deputy chief minister Nitin Patel stating: "No political colour should be given to this, this is a court warrant and not an arrest warrant issued by the police. The government has nothing to do with it."
The contrast was unmistakable: Between 24-year-old Hardik being received by a cheering public across the state over the past four days against Chief Minister Vijay Rupani, deputy chief minister Nitin Patel and state BJP president Jitubhai Vaghela falling over each other to call him a Congress agent and say we told you so.
Vijay Rupani on Wednesday repeatedly told the media: "We are not saying anything, you people are yourself showing Hardik meeting Rahul Gandhi. Hardik is lying. We are not showing anything. You all are showing it...We have been saying for a long time that they are all agents of Congress and the agitations are inspired and instigated by Congress," he said.
Nitin further stated that Hardik met with Rahul for 55 minutes in Hotel Ummed near Ahmedabad airport.
On Tuesday, Hardik tweeted:
में राहुल गांधी जी से नहीं मिला लेकिन जब मिलूँगा पूरे हिंदुस्तान को बता के जाऊँगा !! उनके अगले गुजरात दौरें पर हम मिलेंगे !! भारत माता की जय

— Hardik Patel (@HardikPatel_) October 24, 2017
Hardik maintained that he and his supporters met Congress national general secretary in-charge of Gujarat affairs Ashok Gehlot and state party president Bharatsinh Solanki.
Patel told Firstpost: "They are invading the privacy of individuals by misusing the police force."
"Once upon a time, they snooped on a woman architect, leaked some CD of their senior leader Sanjay Joshi and now their police is pursuing me. Why are they so worried about whether or not I met Rahul? I'll meet Rahul-ji whenever I need to, unlike Narendra Modi-ji meeting Nawaz Sharif at midnight," he added.
Sources told Firstpost the CCTV footage was leaked by officials of the Gujarat Crime Branch and Intelligence Bureau, a claim the Gujarat government vehemently denies.
Hotel Ummed chief security officer Vikram Singh Shekhawat told Firstpost:"Half a dozen police officials—and these were not inspector-level but senior officers—asked for the CCTV footage. Since it involved high-security VIP movement, I had to give it. They were from the local police, crime branch and intelligence department. There were five or six people."
When Firstpost inquired whether they had a letter from the Gujarat home department, Shekhawat asked: "What would you have done if you were in my place?" Shekhawat would not confirm or deny if the officials had written permission.
"When they asked for the footage, I consulted the management of the hotel. They asked me to provide the footage."
When Firstpost pointed out that Shekhawat had dodged the question, he replied: "Sir, I can only tell you we have everything that is needed."
Asked how could officials could rummage through hotel rooms and learn the room numbers in which Ashok Gehlot and other Congress leaders were staying, Shekhawat said, "No Sir. No rooms were checked, that is my guarantee. Nobody could go there."
When asked if Hardik stayed in a hotel room, he replied that the Patidar leader did not stay at the hotel.
Additional Director-General of Police (Intelligence) Shivanand Jha, speaking to Firstpost, said: "Why are you media people after the Intelligence Bureau? The Intelligence Bureau has nothing to do with this. No one from the Intelligence Bureau was at the hotel."
Jha's office sent Firstpost a press release denying that the Intelligence Bureau played any part in procuring or leaking the footage, adding that Gehlot's charge that the Congress leaders' movements were being monitored was completely false.
Sources among local TV stations said the footage was leaked by certain crime branch officials on the instructions of the Gujarat home department. Despite repeated attempts, Minister of State for Home Pradeepsinh Jadeja could not be reached for comment.
Firstpost reached out to a source close to Hardik Patel to enquire why he was being so cagey about his parley with the Congress leadership.
The source, speaking on the condition of anonymity, said: " We created the movement through painstaking efforts. It shouldn't look as if the Congress launched the agitation and backed us. If they were capable of that, they wouldn't be in the pathetic situation that they are and have been for all these many years."
"At such a critical time, we cannot allow send the wrong message that we have an axe to grind," the source further explained. "Hardik is not joining the Congress because he does not need to and that's precisely what gives him strength. Age is on our side. We are all in our twenties. There's no hurry. Politically, there's plenty of time for us to grow."
The source added that the success of Hardik's rallies, particularly the ones over the past four days and the past couple of years is because of the trust that the youth and the middle-aged Patidars have placed in Hardik.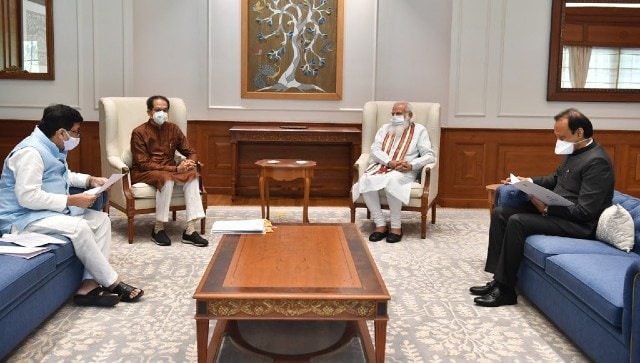 India
Maharashtra deputy chief minister and senior NCP leader Ajit Pawar and senior Congress leader Ashok Chavan also accompanied Thackeray during the meeting with the prime minister
India
Meanwhile, a slew of BJP leaders including JP Nadda, Rajnath Singh and Smriti Irani praised the prime minister's announcements and said the decisions showed the government's committment to the public
India
Land degradation affects over two-thirds of the world today and if left unchecked, it will erode the very foundations of our societies, economies, food security, health, safety and quality of life, said Modi