Ahead of 2019 Lok Sabha election, Ajay Maken's impending absence leaves Delhi Congress facing gaping hole
A two-term Lok Sabha member and three-term MLA, Ajay Maken's presence is of importance if the party needs to work towards gaining its lost ground in Delhi.
Even if Ajay Maken doesn't resign as Delhi Congress chief, his ill-health which has been confirmed by the party is in all likelihood an indication that the senior leader will not be as active as expected in this crucial year ahead of the General Elections next year.
Maken's reduced presence is likely to come as a blow to the already beleaguered Congress in Delhi. He is one of the most well-known faces of the party in the capital. Sheila Dikshit, the former Congress chief minister who ruled Delhi for 15 years has not been active ever since she lost the last Assembly election. Though Congress has denied the resignation of the Delhi Congress president, it has admitted that he has been on a leave due to health reasons and has gone for a checkup.
Right from the morning on Tuesday, rumours were abuzz that Maken has tendered his resignation. But, later during the day, Delhi Congress in-charge PC Chacko clarified that Maken had gone for a medical check-up due to some health problem.
"He has temporarily stepped down for his checkup and informed Congress president and me. He would be back by 22 September," Chacko reportedly said.
New Delhi district Congress president, Virendra Kasana, who's close to Maken, denied the rumour of Delhi Congress chief's resignation.
"Ajay Makenji hasn't resigned. Due to some health issues, he has gone for a checkup. He had recently met Congress president Rahul Gandhi and party in-charge of Delhi affairs PC Chacko," Kasana told Firstpost.
Following the debacle in Delhi Assembly election in 2015, Maken stepped down as the Congress general secretary. Former Delhi chief minister Sheila Dikshit had put the blame of the drubbing Congress suffered on Maken. As a result, both had a face-off for quite some time but later reconciled.
Importance of Ajay Maken
Maken is not just another leader in Delhi Congress.
A two-term Lok Sabha member and three-term MLA, Maken's presence is of importance if the party needs to work towards gaining its lost ground in Delhi. Having been a locally-groomed leader — his political career began as a student leader when he became president of Delhi University Students' Union (DUSU) in 1985 — he knows the National Capital Region better than most others and individually, enjoys faith of even those voters who are anti-Congress.
Despite being Delhi Pradesh Congress Committee (DPCC) president, Maken has been actively involved during DUSU election and has a strong presence at the campus.
"As PCC president, he has always been actively involved in DUSU elections," former NSUI leader Neeraj Mishra said.
Besides being the Speaker of Delhi Legislative Assembly at the age of 39, Maken was the youngest Union Cabinet minister from Congress party, who held several portfolios.
Maken is equally popular among trade union leaders and activists. The credit goes to his uncle, late Lalit Maken, who was a known trade union leader. After the assassination of Lalit and his wife, Ajay joined active politics.
"Ajay Maken follows his uncle's legacy. He's still popular among workers and actively takes up trade union issues. His impending health issue may prove detrimental for Delhi Congress. We all expect him to get back soon for the benefit of the party," an associate of Maken and also a member of the Indian National Trade Union Congress (INTUC) said.
His importance was not lost on the central leadership when in May last year, he had resigned as the Delhi Congress chief after the party suffered heavily at the civic polls. The then Congress vice-president Rahul had not accepted his resignation and had asked him to continue.
He was strongly opposed to the Congress joining hands with Aam Aadmi Party (AAP) during 2019 election. On Tuesday, Chacko clarified that Congress wouldn't go for any tie-up with AAP.
It is an open secret that there is a dearth of stellar leadership in the Delhi unit of the Congress party. Besides Maken, there's hardly any leader who enjoys mass, popular support, or even a name recall.
That's a tough situation in a city that it ruled for 15 years and then lost ignominiously to the AAP — the capital will go to the polls to elect its Assembly in a little over a year from now and the leadership deficit will place the party in a sticky situation. The bigger challenge is right next year – 2019 Lok Sabha election.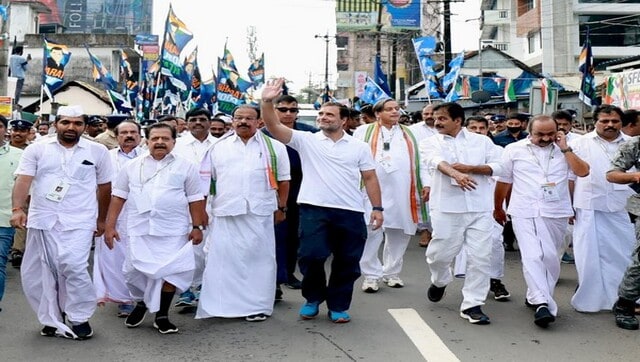 Politics
From Kerala, the yatra will traverse through the state for the next few days and will reach Karnataka on 30 September, and cover a distance of 25 km every day
Explainers
What is in store for the INC in the upcoming party president polls? Tune in to find out
India
The yatra, which entered Kerala on 10 September, will go through the state covering 450 km, touching seven districts in 19 days before entering Karnataka on 1 October