Ahead of 2019, Akhilesh Yadav and Mayawati devise new formula for mahagathbandhan, one which keeps Congress out
According to latest reports, the political parties in Uttar Pradesh are busy drafting the stencils of what could be a Congress-mukt Mahagathbandhan (a grand alliance sans Congress).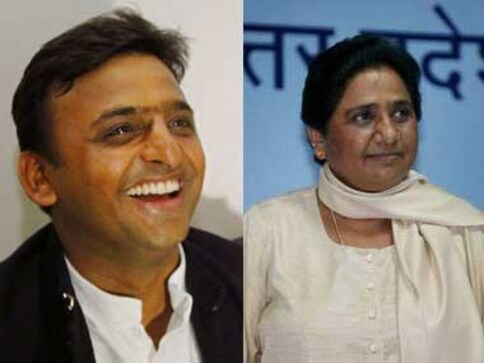 The first signs of an anti-Bharatiya Janata Party (BJP) grand alliance emerging from North India has all the bearings of the initial idea of a Third Front. According to latest reports, the political parties in Uttar Pradesh are busy drafting the stencils of what could be a Congress-mukt Mahagathbandhan (a grand alliance without Congress).
After dumping the Congress in Madhya Pradesh, the Samajwadi Party and the Bahujan Samaj Party have apparently worked out a formula to align non-BJP, non-Congress caste based parties in Uttar Pradesh ahead of the Lok Sabha elections.
CNN-News18, quoting sources from the parties, reported that Samajwadi Party chief Akhilesh Yadav and Bahujan Samaj Party supremo Mayawati have been holding talks over the last few days. The duo have readied a basic framework for a larger alliance. Included in the scheme of things is the Rashtriya Lok Dal, led by Chaudhary Ajit Singh, the son of former prime minister and farmers' leader Charan Singh.
The fragile formula
The report further stated that the parties are waiting for the result of the Assembly elections in five states, before they hold a formal meeting and go public with the finer details of the arrangement.
Sources told News18 that the seat sharing formula being deliberated upon seems to be slightly skewed in favour of BSP. The party, which has a strong support base amid the Dalit voters, will get somewhere around 30 to 40 seats in Uttar Pradesh, which sends 80 MPs to the Lok Sabha. RLD, which has considerable reach among farmers and Jats in Western Uttar Pradesh, may get three to four seats. The alliance will also set aside a few seats in reserve, in case it is able to lure Om Prakash Rajbhar's Suheldev Bhartiya Samaj Party, which is currently a very bitter BJP ally in Uttar Pradesh. Feelers have also been sent out to the Krishna Patel faction of Apna Dal, a party whose other faction is led by Union Minister Anupriya Patel.
The Samajwadi Party will contest on the remaining number of seats, while the alliance is expected to not contest from Raebareli and Amethi, seats traditionally contested by Congress president Rahul Gandhi and UPA chairperson Sonia Gandhi.
That being said, working out the finer details may be easier said than done as the constituencies in Uttar Pradesh are usually a complex mix of caste and class equations. Ajit Singh's party, once a force to reckon with amid sugarcane farmers of Western Uttar Pradesh many of whom were from the Jat community, has only just started reorganising its strength. The likely areas, where it wields influence, are currently held by Samajwadi Party, which holds appeal amid a larger cross-section of castes.
Similarly, the presence of Suheldev Bhartiya Samaj Party in a BSP-dominated alliance may also complicate things, as Rajbhar and Mayawati may not see eye on the fundamental issue of reservation. While Mayawati's core support base constitutes of Dalits, the primary beneficiaries of the reservation policy, Rajbhar seeks quota for his community. Rajbhar also supports  reservation on economical backwardness than only social backwardness.
The eastern UP on average has 18 percent Rajbhars and in some assembly segments like Sehar and Selampur in Ballia district, their share in population is as high as they are as many as 35 percent and as per 2011 census, Dalits constitute 21.1 percent of Uttar Pradesh population.
Missed opportunity for Congress?
Meanwhile, the Congress which initially floated the idea with much enthusiasm by collaborating with Akhilesh in last state Assembly election, seems to have missed out on the chance to be part of the grand alliance in the most politically-important state.
It is Congress that has been reiterating the need to bring the smaller and regional parties together to defeat the 'greater evil', and yet buoyed by the possibility of winning in Rajasthan and Madhya Pradesh Assembly polls it failed to honour the demands of these smaller parties, which could have served its greater interest in Lok Sabha. A win in Uttar Pradesh, India's most populous state, can be a game-changer in national elections for any party, as it accounts for 80 out of 545 parliamentary seats.
After the Congress failed to reach an understanding with both Samajwadi Party and BSP, Akhilesh had strongly criticised the grand old party for its arrogance and incapability of being able to take along the non-BJP forces.
Akhilesh lambasted Congress for going solo saying, "It was good they did not choose us or the BSP, as now we have the chance to highlight their mistakes."
"Congress is responsible for BJP ruling the country," he added claiming that had it been an alliance among Congress, SP, BSP and Gondwana Gantantra Party, the coalition could have mustered 200 plus seats in Madhya Pradesh.
After the alliance discussions with the BSP collapsed in Madhya Pradesh, Congress leader Kamal Nath claimed that it was not a setback for his party. And yet, if the talks of such a grand alliance in Uttar Pradesh solidifies, it is Congress' loss in all plausible caste equations.
Narayan Dutt Tiwari, popularly known as ND Tiwari, was the last Congress chief minister in Uttar Pradesh. Since the 90s, the grand old party has been increasingly relegated to the margins by the rise of regional satraps like Mulayam Singh Yadav and Mayawati. The party, which contested 105 seats in the Assembly polls, could win only seven, and in last Lok Sabha polls, the party was restricted to an abysmal two seats.
To add to this, Congress' major support base of Hindu upper caste is long lost to the BJP, and nothing seems to indicate that things may have changed on ground, at least in Uttar Pradesh. Dalits, who abandoned Mayawati and got divided between BJP and Congress, are much more likely to go back to the BSP than vote for Congress. Similarly, Muslims who have been voting for Congress in other states, will find an attractive alternative in the Samajwadi Party.
However, Congress leader Salman Khurshid thinks that leaving Congress out of the grand alliance will eventually benefit BJP. Khurshid, who has been Uttar Pradesh Congress Committee Chief twice, asserted that parties should not write off the Congress in the state and it was important that it is part of an alliance with the SP and the BSP to take on the BJP in the 2019 polls.
Asked about talk of Congress being given very few seats in Uttar Pradesh or excluded from the grand alliance, Khurshid said, "I would think it will be very myopic. I am not saying it because we stand to gain from the opposite view, but I think excluding the Congress or making Congress look (like a) dwarf in UP will be myopic." He said the BJP would also benefit if such a scenario pans out.
Khurshid said that The SP and BSP can certainly go up to 24, 25 or to 26 percent vote share, but it doesn't mean that the Congress is "nothing". He said that it should be kept in mind that the Congress had done well in the state in the 2009 Lok Sabha polls. "And we did that, while we still were considerably behind them (the SP and BSP) in vote share because the big cities voted for us in a major way. Today, at the worst, we are 7 percent and they (SP and BSP) are three times our vote share. But if we were to go out on our own, we are not going to be 7 percent, we will probably once again touch 10, 11 or 12 percent that we have shown repeatedly we can touch," he said.
"It will not be correct to write-off the Congress as despite being battered repeatedly in polls, it has about 10 percent vote in the state that has stuck to it which is crucial in many seats," Khurshid said.
India
The Priest was starting with his rituals in the temple when at around 4:30 am some unknown assailants entered the temple and beat him to death. Police has formed 3 teams to investigate the case
India
There were indications to this effect on Friday evening when MLAs of the CPI(ML), the fourth largest constituent of the Grand Alliance, called on the Chief Minister, the JD(U)'s de facto leader, at his residence
Politics
Going forward the BJP needs some quick wins to build the momentum for 2024 not only in Bihar but pan-India