AgustaWestland case: Modi govt forced accused Christian Michel to sign false confession and name Sonia Gandhi, says Congress
AgustaWestland accused Christian Michel's advocate Rosemary Patrizi clearly stated that Modi government and its agencies were forcing him to sign false confession naming Sonia Gandhiji, said Congress spokesperson Randeep Surjewala at a press conference.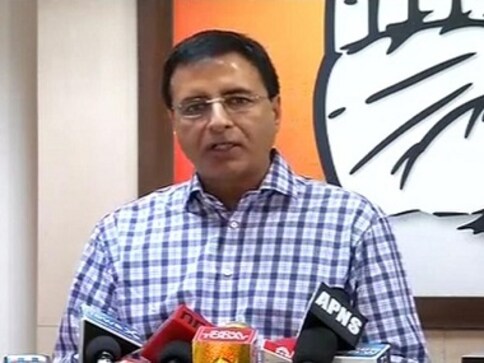 Levelling a string of charges against the Narendra Modi government, Congress spokesperson Randeep Surjewala on Thursday claimed at a press conference held in New Delhi that the Centre and its agencies had forced AgustaWestland accused Christian Michel to sign a false confession naming Sonia Gandhi in return for complete exoneration.
On Wednesday, Michel, a middleman in the VVIP chopper scam, was arrested in Dubai. However, the middleman alleged that the agencies had forced him to reveal connections with the former Congress president. Interestingly, the Opposition party's press conference comes a day before the no-confidence motion debate in Parliament.
Beginning with how "stunning revelations have blown the lid off the concerted conspiracy, blind vendetta and web of lies" by "Narendra Modi against the Congress leadership", Surjewala went onto say that the mudslinging, muckraking and hatchet job enacted by the Modi government and its 'Dirty Tricks Department' i.e CBI/ED, to smear the Opposition leaders is out in the open for the nation to see and adjudge. "Modi government has been the protector and benefactor of a company like AgustaWestland," claimed Surjewala.
The Congress spokesperson further said that Indian agencies are merely involved in hatching a conspiracy against the leaders of the Opposition and using Michel as a tool for the purpose. On Tuesday, the Indian government was supposed to produce evidence in the United Arab Emirates (UAE) court against Michel. "But the government did not present any evidence," Michel's lawyer, Rosemary Patrizi Dos Anjos, told IANS over the phone from Milan in Italy.
"Never before in the history of India has a prime minister been found complicit in gaining false evidence against Opposition leaders to seek revenge," Surjewala said. The Congress spokesperson also said the shocking expose is also a testimony to the disease prevailing in CBI or ED which prostrates before the prime minister to collect false evidence with a single-handed aim of tarnishing the reputation of Opposition leaders.
Surjewala added that to protect the national interest, the former UPA-Congress government had proceeded to encash the securities/bank guarantees (both in India and abroad) and recovered an amount of Rs 2,068 crore against the original payment of Rs 1,620 crore. The UPA government had also confiscated three AgustaWestland helicopters worth Rs 886.50 crore as per the contract value. Thus, the UPA-Congress government had effectively recovered nearly Rs 3,000 crore.
Surjewala also brought up how on 26 August, 2014, the Modi government "undid the order of blacklisting of Finmeccanica and Agusta Westland" and asked AgustaWestland to be part of Make in India programme and participate in Aero India Exhibition. In April 2015, the government had permitted AgustaWestland to bid for 100 Navy Utility Helicopters.
On Wednesday, the Enforcement Directorate filed a fresh chargesheet in a Delhi court accusing former AgustaWestland and Finmeccanica directors Giuseppe Orsi and Bruno Spagnolini and ex-IAF chief SP Tyagi of money laundering in a VVIP chopper bribery scam case. The supplementary chargesheet accused 34 Indian and foreign individuals and companies, including Tyagi, Italian middlemen Carlo Gerosa and Guido Haschke, lawyer Gautam Khaitan and Finmeccanica, the parent company of AgustaWestland, of laundering money to the tune of around €28 million.
With inputs from agencies
World
Kishida will meet Prime Minister Narendra Modi and also deliver a speech on Japan's Indo-Pacific strategy and its new defence posture. Fifteen years ago PM Shinzo Abe first spoke about Indo-Pacific cooperation during his visit to Delhi
World
Kishida, who is on a two-day trip to India, said he hopes to promote a vision of a free and open Indo-Pacific, a Tokyo-led initiative for greater security and economic cooperation that is geared toward curbing Beijing's growing assertiveness.
World
The Defence Acquisition Council (DAC), the top government body for capital acquisition approvals for the Indian military, approved the orders worth 705 billion rupees ($8.52 billion) for all its services