Age-conscious Bolt feels need for speed in 2013
The charismatic Jamaican, who turns 27 in August, holds the world records in both sprints and will be looking to better those marks.
Conscious that he is not getting any younger, Usain Bolt will be focusing on pure speed next year after retaining his Olympic 100 and 200 meters titles in London.
The charismatic Jamaican, who turns 27 in August, holds the world records in both sprints and will be looking to better those marks, set at the world championship in Berlin in 2009, during 2013, he told Reuters Television on Friday.
"It's all about speed this year, trying to see how fast as I can go," he said in an interview in Barcelona, where he is attending the IAAF centenary celebrations.
"I want to see what I can do," he added.
"I'm getting older so I should try to go as fast as I possibly can now.
"So I think that will be the main focus as long as everything goes smooth as we want it to, no injuries and stuff, it should be a good season."
Bolt has said he wants to keep seeking fresh challenges after becoming the first man to retain both the 100 and 200 Olympic crowns, including possibly running the 400 meters or even competing in long jump.
However, he ruled out the latter on Friday, saying his coach had warned him about the risk of injury.
"I have discussed it with my coach (Glen Mills) and he has explained to me that the majority of the time with long jumpers, it messes with your knees," Bolt said.
"If you want to try long jump it's kind of hard because then you could pick up some knee problems and then you never know, it might be a career threatening injury.
"So for me I think I'll just avoid long jump and think about something else."
MAIN CHALLENGER
Yohan Blake, three years younger than his Jamaican compatriot, is likely to be Bolt's main challenger again next year and the world's fastest man said he was relishing the challenge of competing against his training partner.
"Blake is looking good also this season," Bolt said. "I'm just looking forward to the competition.
"The youngsters that are coming up excite me, who is going to be my next challenger?
"Blake stepped up, I proved to him that I'm the best and I've proved to the world over and over, year after year, that I'm the best. So for me I'm looking for the next challenge, the next guy who is going to step up."
At a later news conference, Bolt said he did not think he should be racing Blake more than once or twice a year and ruled out running the 400 meters in 2013.
"When we get two races a season it's much more exciting for everyone to come and see us," he said.
"I don't think we should run more than once or twice a year. I don't think I should put my body through too much stress."
Looking further ahead, the Commonwealth Games in Glasgow in 2014 were also on his agenda, although Mills would be the one to decide, Bolt said.
"That's the only title I don't have so I think it's something I'd like to go for, even if it's just to do one event," he told reporters.
"If everything goes well with the contract then I'll be there. It's pretty much 50-50 but because he's the coach he always makes the final decision but it's the Commonwealth Games so I don't think he'll have any objection with me going."
Reuters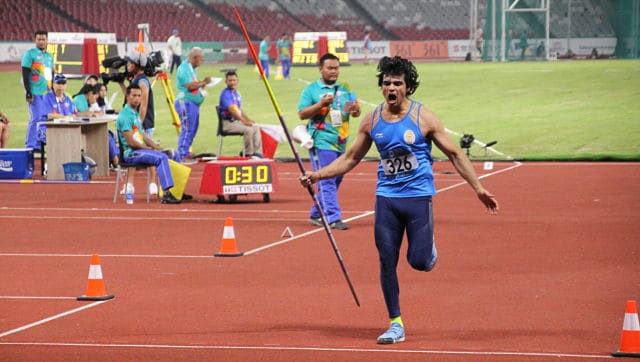 Sports
Neeraj Chopra had qualified for the Olympics with a throw of 87.86m, which bettered the qualifying mark of 85m, at an event at Potchefstroom, South Africa, in January last year.
Sports
McNeal, 29, can still take part in the US trials for the Tokyo Olympics later this month while she appeals the ban, which is backdated to August 15, 2020, the AIU said in a statement.
Sports
The 2017 world champion's four-year ban runs into December 2024, including the Tokyo Olympics next month and the 2024 Paris Olympics.