As controversies rage over VK Sasikala's appointment as the next Tamil Nadu Chief Minister, another snag seems to have hit the ruling AIADMK. The Twitter handle of the Chief Minister's Office seems to have been deleted from the micro-blogging site. It is still not clear who deleted the account and why was it deleted, but on the face of it, things look murky.
The @CMOTamilNadu (currently unavailable) was created in December 2016. After Jayalalithaa's death on 5 December, the handle changed its display picture to that of O Panneerselvam, who in a swift political move took over as the chief minister of the state. A thing to keep in mind is that changes to the CMO handle was made only after Panneerselvam was sworn-in as the chief minister. This, however, was not the case this time.
A day before Sasikala was sworn-in, the display picture and the name of the account was changed to that of 'V.K. Sasikala'. And a day later the account was deleted. On Sunday, the CMO handle changed its name from O Panneerselvam to VK Sasikala almost immediately after she was elected the leader of the AIADMK legislature party on Sunday.
Before assuming charge the Twitter handle of TN CMO switched to Sasikala... Enna nadakkuthu inga! pic.twitter.com/aotymiVxSJ

— Niche Epitome (@NicheBrain) February 5, 2017
In comparison, this is how the Twitter handle looked when Panneerselvam was the chief minister.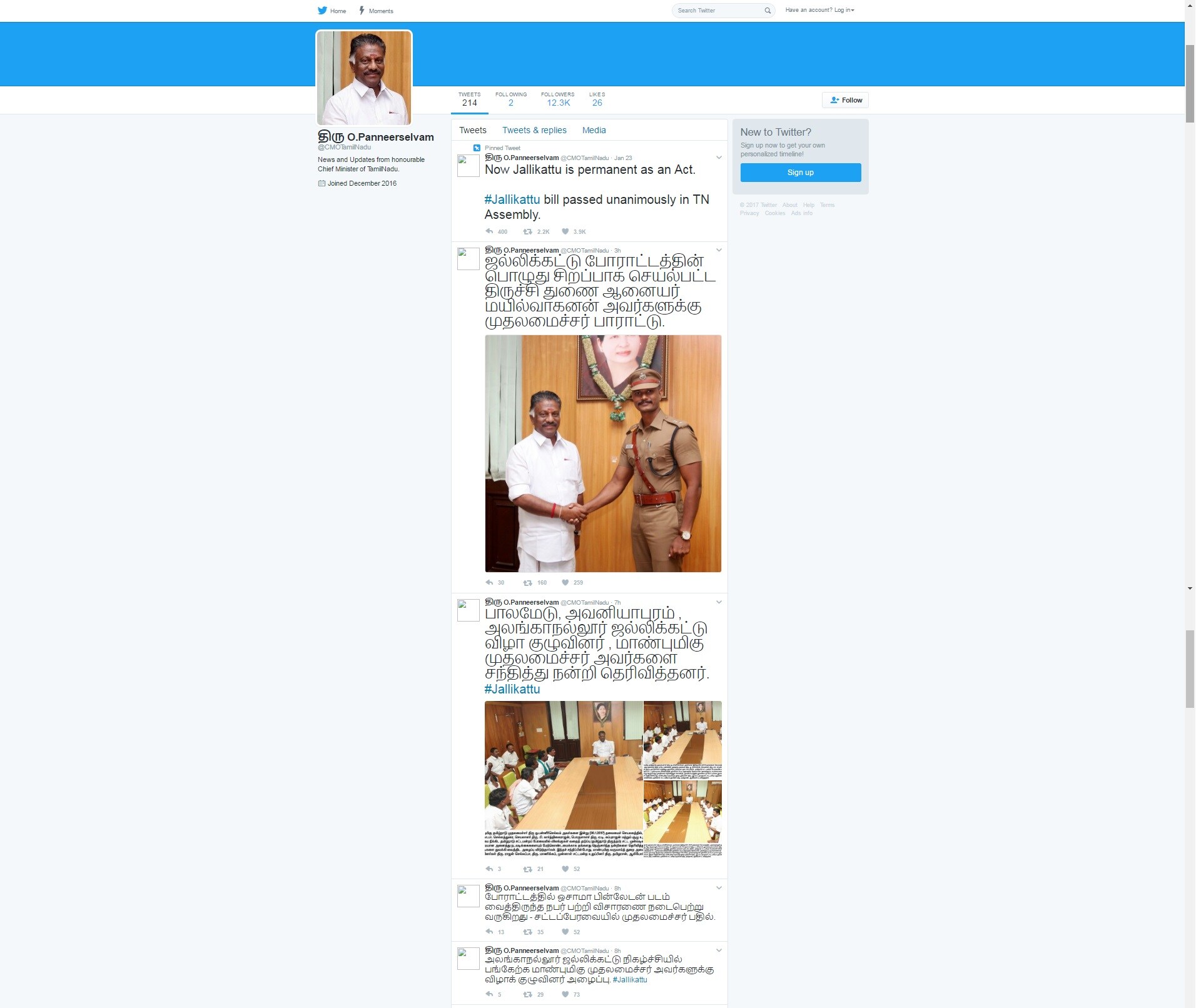 The move to change the name along with the profile picture seems to have been in anticipation of her becoming the next chief minister. However, technically speaking, despite resigning as chief minister, O Panneerselvam is still the chief minister till "alternative arrangements" are made, as the governor office notified on Monday. Twitterati seemed to have been not happy by the quick "change of guard" on Twitter.
@CMOTamilNadu but Ms. Sasikala is still not the CMO Tamil Nadu... atleast proper protocols should be followed — Krishnan Lakshmanan (@Krishnanl1981) February 5, 2017
@CMOTamilNadu How u can Put the Name "CMO Tamilnadu" now itself. Who gave the power..???? — Jegan Suyambu (@SuJegan) February 6, 2017
@rkishoresai How can she use the handle of CMO Tamil Nadu even before Swearing In — Raghuraman R Menon (@RaghuramanMenon) February 5, 2017
Follow all the live updates here
Updated Date: Feb 08, 2017 11:33 AM