After Ram Vilas Paswan, Nitish Kumar returns to NDA; move underscores changing political canvas in India
The fact that Nitish Kumar and Ram Vilas Paswan, the two stalwarts of secularism and strident critics of Narendra Modi are part of NDA shows that India's political canvas has changed unrecognisably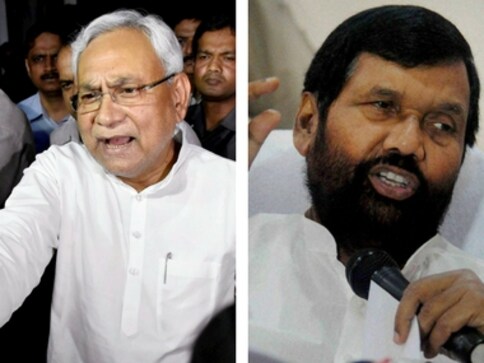 First it was Ram Bilas Paswan and now it's Nitish Kumar. The shift in the trajectories followed by these two illustrious leaders from Bihar is sufficient to mark the change in India's political canvas.
The commonalities between the political stances and careers of both the leaders are striking. Both were ardent followers of the legendary Jay Prakash Narayan and both went on to become national leaders with formidable auras irrespective of their hold of the political ground from which they emerge. But most importantly, both the leaders who flaunted their secular credentials from a high moral ground, were once strident critics of Narendra Modi and his politics.
Political stories narrated by them saw dramatic changes in the recent times. Leader of the Lok Janashakti Party, Paswan left NDA during Gujarat riots in 2002, but re-joined just before the 2014 General Election to Lok Sabha, and is now the Union Minister of Consumer Affairs, Food and Public Distribution in Prime Minister Narendra Modi's cabinet. On the other hand Bihar chief minister and JD(U) leader Nitish, who snapped his 17-year-old alliance with NDA to protest Narendra Modi's elevation as the prime ministerial candidate of the BJP in 2013, has now dumped his alliance with Lalu Prasad Yadav-led Rashtriya Janata Dal in Bihar to be a BJP-supported chief minister.
It would be an understatement to say that Paswan and Nitish's re-joining NDA merely proves right the proverbial saying that 'there is no permanent friend or foe in politics'. For both the leaders have been seen as those who stood by their carefully crafted public images even at the cost of political inconveniences in the past and are not known as turncoats. The shift in their trajectories cannot be narrowed down as cases of political convenience alone. Rather, it has to be seen in the light of the change in the nation's mood that has now translated to change in the political canvas of India.
In the recent past, both leaders took drastic political decisions in their careers for their cherished idea of secularism. These were pivotal decisions as they re-asserted the idea of secularism which not only them but millions of Indians have received as political conditioning.
In 2002, Paswan parted ways with the ruling NDA on the face of Gujarat riots. After resigning from the post of Union Minister of Coals and Mines, he was candid enough to let the then-prime minister Atal Behari Vajpayee know that he and his MPs would vote against the government in the Opposition's censure motion on the Gujarat situation in the Lok Sabha next day.
Paswan would cling to this stance even after a decade. When Modi the then chief minister of Gujarat delivered the Independence Day speech at Bhuj on 15 August, 2013, parallel to then prime minister Dr Manmohan Singh's speech in Red Fort, Paswan named it a condemnable act that weakened democracy of India.
He also accused the media of giving too much importance to Modi and said that "the electronic media treated the (then) Gujarat chief minister's speech in Bhuj as if it was something very important for the country".
He also lambasted the BJP as Bharat Jalao Party.
Nitish has also been known for his overtly drastic moves which were seen as directly attempted against Modi.
It was Narendra Modi's elevation as the prime ministerial candidate of BJP that led Kumar to break alliance with NDA in 2013. He also sacked 11 BJP ministers in Bihar cabinet and decided to seek a trust vote on the floor of the Assembly.
Without naming Modi, Nitish at that time attempted to negate the then Gujarat chief minister's prospects as a prime minister. His conditions were clear, a leader can only be one who is comfortable with the Islamic skull cap and the Hindu tika. "Jise topi bhi pahenna hoga tika bhi lagana hoga," he had said.
Negating the Gujarat model of development, Nitish asked, "What kind of development is this where malnutrition is an issue and people don't get drinking water. The creation of infrastructure and putting of industries is fine but human index should also be looked at."
Prior to that, his bitterness towards Modi was so high that he had even refused to accept flood relief money for Bihar from Gujarat in 2008. The money was returned with interest as reported by The Times of India.
Nitish's adherence to his anti-Modi stance made many imagine him as the face of a possible anti-BJP alliance in the 2019 General Elections to Lok Sabha.
Be it Paswan or Nitish, defying all speculations both joined the Modi-led NDA.
In 2014, Paswan justified his re-joining NDA by saying, "This is the era of development and the primary focus should be on providing jobs to youths. Whenever elections are near these so-called secular parties come forward to chant secularism."
As for Nitish, the Bihar chief minister cited his stand against 'bhrastachaar' or corruption as the reason of his snapping ties with RJD and that of re-joining NDA.
The fact that two stalwarts of secularism and strident critics of Modi have re-joined NDA and accepted Modi's leadership on the grounds of development and politics against graft, shows that India's political canvas has changed unrecognisably. Their return to the NDA fold will be seen as a counter to the accusations of non-inclusiveness often levelled against the present regime by the Opposition.
India
The man, Abdul Majid, in his post said the RSS and BJP leaders should apologise for the controversial remarks on Prophet Muhammad made by suspended BJP spokesperson Nupur Sharma, or PM Modi, Amit Shah, Yogi Adityanath's heads will be separated
Politics
A three-judge bench headed by Justice A M Khanwilkar upheld the magistrate's order rejecting Zakia Jafri's protest petition against the closure report filed by the SIT in 2012
Politics
Supreme Court on Friday upheld a Special Investigation Team's clean chit to then Gujarat chief minister Narendra Modi and 63 others in the 2002 riots in the state and dismissed a plea by slain Congress leader Ehsan Jafri's wife Zakia Jafri