After AAP's entry, both BJP and Congress have to reinvent
AAP has captured the middle class vote by proving it is different from Congress and BJP. The long term threat is greater for the Congress, as BJP gains from perceptions about Modi. But even BJP has to reinvent as it has to be more than just Modi
By Siddharth Shekhar Singh
The Aam Aadmi Party (AAP) has gained traction in Delhi at the expense of the BJP and the Congress. It is a rare instance of a grassroots party, not connected with a region, religion, caste or secessionist movement, challenging established political parties in a state. Why has the AAP gained support? Can the BJP and Congress ignore its limited presence in Delhi or is there a reason for concern? What lessons can they draw from the sudden emergence of the AAP?
The changing political landscape: Our social and political landscape is changing drastically. A new and large middle class is emerging with different values. It has a long memory aided by the internet. Although diverse, broadly, this segment is educated, prosperous, aware of the world, and aspires high. It is socially responsible and progressive. It has low tolerance for corruption and incompetence. In short, it represents the new India that should give hope and excitement for the future. As this class grows, it will enrich our democracy and strengthen it. Our post-independence generations lost their innocence and compromised their dreams due to artificial restraints imposed by our political class. This new segment is not willing to compromise. In some ways, it is like the generation that brought independence to India.
The changes in our society are irreversible. Political parties can either resonate and lead, or become increasingly less relevant. Whoever fulfils the needs of the new middle class would be a potent political force in the country for decades to come. The influence of this segment can only grow given our demographic trends. Further, more of the country will adopt similar values due to our interconnectivity.
The differences between the new middle class and other voters are not represented clearly by the traditional boundaries segmenting voters. As a result, old school politicians have become prisoners of their carefully cultivated images meant to exploit the traditional divisions among voters. This puts them at odds with the emerging reality. And changing well-entrenched positions in the minds of the people is very difficult.
The new middle class's emergence: The new middle class emerged quickly, and surprised our politicians. Consequently, there is no national political party to address its needs adequately. The AAP is trying to fill this gap. It is not comparing itself with any political party. Rather, it is differentiating itself from the entire political class. This positioning is bold and brilliant. People distrust politicians by default due to association with corruption, nepotism, and incompetence. It is a classic case of disruptive positioning. And Indian politics is ripe for such disruption provided fresh untainted leaders attempt it.
However, the AAP cannot yet claim this space. It is riding a wave of changes in our society, not creating it. It is making the right noises, but has yet to prove itself. It suffers from a lack of resources and geographical reach, both important for growth. Therefore, the threat from the AAP is minor at the moment. But it can become major over time if the traditional parties do not address this challenge.
What can Congress and BJP do? The new middle class perceives most Congress and BJP leaders as regular politicians. There are too many contradictions in their political life to ignore. And credibility is important. The BJP has responded faster. The carefully cultivated perception that Narendra Modi is different from other politicians has helped the party. It has made Modi popular in this segment of voters. However, the BJP is more than Modi.
The Congress is still dithering. Rahul Gandhi's outburst over the ordinance on convicted politicians was a bit late. His strategic mistake of opposing Anna Hazare during his much anticipated speech in parliament in 2011 positioned him as a traditional Congressman. And questions about corruption related to his family will not fade easily. As a result, people have become skeptical of him. The political machinations of those perceived as close to him do not help his cause either. However, he can still reposition himself through right moves and patience.
The BJP is distinct because it is the only right wing national party. The Congress is different from AAP only due to corruption, nepotism, and bad governance. Therefore, it is more vulnerable in the long run. Going forward, both the parties would benefit from taking proactive steps consistent with the aspirations of the new middle class. It would be risky, and mistakes are possible. However, people are far more forgiving of honest mistakes than dishonest politics.
Next, these parties need to create systems free of nepotism for cultivating fresh leaders who resonate with the changing electorate. Such leaders should get space to develop their identities. And that might mean allowing positions against the majority view in the party without fear of consequences. The voters understand diversity of views within a party. That is a sign of vibrant internal democracy. People must perceive these new leaders as empowered and not figureheads.
The Congress and BJP must strengthen their student organisations. Both must allow common students to participate, grow, and move up the hierarchy in the respective political parties. This is present in theory but absent in practice. Both parties must create channels to bring successful people from diverse fields into politics. They can adopt frameworks used in corporate leadership programmes. At present all this is done in an ad hoc manner and the success of the entrant depends on factors beyond talent. A sustained supply of untainted talented new leaders and fresh thinking can be a vehicle to evolve as needed. The flexibility thus achieved can help face the challenge from AAP and prevent future competition. The success of AAP has revealed an opportunity. Ignoring it would be unwise.
Dr Siddharth Shekhar Singh is an Associate Professor of Marketing and Director of the Fellow Programme in Management at the Indian School of Business. He has a PhD in Marketing from the Kellogg School at Northwestern University. He can be reached at Siddharth_singh@isb.edu
Politics
The scathing remark comes after Congress President Mallikarjun Kharge took a swipe at Prime Minister Narendra Modi terming him a "leader of lies"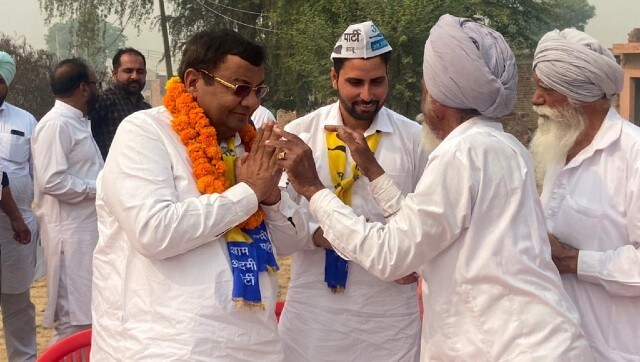 Politics
Aam Aadmi Party Rajya Sabha MP and state in-charge of Haryana, Sushil Kumar Gupta sees prospects for the party after the Haryana local poll results
Politics
Thousands of people gathered at Chandrawal road, holding party flags and banners of Kejriwal, who took out a roadshow in Malkaganj in New Delhi to urge people to vote for the Aam Aadmi Party in the MCD polls