After a disappointing 2018, will Narendra Modi risk disapproval or court fringe elements as 2019 elections approach?
Even to his admirers, 2018 will seem a bad year for Narendra Modi, and not only because it concluded badly for the BJP in the state elections.
Even to his admirers, 2018 will seem a bad year for Narendra Modi, and not only because it concluded badly for the BJP in the state elections. But before we examine why, we need to speculate a bit about Modi himself, what he stands for, his strengths and contradictions, which have now become apparent.
Narendra Modi is hardly the average leader and people have tended to display extreme emotions – either immense devotion or deep hostility – while talking about his doings; friendships, as well as family ties, have found themselves threatened by political disagreements over him. When he assumed Prime-ministership in 2014 many people who might not have favoured the BJP were also enthusiastic. Modi seemed a forward-looking leader who favoured economic development rather than the familiar rigmarole of the Ram Temple and undertaking rath yatras. He fired the imagination of the public, especially the young who needed hope. People even outside the Parivar, stirred up with enthusiasm, wanted to see him elected and worked selflessly for him. 'Less government, more governance' implied strengthening of the weak state and its institutions.
Modi's popularity since 2014 has exceeded that of his party; even economists, reputed academics and intellectuals were drawn to him initially, although the many who had expected some recognition were disappointed when they did not get it afterward. That he drew such a following – even among the apolitical — meant that there were expectations that he would control the party and its sister organisations, known to house regressive types; still, he missed the opportunity to enlist them to redefine a political ideology still stuck in antiquated notions. His much-publicised statement that the story of Ganesha implied the incidence of head-transplant in ancient India was even glossed over by his admirers since he had otherwise shunned antediluvian rhetoric. In his first year as Prime Minister he came down hard on the Delhi bureaucracy; state employees were seen going early to work.
Indians who follow politics tend to see political parties as monolithic since signs of inner-party conflict are kept hidden, but the most powerful leaders – Hitler, Stalin, Mao and Indira Gandhi among them — emerged powerful by destroying inner-party democracy. Hitler had his rivals in the Nazi Party liquidated in the 'Night of the Long Knives' (1934) and Stalin sent most of the Politburo to their deaths in 1936-8. Mrs Gandhi became an unquestioned leader only when she purged her party of elements like the Young Turks. The submission of senior leaders within the Congress to the Family owes to Rahul and Sonia having inherited a Congress Party weakened within. The BJP is stronger organisationally than Mrs Gandhi's Congress but it was necessary for Modi to stamp his authority on it, if he had been a visionary with a purpose. To this day, his popularity exceeds that of the Party and though he needs its organisational strength, he could have prevailed if he had negotiated hard. He treated his own mentors in the Party perfunctorily when he became Prime Minister and it was not beyond his capability. At least that is what it seemed at the time of the Demonetisation of November 2016.
The Demonetisation of 2016 was undertaken hastily and put an enormous number of people to great hardship but it was planned in great secrecy – which justified much of this; it is rumoured that even Arun Jaitley, the Finance Minister, was caught unawares. If this is true it suggests that Modi's own party was partly the target. Political power is linked to access to money in India and political leaders are generally known to hold cash on behalf of their parties. The actual targets in the Demonetisation, it may be surmised, included politicians of various hues holding unaccounted cash that could be transformed into informal political power. There is no reason to doubt that Demonetisation was intended to cleanse the public space of corruption, although Modi could hardly have admitted that politicians (including those from his own party) were targets. As it happened, most of the black money held was laundered, some with the connivance of banks; as an exercise in stamping his personal authority, it appears to have failed. Modi had been able to install the level-headed Devendra Fadnavis in November 2014 as CM in Maharashtra but could not prevent the regressive hardliner Yogi Adityanath, a candidate he seemed against, from becoming CM in Uttar Pradesh in March 2017. Perhaps the failure of Demonetisation weakened Modi within the Party and he succumbed to popular demand.
Within six months of the Demonetisation, the government introduced the Goods and Services Tax (GST), once again hastily, now putting small businessmen to hardship. The calculation was probably that it is better to do something vital in an ill-planned way than postpone it; aspects could be fine-tuned in due course. That the public took both DeMo and the GST in its stride suggests that the gamble paid off. But after this, in 2018, is when Modi's first contradictions came into focus, his disinclination to risk disapproval when elections were closer. His talk began to resemble that of a party campaigner rather than a statesman and his attitude towards the fringe became worrying; Jayant Sinha could perhaps not have garlanded lynching convicts without his tacit approval. The obliging attitude towards the fringe apparently owes to the approaching elections when he needs to use it. But if the forward-looking Modi courts such elements at election time, how would he contain them afterward?
There are stories about Modi waiting to be 70 to renounce the world but judging from his electoral conduct, he is more likely to postpone it to 75. He has held power continuously from 2001, first as Chief Minister of Gujarat because of his RSS background and then as Prime Minister and has not had to claw his way to the top like the average leader. Power was given to him and his eagerness to retain it may be weakening him as Prime Minister. Better governance implies the supremacy of the Executive over the Party.
The second weakness one detects is his sense of his own wisdom and supremacy, which appears partly in relation to highly educated professionals. One recollects a witty remark in his early period as Prime Minister that 'Hard work is more powerful than Harvard' but he has consistently kept academics at bay, even those who admire him, and his tenure has been marked by a series of high-profile resignations. My own surmise is that Modi has contempt for what people without much formal learning term 'bookish knowledge', perhaps on the reassurance from a tradition that 'knowledge is within oneself'. But the problem here is that when one is dealing with something as complex as the Nation, such wisdom could be of little avail and theoretical inputs may be required. Modi's sense of his wisdom and supremacy has seen the government trying to force its way into institutions that should rightly be left to qualified/experienced non-political people; it has radiated outward even in the political space and it is difficult for him to make a successful political alliance. But the strongest stone, one must recollect, is eventually worn away by the more accommodating water.
There are a number of things that (judging from some of his actions) Modi might have wanted to do, including police reforms, settling the border dispute with China, having better ties with Pakistan, and introducing a uniform civil code. He was strong enough to initiate action in some of these matters in 2014 and had the mandate, but nothing materialised. A uniform civil code, for instance, would be impossible to attempt unless all Indians are convinced that the government is non-partisan. In the present climate, with Ayodhya heating up and lynch mobs at large, it is impossible to take steps and Modi has even stopped talking about it. Rather than pursue an announced goal single-mindedly Modi's tendency is to shift his rhetoric. Before the Madhya Pradesh elections, he undertook to remove poverty from tribal Bastar but we still recollect, from 2014, the smart cities and a clean Varanasi.
Modi has some major achievements to his credit: the tax regime has been streamlined and the military has been strengthened. Efforts are being made to put Air India (once in a mess) on track. There are few financial scandals and even the allegations of corruption in the Rafale deal are unconvincing. There are highly credible moves being made against loan defaulters. But it is as though only some areas matter while others – like culture, education, healthcare and the environment – need no attention since he handpicks ministers and dictates policy only in a few spheres. For every good act, Modi has presided over or allowed a bad one and the BJP's cow policy is a national disaster, waiting. Modi, who refuses to budge on certain matters, bends backward if it might lessen electoral disadvantages, and these tendencies, together, suggest neither high flexibility nor deep conviction.
Narendra Modi may not favour books but there is a parallel for his conduct in the character of the 'good person of Szechuan' in Bertolt Brecht's play, someone who has to be 'bad' a few days every month to be able to be 'good' the rest of the time, since being good all the time would be too costly. In Modi's case, his 'goodness' is basically his economic sense and his desire to make India modern, while his 'badness' arises from having to win elections using the most regressive elements to further his cause. It is this contradiction that sees the situation in UP worsening even as Modi remains conspicuously silent.
But perhaps even more alarming than UP should be his dealing with institutions, suggested by the resignations of key economists who had stood by him — Arvind Panagariya (Vice-Chairman, Niti Aayog), Arvind Subramanian (Chief Economic Advisor) and Urjit Patel (Governor, RBI) — and all three were appointed under him. One of the key areas that Modi has given importance to is the economy; the fiscal deficit has steadily come down, inflation is low and India has apparently moved up in the index pertaining to the ease of doing business; but the economy is an area where the country cannot be autonomous, subsisting on characteristic Indian 'inwardness'. During the year we have heard allegations of the government weakening institutions – the Supreme Court and the CBI – covertly. There is now a distinct feeling that it is trying to control the RBI, which could see the country's sovereign rating downgraded by credit rating agencies, leading to a drastic flight of investment. 'More government' contrary to his promise, could get the country into trouble in his most favoured area.
At the end of the year came the BJP's electoral defeats in the Hindi heartland. The BJP, given the circumstances, has fared creditably but Modi is hardly likely to take this as good enough; there is the talk of a massive farm loan waiver. When Maharashtra and UP had proposed such measures earlier, one recollects, Modi had astutely stipulated that such waivers should be met out of each state's resources. Loan waivers are wasteful, do not benefit the most affected and send out wrong signals to borrowers when the banks are already under stress; but the prospect of electoral defeat in 2019 may be too much for him to contemplate.
It is difficult to predict which way 2019 will go but Modi's style of functioning is helping natural enemies (like BSP and SP) come together. If they do come together it would be difficult for the BJP to return despite Modi's popularity. A matter of interest here is what Modi will do in such an eventuality since he seems too imperious to go back to the people like Mrs Gandhi and beg for support, and out of power, his popularity could fade. In any case, a coalition government seems the most likely outcome, but the last five years (and the earlier five with the UPA) have shown that it is not such a good thing to give a single party a decisive mandate.
MK Raghavendra is a film scholar and author of seven books including The Oxford India Short Introduction to Bollywood (2016). He is deeply interested in social, political and cultural issues in India, an interest that informs his books on film.
Opinion
While India is broadly in favour of globalisation and free trade, the Modi government has placed the national self-interest stage centre in the mix. It wants reciprocity and mutual advantage, or it tends to lean towards Aatmanirbharta
Politics
The roadshow, previously planned for Tuesday, will now be held today from Patel Chowk to Parliament Street after a change in the party's schedule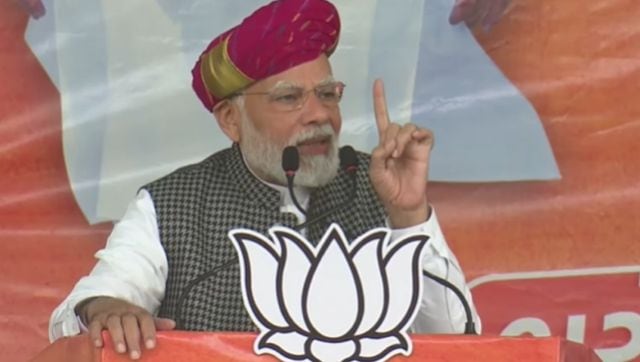 Opinion
In every way, Narendra Modi gains from this needless controversy before the nine state elections this year and the general election next year. And a master politician like him will not let this opportunity for his opponents to malign themselves go waste