Ae Dil Hai Mushkil row: Fadnavis defends decision on 'brokering' MNS-producers deal
Fadnavis maintained that he had opposed the offer of Rs 5 crore contribution from the producers to the Army welfare fund.
In separate interviews to The Indian Express and The Times of India, Maharashtra Chief Minister Devendra Fadnavis defended his decision, as he came under fire for "brokering a deal" between the producers of Ae Dil Hai Mushkil and MNS chief Raj Thackeray.
What a sorry state of affairs!CM brokers deal n buys patriotism for 5 crores!After Home minister had promised peaceful passage 4 #ADHM

— Azmi Shabana (@AzmiShabana) October 23, 2016
Earlier this month, in a move to boycott Pakistani artistes from working in India, the Raj Thackeray-led Maharashtra Navnirman Sena asserted that they would not let Ae Dil Hai Mushkil (which features Fawad Khan in a cameo) and Raees (which marks the Bollywood debut of Mahira Khan) release in India, or be screened in theatres. The group warned that any filmmaker who defied their diktat would be beaten up.
After that director Karan Johar proclaimed that he would stick to his release plan, even as certain distributors and theatre owners were against it, citing their safety. On 18 October, the MNS intensified its plans and issued an indirect threat of vandalism to the multiplexes if they screened the movie.
"We will oppose the screening of the movie everywhere in the state. If any multiplex operator dares to screen the film, they [operators] should remember that multiplexes are decorated with expensive glass sheets," MNS leader Amey Khopkar said. Following this, Mukesh Bhatt, president of The Film & Television Producers Guild of India, met the joint commissioner after the threats and the Mumbai police ensured they would provide "adequate protection to cinema theatres as and when required". 
Johar finally broke his silence on the ban on Pakistani actors through a video.
There's been some talk about why I've been silent over the past few weeks. I need to say this. Nothing else matters to me but the country. The climate and circumstances were different when I shot Ae Dil Hai Mushkil, in September to December last year. There were efforts made by our government to make peace with our neighboring. I respected the sentiments then and I respect the sentiments of the country now
In the video, Johar claimed that from now on he will not cast Pakistani artistes, while also condemning terror. "I have immense respect for the Army. But to ban the film is unfair to my crew." The MNS then called off their protest and Raj Thackeray demanded that producers have to give in writing that they won't cast Pakistani actors.
Fadnavis, in The Indian Express interview, denied that he had "brokered any deal". He said that if talks can be held with Hurriyat and Naxals, what was so wrong about holding talks with MNS. As a major defence, Fadnavis claimed that he wanted to maintain law and order in the city ahead of Diwali. "Can you overlook the general public mood which is all set to celebrate Diwali? If I had not intervened, wouldn't I have been accused of keeping the tension brewing?" The Indian Express report quoted Fadnavis as saying.
According to a PTI report, Fadnavis maintained that he had opposed the offer of Rs 5 crore contribution from the producers to the Army welfare fund. The Indian Army was reportedly upset over being dragged into the politics and said that contributions through extortion was not allowed and they'd rather it be voluntary.
"Thackeray had put three demands, out of which there was no objections to the other two. When the issue of Rs 5 crore came up, I intervened and made it clear to the Film Producers' Guild that they need not have to agree to it. I also told them that the contribution has to be made voluntarily. However, it was producers' decision to accept it," Fadnavis said last evening at his residence.
"I categorically told that although it is nice that the Guild has decided to stand by the families of our martyrs, it is not a compulsion. Still if they wish to do, they may contribute whatever amount they feel [is] appropriate. This figure of [Rs] 5 crore came from MNS but was not agreed in the meeting and turned down then and there only," he said.
In the interview to The Times of India, Fadnavis defended his decision saying that he held the meeting because he was "keen on a resolution of the issue". Maharashtra Congress called Fadnavis' decision "unconstitutional"; spokesperson Sachin Sawant said that "Fadnavis not only bowed before the highhanded tactics of the MNS but also made the state bow before the party".
Perhaps, the method behind Fadnavis' move boils down to counter its "bitter ally" in the state, Shiv Sena, offers Sanjay Sawant in this Firstpost piece. BJP and Shiv Sena are allies in the state, but they have been at loggerheads. Party insider sources offer that this move by BJP was to counter Shiv Sena's growing influence ahead of the municipal council election that will start from 27 November.
The piece also talks about how in the past Shiv Sena had resisted the release of Shah Rukh Khan's film, My Name is Khan, but it downplayed it, unlike the MNS this time around. In getting the producers to agree to MNS' demands — a written agreement to not hire any Pakistani actors, a slate in the film paying tribute to the soldiers who died in Uri and donating Rs 5 crore to the Army Welfare Fund, the MNS had got its way. And BJP played lent a helping hand towards the same.
With inputs from PTI
India
The first-time MP, with strong RSS roots and responsible for increasing the party's vote share in north Bengal, has replaced Dilip Ghosh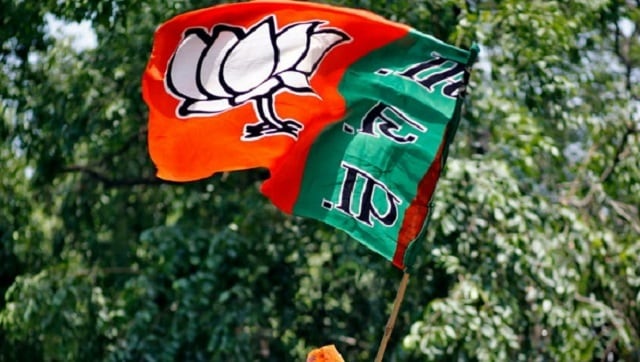 India
Dhurjoti Saha, the BJP candidate from Magrahat Paschim assembly seat in South 24 Parganas district who lost the April-May poll and was allegedly assaulted by TMC workers, died on Wednesday.
Entertainment
Kangana Ranaut will play Sita in The Incarnation, which will be directed by Alaukik Desai.