Advising Rahul Gandhi: The media guide to becoming a youth icon
Rahul has lost the mantle of youth icon to Narendra Modi. But none of the media pundits' advice is going to help him get it back.
Of the many failures of Rahul Gandhi, the most damaging and of greatest symbolism is perhaps Narendra Modi's usurpation of his crown as India's #1 'youth icon'. It is a bit embarrassing when the kids prefer a silver-haired old fogey to the supposedly younger, cooler you.
As CNN-IBN anchor Rajdeep Sardesai observes, "In the normal course, 43-year-old Rahul Gandhi and his youth 'managers' should have been the natural mascots of  this new India, and not a 62-year-old Narendra Modi and his Sangh parivar. Rahul is younger, English-speaking, telegenic and tech-friendly. And yet, as most recent youth surveys suggest, it is Modi who is the preferred choice of young Indians."
Modi's the tweet-a-minute dude, spouting wisdom in the Five Point Someone language of college kids, while Rahul launches yet into another dreary speech on the virtues of NREGA. Who can blame the kids for picking grandpa? (Though the verdict on who is a better choice for prime minister seems to be split in some surveys.)
Pundits of all stripes have been quick to offer advice to the young scion on how to wrest back the heart of Youngistan. Where Sardesai counsels focusing on "high quality shiksha," Krista Mahr on Time.com offers a more simple tip: Get on Twitter in order "to be more open and answerable" to a young voters.
The latest and most interesting piece of advice comes from Times of India columnist Srijana Mitra Das who argues that Rahul Gandhi needs to leverage his liberal credentials to speak directly and on behalf of a generation that values individualism and self-determination:
Rather than personality, this reflects the Congress's delay in understanding two concerns core to this group -- freedom and jobs. The UPA's record on creating the latter has been so dismal, Rahul couldn't have seriously addressed the same, but he could've spoken for the former to his gain. 
Opportunities abounded when two girls were arrested for comments online, a young cartoonist was jailed for drawings, an IAS officer suspended for doing her job, when water cannons and batons rained down on those protesting Nirbhaya's death. Speaking then would've helped Rahul understand one ideal budtameez dils cherish. It would have also strengthened Rahul's own liberal credentials, armour for his forthcoming clash.
Das' argument is persuasive at an intuitive level. Young urban India may appreciate Modi's image as a "a tough, no-nonsense leader," as Sardesai puts it, but his Hindutva/BJP credentials also brand him as part of the moral policing brigade.
Rahul's perceived elitism, on the other hand, can become a strength is played as a liberal defense of freedom, whether it is speaking one's mind, or marrying across caste divides, or women's rights to personal fulfillment. If young people are bucking tradition across the nation, surely it's a young, modern man who can better speak on their behalf than a leader who represents patriarchal authority.
The problem, however, is that Das' assumptions don't exactly match the facts. In the latest India Today survey, young voters rated inflation (25.5 per cent) and corruption (21.1 per cent) as the two most important election issues. 'Jobs' came in third at 15.4 per cent, followed by women's safety (14.3 per cent) and education (8.9 per cent).
Asked what they were most concerned about in their life, 76.3 per cent cited 'Finding a good job', closely followed by 'parents' reaction to what they do' (75.1 per cent) and 'health of family elders' (74.2 per cent).  There is little evidence here of personal freedom as a key priority for young Indians -- not when two-thirds of them are worried about what mummy/papa think.
The problem is that it's not just Rahul who "is groping in the dark when it comes to tapping India's irrepressible youth," as Das suggests, but also the media pundits who claim to advise him.
Take, for instance, this Rediff.com article that explores why "the post-liberalisation brigade of 149 million new voters" is different, but frames its entire analysis with this disclaimer: "While it is hard to read young voters' minds, looking at what happened in the United States in the 70s, one can make an intelligent guess."
Writing in Mint, Niranjan Rajadyaksha makes an elaborate and unsubstantiated pitch for a generational divide on economic issues, arguing that young voters care more about growth than inflation. And yet inflation is the number one electoral issue in the India Today youth voter survey.
But it's not just the pundits who are flailing about without a clue. Consider the RSS' latest bright idea to attract young members is a new belt, boots, coloured shirts, and a leniency toward long pants.
"We have even changed our prayers from the time the RSS was set up. Don't underestimate our ability to adapt with the times," declares a senior official, who seems to think that the unsightly khaki shorts were the  only thing standing between the shakha and the local youngsters.
In this season of silliness, here is what we do know: young people will vote in 2014, and in greater numbers than ever. The biggest shocker of the 2012 Assembly elections was the unprecedented number of young voters. A national election will be no different. We still don't know what they want, but both parties better find out, and in a hurry. In Rahul's case, I suspect it will involve doing a little more than getting on Twitter.
Find latest and upcoming tech gadgets online on Tech2 Gadgets. Get technology news, gadgets reviews & ratings. Popular gadgets including laptop, tablet and mobile specifications, features, prices, comparison.
World
Playing up his local, middle-class roots, Biden focussed on Trump's stewardship of the coronavirus, casting the president as a callous leader who cannot empathise with the concerns of most Americans
India
India seems to have belatedly understood and now appear more accepting of the reality that peaceful resolution of the dispute is a long shot and the focus should instead be more on prevention of an armed conflict that looms large.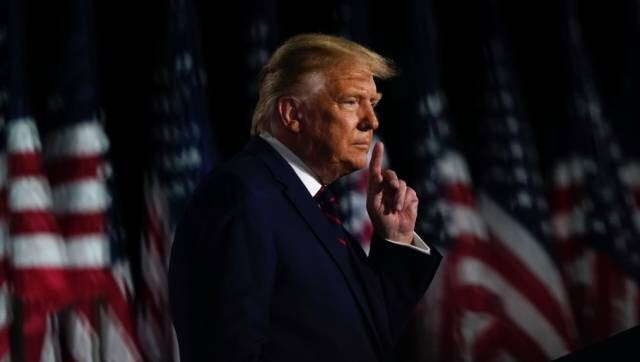 World
For all his rhetorical flaws, Trump has pushed back against aggressive campus feminism, critical race theory and other subversive forces within the US, says doctoral scholar on neo-realism, researcher and columnist Sumantra Maitra.