Advani, Omar, and the cynical politics over Article 370
Cynical politics over the decades has dragged Kashmir into a fine mess today; a war of words that doesn't consider the historical narrative on the subject of Article 370 doesn't help heal Kashmir's wounds.
You know election season is upon us when old issues and talking points, which had been consigned to the periphery of politics, are reheated and served afresh. The ongoing 'war of words' between BJP leader LK Advani and Jammu and Kashmir Chief Minister Omar Abdullah over Article 370 of the Constitution, which relates to Jammu and Kashmir, is the surest sign that ideological positions on this substantive issue, which had been corroded by time, are being sharpened again in the run-up to Election 2014.
This round of the debate was revived when Advani, in a blog post (here) urged Abdullah to exercise verbal restraint in his criticism of the BJP's long-held position for the abrogation of Article 370. Abdullah, he noted, "has every right to disagree with the BJP on matters relating to J&K. But I would advise him never to use offensive language and words like 'cheating' and 'deceiving' in that context."
Advani then cited historical accounts of the Constituent Assembly proceedings in the years immediately following India's independence to make the point that when the Article 370 provision - (it was initially numbered 306A) - was first proposed, it had met with vociferous criticism from practically the entire Congress party. He then narrates the back-channel negotiations that were then initiated, in which then Home Minister Sardar Vallabhbhai Patel was inducted, to get the proposal to be passed as "temporary provisions with respect to the State of  Jammu and Kashmir."
Citing the then ICS officer V Shankar's reminiscences of his time as Patel's Private Secretary, Advani also drew attention to Prime Minister Jawaharlal Nehru's initial attempt to keep Patel out of the loop of the debate over Article 370 by entrusting Kashmir affairs  to N Gopalaswami Ayyangar (who was Nehru's close aide and had served as Prime Minister of Kashmir in the 1930s). However, in 1952, two years after Patel's death, told Parliament, while making a statement on the Kashmir situation, that "Sardar Patel was all this time dealing with these matters."
In response to Advani's blog post, Omar Abdullah took to Twitter  to suggest to Advani that rather than ask him (Omar) to observe restraint, the BJP leader should explain his silence on the repeal of Article 370 during the years when the BJP was in power from 1998 to 2004. "Perhaps he can also blog about what constitutional mechanism he plans to follow to repeal Article 370," Omar noted. "I might learn something from his wisdom."
It is of course true that the BJP, virtually the only party that takes a position demanding the repeal of Article 370 today, did put the issue - along with two other contentious issues (the Uniform Civil Code, and the issue of building a Ram temple at Ayodhya) - on the back-burner as a concession to alliance-building. To that extent, the party has momentarily compromised on its ideological position on the issue for the expedient of coming to power as the head of an alliance. If Omar Abdullah sees the play of cynical politics in that manoeuvre, he is not entirely wrong.
And yet, history is clearly on Advani's side when he points to the political hypocrisy that has dominated the debate on Article 370 for decades. For a start, Article 370 was always intended as "temporary provisions" (it says so right in the title). Even Nehru famously said on one occasion that "Samvidhan ki dhara 370 ghiste ghiste ghis jaayegi") - that the Article would over time be eroded and eventually disappear altogether.
Secondly, contrary to popular perception (and even Advani, in his blog post, makes the mistake), Article 370 was never intended to invest any "special status" on Jammu and Kashmir. It was, as Arun Shourie notes in A Secular Agenda, "a device for extending provisions of the Constitution of India a step at a time to Kashmir." It was to be used until a Constituent Assembly of the State could be constituted and could do that job in one go.
And even that provision was incorporated only in response to the situation on the ground in Jammu and Kashmir at that time. India had just fought a war with  Pakistan, which has always burned with Kashmir lust, and the two countries had agreed on a ceasefire; but parts of the State were still under the control of tribal invaders from Pakistan. And India had, in another manifestation of Nehruvian naivete, become entangled in the United Nations with a pledge to hold a plebiscite in the State to determine its destiny.
But that near-universal consensus on the short-term nature of the provision has over time given way to shifting political positions by virtually every political party other than the BJP. To the point where the shibboleth persists today that Article 370 somehow represents a "solemn" commitment of an everlasting "special status for Jammu and Kashmir." In fact, it was always intended as a temporary measure that would erode over time.
It is nobody's case that the political atmosphere in Jammu and Kashmir is ripe for a repeal of Article 370. Nor does a viable Constitutional mechanism exist to carry out that project - given the cynical politics that virtually every party has played over the decades. To that extent, Omar Abdullah's Twitter rant against Advani is not entirely without merit.
But Omar Abdullah, who is doubtless doing a difficult job of administering a troubled border State in extremely difficult circumstances, could do better than grand-standing with fiery "over my dead body" rhetoric in the context of Article 370.  Cynical politics over the decades has dragged Kashmir into a fine mess today; polemical politics such as his, without considering the historical narrative on the subject of Article 370, doesn't help heal Kashmir's wounds.
India
Incidents such as the February attack and Friday's twin encounters highlight that militancy has now spread all across Kashmir and more youngsters are picking up guns and joining new militant groups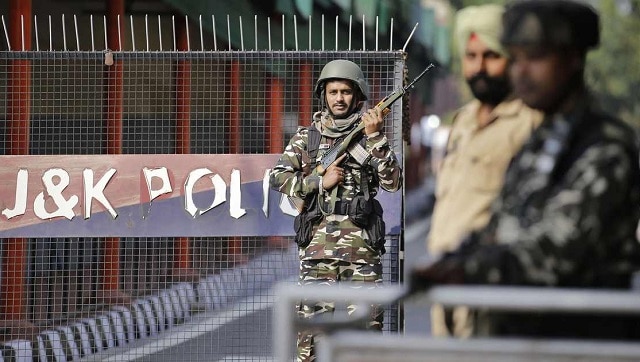 India
Ahmad, who is the BJP district general secretary for Baramulla and in-charge for Kupwara district, is safe, a police official said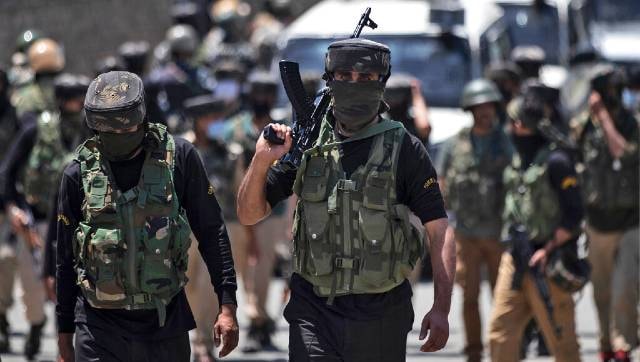 India
While security forces were engaged in an operation in the Hadipora area of Shopian district, a second gunfight broke out at Semthan in the Bijbehara area of Anantnag district