Addressing first-time voters, Narendra Modi invokes Pulwama attack, Balakot air strikes at Latur rally
Prime Minister Narendra Modi violated the Model Code of Conduct on Tuesday, by appealing to first-time voters in Maharashtra's Latur to vote for the BJP government for carrying out the Balakot air strikes against Pakistan
Prime Minister Narendra Modi violated the Model Code of Conduct by invoking the Balakot air strikes in his speech

He urged the first-time voters at a rally in Latur to dedicate their vote to the soldiers who died in the Pulwama attack

Through a notification dated 9 March, the Election Commission (EC) had asked political parties to not use the armed forces for political advertisements or campaigns
Prime Minister Narendra Modi violated the Model Code of Conduct on Tuesday, by appealing to first-time voters in Maharashtra's Latur to vote for the BJP government for carrying out the Balakot air strikes against Pakistan reportedly as a response to Pulwama terror attack that killed over 40 CRPF soldiers in February.
Addressing a rally in Latur, where he shared the stage with Shiv Sena chief Uddhav Thackeray, Modi urged first-time voters to exercise their franchise carefully. "You will remember you first vote for all of your life. Would you dedicate your first vote to the brave soldiers who conducted the Balakot air strikes in Pakistan? Would your first vote honour the CRPF soldiers who lost their lives in the Pulwama attack?" Modi said.
Through a notification dated 9 March, the Election Commission (EC) had asked political parties to not use the armed forces for political advertisements or campaigns.
"The Armed Forces of a nation are the guardian of its frontiers, security and political system. They are apolitical and neutral stakeholders in a modern democracy. It is therefore necessary that political parties and leaders exercise great caution while making any reference to the armed forces in their political campaigns. The Commission is of the view that photographs of Chief of Army Staff or any other Defence personnel and photographs of functions of Defence Forces should not be associated with or used in any manner in advertisement/propaganda/campaigning or in any other manner in connection with elections by political parties and candidates," the EC had said in the notification.
The prime minister had allegedly violated the MCC last month as well while addressing the nation after the successful completion of the A-SAT test by the DRDO.
Apart from Modi, Uttar Pradesh Chief Minister Yogi Adityanath faced the criticism of the opposition and then faced the Election Commission's ire he referred to the Indian Army as 'Modi ji ki sena'. "Congress ke log aatankwadiyon ko biryani khilate they aur Modi ji ki sena aatankwadiyon ko goli aur gola deti hai. (Congress would feed biryani to terrorists, while Modi's army gives them bullets and bombs)," Adityanath said at a rally on 2 April.
Politics
Shiv Sena president Uddhav Thackeray on Tuesday expressed confidence that his faction will emerge victorious in the legal tussle with the rebel group led by Maharashtra Chief Minister Eknath Shinde.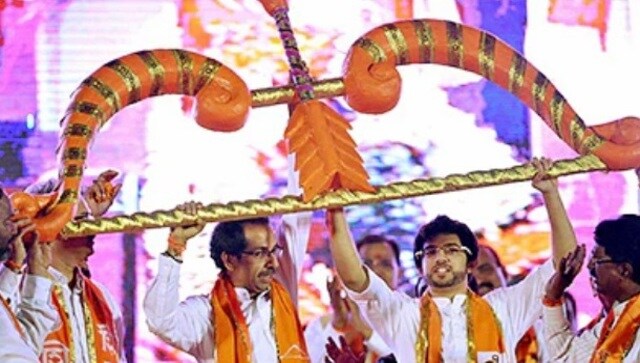 Politics
Earlier, the BMC had denied permission to both the camps to hold a Dussehra rally at the Shivaji Park ground citing law and order concerns. The dispute over the iconic venue was then moved to the Bombay High Court
India
The petition sought directions to the BMC to immediately grant permission for the Sena's Dussehra rally at central Mumbai's Shivaji Park. The Sena faction decided to approach the court since the civic body has not responded to their application seeking approval for the rally