ABVP, NSUI claim victory in first student union polls in Madhya Pradesh since 2012
In Madhya Pradesh, direct elections were discontinued on campus after clashes took place among student groups.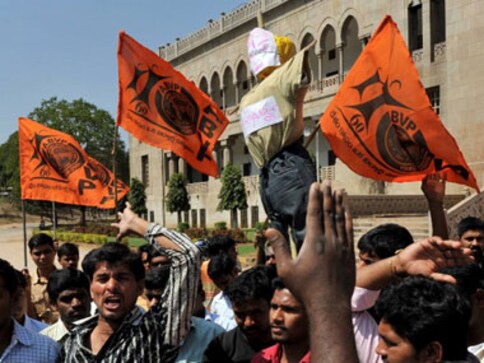 Bhopal: The RSS-affiliated ABVP and the Congress-backed NSUI have claimed victory in the student union elections held on Monday in government colleges across the BJP-ruled Madhya Pradesh, after a gap of nearly six years.
The Aam Aadmi Party's (AAP) Chhatra Yuva Sangharsh Samiti (CYSS) also claimed its maiden win in the elections. The National Students' Union of India (NSUI) alleged that its candidates and supporters were beaten up at several places and that the poll was "rigged" in favour of the ABVP.
However, the Akhil Bhartiya Vidyarthi Parishad (ABVP) said the polls were conducted in a peaceful manner. "ABVP has registered victories in colleges in all districts. Parishad won in 90 per cent places (colleges) in these elections," ABVP organisation secretary, Madhya Pradesh and Chhattisgarh, Prafull Akaant, said.
He said the ABVP registered victories at several colleges including in Jhabua, Khandwa, Barwani, Indore, and in Barkatullah University in Bhopal.
In Madhya Pradesh, direct elections were discontinued on campus after clashes took place among student groups. The elections resumed in 2005, but on the basis of merit only. The last student elections were held in colleges in 2011-12.
"Holding student union elections peacefully is a reply to the people who were expressing apprehension of violence in these polls," the ABVP leader said.
NSUI's state president Vipin Wankhede said they have won in "60 percent" of the colleges. "Candidates of NSUI registered victory in 60 percent colleges of the state including those in Dewas, Singrauli, Harda and several other districts," he said.
Wankhede alleged that NSUI candidates and supporters were beaten up by activists of ABVP at some places. He alleged that NSUI members have emerged victorious in elections at the Barkatullah University in Bhopal, "but the administration declared results in favour of the ABVP".
CYSS convener Nishant Gangwani said his organisation registered victory at 86 posts of Class Representative (CR) and four posts of (college) presidents among others.
"We won the elections in Katni district, the home turf of state Cabinet minister Sanjay Pathak, and at Churhat Assembly constituency of the Opposition Leader Ajay Singh," Gangwani claimed.
The process to conduct the elections started from 23 October and the results were announced on Monday.
In these polls, the students elect CR of each class. These CRs then contest for student council of their respective colleges. The council comprises president, vice-president, secretary and joint secretary who are directly elected by students. These representatives of students then elect the university councils.
India
The incident took place at the Indore police control room near Regal Square in Madhya Pradesh
First Cricket News
On a difficult fourth day pitch, the India A batter looked flawless and milked the field at ease, slamming six fours in his 104-ball knock as Bengal were precariously placed at 96 for 4, needing another 254 runs to reach the stiff winning target of 350.