Absconding Siwan murder accused appears in photo with Bihar minister Tej Pratap Yadav
Appearance of minister Tej Pratap in the same frame with Kaif drew severe criticism from BJP.
A major controversy erupted in Bihar on Wednesday after the surfacing of a photograph of an absconding accused in the murder of journalist Rajdeo Ranjan with RJD chief Lalu Prasad's son and health minister Tej Pratap Yadav.
Yadav, however, dismissed the charge and feigned ignorance about the suspect, Mohammad Kaif. TV channels flashed photograph of Kaif with Yadav which went viral on social media.
On Tuesday, Kaif was seen in photographs and videos standing beside RJD strongman Mohammad Shahabuddin after his release from Bhagalpur jail on 10 September. Appearance of minister Tej Pratap in the same frame with Kaif drew severe criticism from BJP.
Meanwhile, Kaif has also responded over the controversy. "Tejashwi Yadav is my youth icon, I wanted to come into politics and I went as a supporter, I had even asked my lawyer for advice before I went there," ANI has quoted him as saying. Kaif also refuted the criminal allegations levelled against him. "I am a cricketer, I train boys. This accusation (murder of Rajdev Ranjan) is false," Kaif said. 
Kaif and Mohammad Javed, another absconding suspect in the murder of the scribe at Siwan in May, were shown in the same frame with Shahabuddin after his release attracting sharp criticism of the state government.
Following the surfacing of his photo with Kaif, the health minister told reporters that thousands of supporters and people meet him everyday and click photograph with him and it was not possible for him to know their background. "How would I know who is a shooter from among 1,000 people who click photo with me?" Yadav said.
Yadav, who is elder son of RJD President Lalu Prasad, alleged that BJP was behind the controversy. "It is a conspiracy of opposition BJP. They bring some photograph from somewhere and make some false allegations." His younger brother and Bihar Deputy Chief Minister Tejaswi Yadav jumped to his defence.
"Is it written on somebody's forehead what he is?" he said on the photograph of Kaif with Tej Pratap Yadav. "Does Prime Minister Narendra Modi verify the background of everybody he shares dais in a function or meet?" he said in a counter-offensive against BJP.
Leader of Opposition in the Bihar Assembly Prem Kumar used the opportunity to attack the state government, saying this reflected the state giving shelter to criminals.
Meanwhile, Siwan Police said their were looking forKaif and Mohammad Javed, who have been absconding in connection with the killing of the scribe of a Hindi vernacular on 9 May this year. "We are conducting raids at their residences and other known whereabouts, but so far no success has been achieved," Siwan Superintendent of Police Saurav Kumar Sah told PTI. Asked about photograph shown on Wednesday of Kaif with minister Tej Pratap Yadav, the SP said, "Such things does not come under our domain. Our focus is to search for the absconders in the murder of the journalist."
With inputs from PTI
India
People blocked roads, pelted stones in Jehanabad district, after a man arrested in liquor trade died in judicial custody in Aurangabad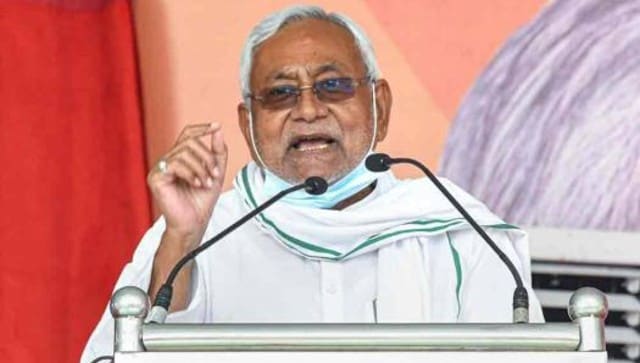 India
The Bihar chief minister said the state Assembly has passed unanimous resolutions twice in 2019 and 2020 in favour of a caste-based census.
Politics
The officer alleged that the police did not lodge an FIR despite repeated attempts and he was made to wait for hours even to get a receipt of his written complaint