Abrogation of Article 35A: Kashmir may be headed for more unrest as locals panic over changing demographics
If Article 35A is struck down, there will be a rebellion and Kashmir will erupt like never before. It may be an uprising that's beyond the control of the state apparatus and may be too much for J&K or New Delhi to bear
There is sadness in the air in Kashmir. Cafes, restaurants, offices, colleges and even marketplaces are abuzz about the possible scrapping of Article 35A, or the Jammu and Kashmir State Subjects Law, which defines permanent residents of Jammu and Kashmir and prevents non-locals from buying or owning property in the state.
The clamour is growing: If the law is struck down by the Supreme Court, there will be a rebellion and Kashmir will erupt like never before. It may be an uprising that's beyond the control of the state apparatus and its cost may be too much for Jammu and Kashmir or New Delhi to bear.
Abdul Gaffar is a shopkeeper near Poloview in Srinagar. He says the political fallout of the article's abrogation is beyond anyone's imagination. In a recent hearing of the case in the apex court, the Centre refused to file a counter-affidavit and the state government is also struggling to build a strong case, leading many to fear defeat is imminent.
"It will be the end of us and our identity," said Gaffar, who is in his mid-60s says with a frown. "But why we could not see it coming and why did our state government not build a strong enough case?"
Jahangir Iqbal Ganie, Jammu and Kashmir's advocate general, told a newspaper that three petitions have challenged the article in the Supreme Court, but in the two other petitions, no notice was issued to the state government.
The issue has also triggered an unlikely camaraderie. Perhaps for the first time in decades, political parties cutting across the political spectrum in the Valley are on the same page: They all want to preserve Article 35A.
"There would be a mass uprising in which people will die. Then, slowly and steadily, Kashmir will become Palestine, where we will be left fighting for a single bucket of water. Life will become an everyday fight for survival," said Amir Abbas, resident of Srinagar's Lal Bazar said.
"If the law is struck down, there will chaos on the streets and Kashmir will burn," said Ajaz Ahmad Rahi, a resident of Rajbagh area of Srinagar. "Within the first few years itself, Kashmiris will sell their land like never before, as big companies would come in and offer prices unlike anything people could have imagined."
Most people believe this is the Centre's design to change the demographic character of the Muslim majority state. As the case nears its next date of hearing in the Supreme Court, a sense of dread has seeped in.
Nasir Sogami, a senior National Conference leader, said any move to abrogate Article 35A will have huge ramifications on the ground, because everyone, including people from the political parties, are on same page. "This article was included in the Constitution to save our land rights, and those who did it were not naive. Abrogating it now would have far-reaching implications, even worse than the months of unrest. Without making any specific guesses, I can say it would have huge ramifications for all of us," Sogami said.
Shakeel Qalander, an industrialist based in Srinagar, said there is apprehension among people that outsiders may purchase land and throw the natives out. "We are not a rich state. When you will have so much capital flowing, people will sell land. It has become a political issue now, but it's actually a threat to our existence, not just to the people of the Valley but those in Jammu and in Ladakh too," he said.
The BJP, which has long advocated the abrogation of the law, is also feeling the heat in Jammu, after National Conference working president Omar Abdullah started a campaign to make people aware of the issue. "What BJP and RSS is telling people in Jammu is that it will be a Hindu majority state if Article 35A is struck down. But that's not the reality," said Anand Kumar, a social activist from Jammu.
"In fact, minorities in India like Christians, Muslims and Sikhs, who are facing hardships in other states, will be the first ones to move to Jammu and Kashmir. And they won't settle in Kashmir but to Jammu and areas close to it," he added.
"Let us say, hypothetically, a million people buy land and property in Jammu, Samba and other districts. That will change the demographic character of the Jammu region as well. The Hindu majority demography will change in months. The Muslims of India will be the first ones to come and settle here," Qalander added.
In case the article is struck down, there is a likely to be a political shakeup in the state. The People's Democratic Party (PDP) insiders say Mehbooba Mufti could resign, but fears of other leaders from her party aligning with the BJP has been giving the chief minister sleepless nights.
The Centre has already received reports from the various agencies in the Valley about the possible fallout on the streets if Article 35A is struck down. What has been written in those reports may portray an exaggerated ground reality. But will New Delhi ignore the warning shots?
India
An official statement said that a blinking red light was observed by the troops at a height of 200 metres but the object went back across the border after personnel fired at it
India
As per the Jammu and Kashmir Police, approximately 5 kilograms of explosives have been recovered from the drone.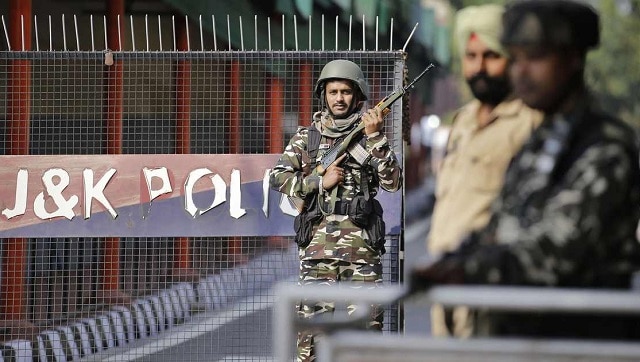 India
Security forces had launched a cordon and search operation in Kwarigam, Ranipora area of the South Kashmir district following inputs about the presence of militants, a police official said