AAP's outing in DU North Campus gets tepid response
For the student wing of AAP, penetrating into the strongholds of NSUI and AVBP in Delhi University's North Campus, will not be an easy affair.
New Delhi: Aam Aadmi Party's rally in Delhi University's North Campus today did not quite elicit the response from the student community that the party might have hoped to see. The rally was mostly an AAP affair with close to 150 AAP activists, led by its leader Yogendra Yadav along with the paty's Timarpur candidate Harish Khanna walking all over the DU university campus, shouting slogans and chanting.
It was organised by the student union wing of the AAP, the Chatra Yuva Sangharsh Samiti (CYSS).
From a political perspective, the Delhi University's North Campus is an important site for any party that hopes to make a crack in the elections. Nearly every college of repute from Stephen's to Hindu to SRCC is located here. It's also got the Arts Faculty which houses all MA programmes for DU, the Delhi School of Economics, the University's Physics and Chemistry Department and the Vice-Chancellor's residence. If you want to make your presence felt in the student community in Delhi, this is the place to go.
Perhaps that explains the Aam Aadmi Party's rally in North Campus Delhi University today. Interestingly though the rally was trending on Twitter with the hashtag #DUwithAAP, it didn't see too much of a response from the student community at DU itself.
AAP's student supporters were however confident that the rally had gone down well.
Anuj Bhati, a final year student at Zakir Hussain college, who has been supporting AAP's campaign throughout told Firstpost, "AAP is the only option for the youth now. BJP, Congress are all about corruption. For the first time, we have a third option, we should at least try that." As far as the success of the rally was concerned, he was upbeat about that as well.
"The response has been awesome. Students are coming to join us, they are bunking classes to join us. The youth is totally with us."
While Anuj's confidence is to be admired, there's no doubt that not everyone in DU was affected by the rally or felt the need to join in. But while AAP's rally moved along on the roads, the campuses inside seemed hardly affected by it. This despite the fact that the rally hit all the major spots, from Arts Faculty down to the Kirori Mal College road onto Kamla Nagar and then towards SRCC and finally ending at the GTB Nagar metro station. Strangely AAP didn't walk down the road that leads to Stephen's and Hindu and the social work department.
One student thrust an AAP card into my hand and naturally I assumed he was an AAP supporter. "I'm not with them," he clarified. "I was just given an extra one, so I didn't really want it and I just handed it out." A student of Hindu College, he didn't feel the need to attend the rally and was quickly on his way after handing me AAP's slip.
Kanika (name changed) a third year student of Hansraj didn't feel that AAP would have any impact on DU students. "I feel the mood is more in favour of BJP among the students here." Neither she nor her friend felt the need to attend to rally, as they had a seminar to attend.
In the Kamala Nagar, McDonald's which is a regular haunt for DU students, Kejriwal's AAP was the topic of discussion as well.
Manoj Gupta (name changed) a student of first year MA in the languages department, felt that AAP isn't offering anything new. "There are just too many contradictions in what Kejriwal says. I feel he's just opposing both BJP and Congress and not really tell us what he'll do to change the country."
Radha Sharma (name changed), his classmate said that as far as she was concerned, she was confused between AAP and BJP. When asked about her confusion said, "If Kejriwal becomes CM, then I might vote for him, but then I ask think about what if Modi becomes PM." For her both AAP and BJP are equal. Strangely she feels students are with AAP but she wouldn't have gone to the rally either way.
But to be fair, AAP and its student wing at CYSS, are still relatively new to the DU campus, which has traditionally been ABVP vs NSUI affair. Given the fact that ABVP swept through Delhi University Student Union's (DUSU) elections this year, it is unlikely that a new student union group would have made a big dent.
The DU rally may have been a smart move given that election is close by, but whether it has any serious impact on AAP's result remains to be seen.
Subscribe to Moneycontrol Pro at ₹499 for the first year. Use code PRO499. Limited period offer. *T&C apply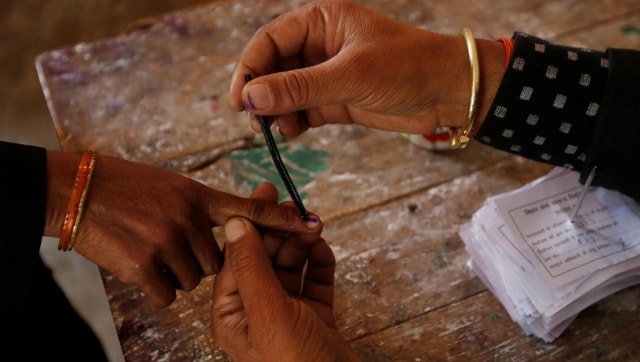 Politics
The municipal wards where bypolls are being held are Rohini-C, Shalimar Bagh (North), Trilokpuri, Kalyanpuri and Chauan Banger
Sports
According to KKFI general secretary Mahender Singh Tyagi, as many as 54 coaches from all over the country are taking part in this 10-day programme.
Politics
The Delhi CM's remarks come at a time when BJP failed to bag even a single ward in the bypolls. Delhi BJP President Adesh Gupta said that the party 'honours' the mandate given by people