AAP MLA Amanatullah Khan says will support Congress if the next prime minister is from Rahul Gandhi-led party
Aam Aadmi Party (AAP) MLA Amanatullah Khan on Wednesday said that AAP will extend support to the Congress if the next prime minister will be from the Rahul Gandhi-led party
AAP will extend support to the Congress if the next Prime Minister will be from the Rahul Gandhi-led party, the MLA said

His statement comes after both AAP and Congress leaders have said that they are in no mood to contest Lok Sabha elections together

Our party will contest Lok Sabha elections in Delhi, Punjab and Haryana alone, Punjab chief minister Amarinder Singh had said
New Delhi: Aam Aadmi Party (AAP) MLA Amanatullah Khan on Wednesday said that AAP will extend support to the Congress if the next prime minister will be from the Rahul Gandhi-led party.
"Somebody told me outside that people are saying they will vote for the Congress because the next prime minister will be from that party. We are saying that if this happens, then we will also extend support to their prime minister (Abhi bahar mujhse koi keh raha tha ki log keh rahe hain ki Congress ko vote isliye denge kyunki Pradhanmantri unka banega, hum ye keh rahe hain ki agar Pradhanmantri unka hi bana toh hum bhi usey support kar denge)," Khan said at an event in Delhi.
His statement comes after leaders from both AAP and Congress have said that they are currently in no mood to contest the upcoming Lok Sabha elections together. "Our party will contest Lok Sabha elections in Delhi, Punjab and Haryana alone. For Congress, their arrogance is bigger than national interest, it is visible from recent statements of Punjab chief minister Captain Amarinder Singh and Sheila Dikshit ji," AAP leader Gopal Rai told ANI.
Earlier this week, Punjab Chief Minister Captain Amarinder Singh also said, "Till now there is no question of Congress allying with the AAP as the party does not have its presence in Punjab."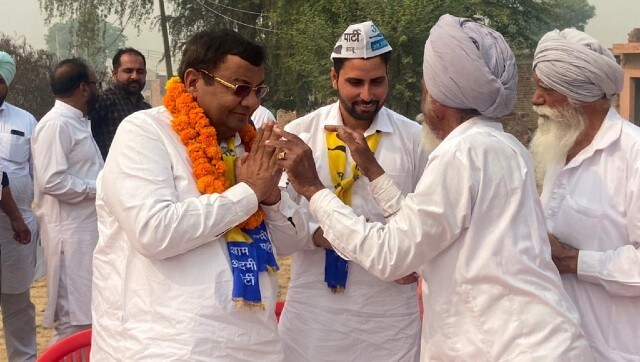 Politics
Aam Aadmi Party Rajya Sabha MP and state in-charge of Haryana, Sushil Kumar Gupta sees prospects for the party after the Haryana local poll results
India
Addressing a press conference in Surat, AAP national convener Kejriwal said his predictions for the Delhi and Punjab Assembly elections came true, and the same will happen in Gujarat as well
Politics
In Tankara, another constituency in the region won by the Congress last time, party workers say their MLA Lalit Kagathara is the biggest "star" in the constituency due to his work and accessibility to constituents