AAP demands SC-monitored probe into Patidar leader's allegation over BJP offering bribe for poaching
The Aam Aadmi Party on Monday demanded a Supreme Court-monitored probe into allegations that the BJP offered Rs 1 crore to a Patidar leader in Gujarat to switch loyalties
New Delhi: The Aam Aadmi Party on Monday demanded a Supreme Court-monitored probe into allegations that the BJP offered Rs 1 crore to a Patidar leader in Gujarat to switch loyalties.
AAP national spokesperson Ashutosh told a press conference that the BJP tries to "poach" leaders from other parties by using money or muscle power before every election.
"This is the real face of the BJP," he stressed, claiming that similar attempts involving AAP leaders were made in the past in the national capital.
Ashutosh said the public mood was "shifting" in the country but the BJP was sticking to its "old tactics of resorting to money or threats" in its "desperation" to win Gujarat.
"The AAP demands a Supreme Court-monitored probe into the issue as we do not trust the CBI or any other agency. Even the Congress had not misused the CBI to this extent. Also, an FIR should be lodged against the Gujarat BJP chief Jitu Vaghani," he said.
Narendra Patel, a leader of the Hardik Patel-led Patidar Anamat Andolan Samiti (PAAS), has levelled the charge, which has been rubbished by the BJP.
Meanwhile, the AAP leader also questioned IPS officer Rakesh Asthana's promotion as CBI special director and attacked the BJP government in Rajasthan over a controversial bill that seeks to protect public servants and judges from prosecution and bar the media from reporting on allegations against them without its prior sanction.
Asthana's promotion late last night was clouded by reports that a Central Vigilance Commission panel raised the issue of his alleged involvement in a corruption case. "We hope that the Supreme Court takes cognizance of the move," he said.
Politics
The newly sworn-in cabinet will hold its first meeting at 4.30 pm today with the cheif minister and portfolio distribution is likely to be announced in another couple of days.
India
However, Patel said there was no substance in such claims. He said that on Sunday, he left the party office only after taking permission from the BJP's Gujarat in-charge Bhupender Yadav.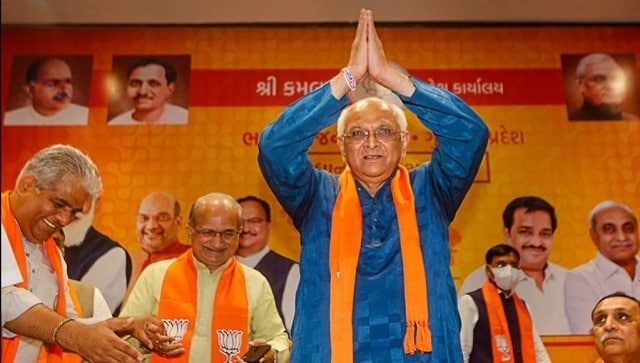 Politics
Patel's elevation - he is the first from the Patidar sub-group to be chief minister - is key to BJP's plans to woo the Kadva Patidar community, which some political observers feel, has drifte