AAP demands arrest of Lt Governer Najeeb Jung for his role in NDMC murder case
AAP demanded the arrest of Najeeb Jung over his alleged role in the murder of an NDMC official.
New Delhi: The relations between Najeeb Jung and Delhi's ruling AAP on Thursday hit a new low with the latter demanding the arrest of the Lt Governor over his alleged role in the murder of an NDMC official and a state assembly panel saying he would be summoned for "questioning" in five scam cases.
The Aam Aadmi Party escalated its confrontation with Jung over the recent murder of NDMC officer M M Khan, allegedly at a hotelier's bidding, after he refused to accept a bribe to extend the lease of his establishment.
"His (Jung's) role is suspicious in the case. Why had he written to NDMC seeking action against Khan? We demand that the LG be arrested and sacked from his position," AAP's DelhiUnit Convener Dileep Pandey told a press conference.
"We also demand that the Delhi police stop reporting to the LG and report to Ministry of Home Affairs," he added.
It has come to light that a day after Khan was murdered for allegedly refusing to take bribe from Delhi hotelier Ramesh Kakkar, Jung's office had purportedly sent Kakkar's petition against Khan to NDMC asking for "action as per law".
Khan, an estate officer of New Delhi Municipal Council (NDMC), was shot dead in Jamia Nagar a day before he was scheduled to pass the final order on the lease terms of hotel 'The Connaught' which was functioning on a property of the civic body, on 16 May.
Further intensifying its tirade against Jung, with whom it has been locked in confrontation over a number of issues, Rakhi Birla, the chairperson of the Petitions Committee of the state assembly, said Jung and Anti-Corruption Branch chief M K Meena will be summoned for "questioning" in connection with five cases of alleged scam during the tenure of Sheila Dikshit as Chief Minister.
Birla claimed the panel has the power to summon the LG who has to tell as to why action was not initiated on the five FIRs registered during the AAP government's earlier 49-day stint in power.
She said investigating officers of these cases will also be summoned by the nine-member committee whose all members are Aam Aadmi Party MLAs.
"At a meeting of Petitions Committee, we have decided to summon the LG, Meena and investigating officers for questioning. We will also seek legal opinion from the Standing Counsel to proceed in the matter," Birla told reporters. She said the issue was serious as two former Union Ministers and a prominent industrialist were involved in the cases.
She alleged the Lt Government and ACB adopted an "indifferent attitude" in getting the cases probed.
The development came a day after AAP MLAs Somnath Bharti and Rajendra Pal Gautam submitted their complaints in connection with the five cases to assembly Speaker Ram Niwas Goel, demanding action against Jung and Meena.
On Thursday, 12 AAP MLAs had gone to the LG's official residence demanding registration of an FIR against Jung and Meena without a formal appointment. They later claimed that LG "refused" to meet them.
The LG Secretariat, however, said Jung's schedule for the day had already been prepared and that procedures had to be followed for seeking an appointment with him.
The ruling party legislators had then approached Goel and submitted their complaints to him. Goel had forwarded the complaints of the two MLAs and those received from public to the Petitions Committee of the House.
"You (LG) have been protecting Smt Dikshit in the FIRs through your inaction. Shri Meena, imposed by the Union government as ACB chief, has also colluded with you in this criminal activity.
"Kindly forward my letter to ACB with a direction that Shri Meena and yourself should be made co-accused in these four FIRs," a letter signed by Gautam had said.
The Delhi Police, meanwhile, said the murder case of Khan was being "politicised" and that investigation into it was being done without any pressure or bias.
Delhi Police's chief spokesperson Taj Hassan said, "Unfortunately this case is now being politicised. We are investigating the case without any pressure or bias. We have taken all relevant documents from NDMC. The allegations being levelled through certain section of the media are baseless."
Joint Commissioner of Police (southeastern range) R P Upadhyay said BJP MP Maheish Girri and NDMC vice chairman Karan Singh Tanwar had no role in Khan's murder. Both Girri and Tanwar were alleged to have sought action against the slain NDMC officer Khan.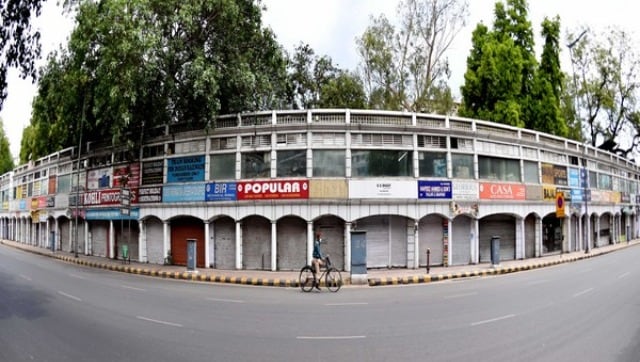 India
Phased reopening of Delhi started with allowing construction and manufacturing activities from 31 May, in view of declining numbers of coronavirus cases and positivity rate
India
The AAP and BJP have traded accusations about the initiative since 6 June, when CM Arvind Kejriwal wrote to Narendra Modi asking why the doorstep delivery scheme had been stalled by the Centre
Entertainment
Suroor 2021 is a follow-up to his first-ever which was Aap Kaa Surroor that released in 2006.