A rocky marriage for years: Somnath Bharti's family friends confirm domestic abuse allegations
Sources close to the Bhartis paint a picture of a marriage that was in trouble from the very start.
New Delhi: Aam Aadmi Party (AAP) leader Somnath Bharti's wife Lipika Bharti, has filed a complaint of domestic violence against her husband with the Delhi Commission of Women (DCW). According to sources close to Bharti, the couple has had a rocky relationship for a number of years, and her allegations of domestic violence may not be entirely misplaced.
"Me and my children are subject to continuous physical and mental torture by my husband. There is a persistent threat to life from my husband and his supporters. This has been going on since 2010," Lipika has alleged in her 26-page complaint.
Giving an instance of violence, she wrote, "He had set his dog on me when I was seven-month pregnant."
Lipika went on to allege that Bharti did not support her in taking taking care of their children. Accusing him of forgery, she further said that the lawyer-turned-politician had lied to her before marriage that he owned an 'international law firm'.
"I want a separation. I want out from this marriage and live with dignity with my children," she added.
The Commission has issued a notice in this regard to Bharti instructing him to appear before it on 26 June.
"He (Somnath Bharti) used to torture her (his wife) physically, verbally and mentally. Before leaving Delhi, he hit her and issued life threat. She has bruises on her body," DCW Chairperson Barkha Singh told Firstpost adding that Bharti "did not even spare his children. They too were beaten."
Sources close to the Bhartis paint a picture of a marriage that was in trouble from the very start.
"Soon after their marriage in 2010, the relationship between Mr Bharti and his wife (Lipika Mitra) started turning sour because he was not very much concerned about the family. They mainly had tiffs over financial issues and the maintenance of his mother," a person close to Somnath Bharti told Firstpost.
"While Lipika is working with a multi-national firm and drawing a handsome salary, Bharti does not earn much from his law practice. And therefore, he was economically dependent on his wife. He is aggressive by nature and often loses control over language," he said.
He said the lawmaker was never a 'caring husband and a caring father.' He claims that that the couple had reached the point of separation earlier in the marriage.
"A similar situation had arisen earlier as well and at that time, the matter had reached to the extent of their separation. But the matter was settled with the intervention of family members and close friends," he added.
The couple has been living separately for the past three years.
The differences between the couple turned ugly when Lipika allegedly evicted her mother-in-law from their Dwarka residence.
"Lipika threw Bharti's mother out. Bharti took her to Khirki Extension in Malviya Nagar and gave a room in his office where she is still living," said another person who is also close to the family.  He too claimed that the AAP legislator often used to physically and verbally assault his wife as alleged by in the DCW complaint.
Bharti, who is in Kerala for party work, termed the allegations "baseless and shocking," and said that he is "deeply pained" to know about his wife going public with "family matters".
"Allegations of domestic violence if any are baseless and inconceivable. I love my wife and my little children but I do not know what prompted her to file such a complaint," he said.
He said his wife was putting pressure on him to leave his mother and politics.
"She is asking me to leave my mother. How can I do this? Where will I send my mother in this old age? She also wants me to quit politics. It is true that because of joining politics, my family life has got affected. I cannot spare time for my family. I understand her pain but this could have been sorted out sitting together, not by going public," Bharti told Firstpost.
"I love my wife, I love the children but I cannot leave my mother and motherland," he said.
He added though he does not want to end the relationship, he's ready for it if his wife considers divorce to be the only solution.
The AAP labelled the issue as a "personal" one, but said it will also conduct an investigation and take action accordingly.
"This is a personal matter of a husband and a wife. The party should not be dragged in this controversy," AAP spokesperson Deepak Bajpai told Firstpost, but added, "We have come to know about it through media reports. Somnath Bharti is out of the city. We will talk to him and investigate the charges levelled."

When asked about the issue, former AAP leader and now BJP spokesperson Shazia Ilmi said, "This is extremely unfortunate. It is happening in a party which always talks about ethics. Although I do not want to give the issue political colour, but will Mr Kejriwal blame the BJP for this incident as well as he does in every cases? I ask him to ensure justice to Bharti's wife instead of protecting his party's leader."
Bharti will have to face the DCW when he returns to Delhi.
"He has been served a notice and asked to appear before the commission on 26 June failing which an FIR will be filed against him," DCW chief Barkha Singh said.
This isn't the first time Bharti has been in trouble. His midnight raid at South Delhi's Khirki Extension, when he was accused of misbehaving with policemen and foreign nationals, was considered the spark that ultimately ended the 49-day government of the AAP.
also read
India
The technology involves injecting helium gas into a pipeline and then conducting drilling at multiple locations. If there is a leak in the pipeline, the gas will escape and rise to the surface, allowing technicians to precisely pinpoint the location of the leak.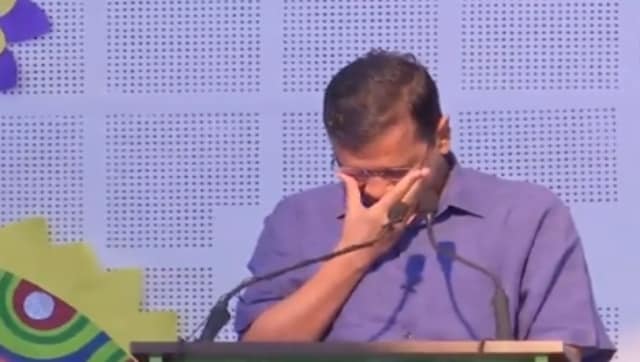 India
Delhi Chief Minister Arvind Kejriwal on Wednesday got emotional as he spoke about the contributions of jailed AAP leader and former minister Manish Sisodia during the inauguration of a new school building in the national capital
India
"Inaugurated the East Delhi Campus of GGSIP University. Built at a cost of Rs 387 cr, primarily through self-financing by GGSIPU (Rs 346 cr) & Rs 41 cr from Govt, the project was initiated in 2013 & foundation stone was laid in Dec 2014 by the then Union HRD Minister," LG tweeted.